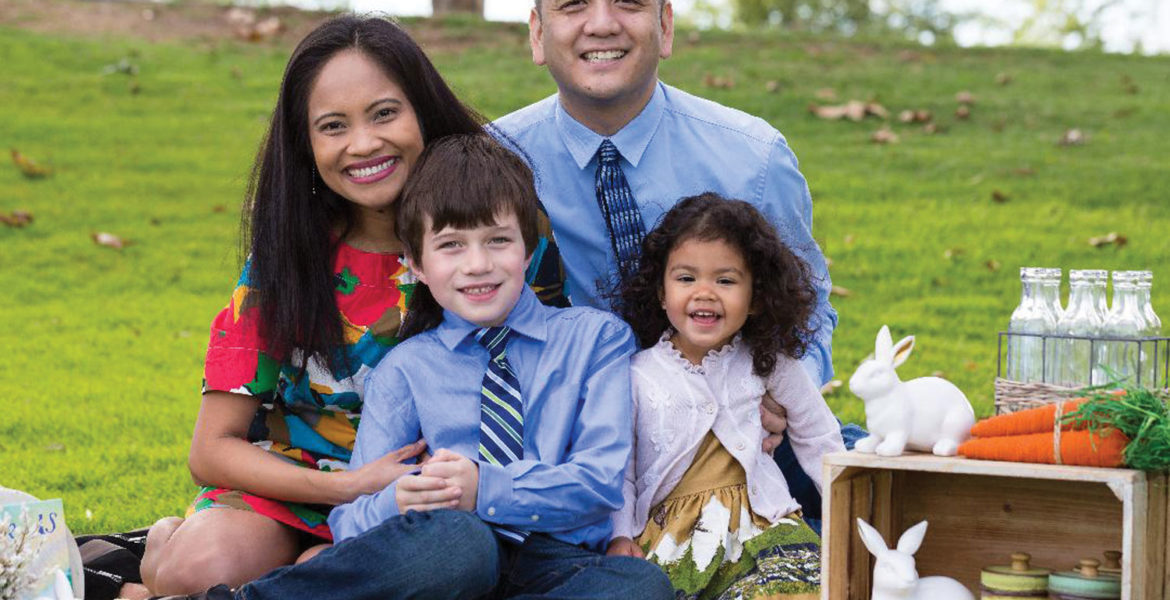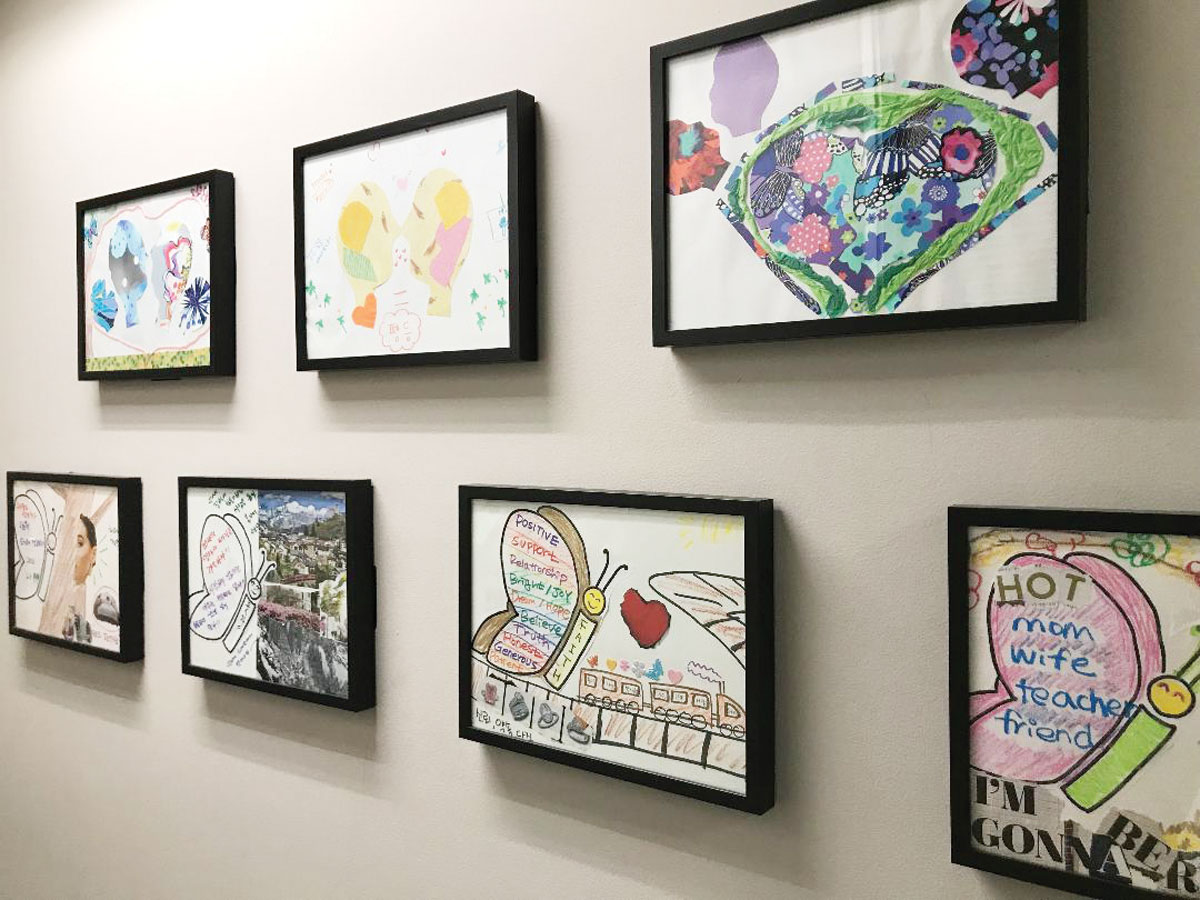 Mom hopes to inspire more Fil-Ams to become resource families in LA County
The Asian Foster Family Initiative (AFFI) was started by the Korean American Family Services (KFAM) in 2014 and became a state licensed  foster family agency last year, making it the first non-profit organization in Los Angeles that focuses on connecting Asian foster families with Asian children in the foster system.The organization's offices are located in LA's Koreatown.  (AJPress photo by Christina M. Oriel)
With Mother's Day approaching this weekend, Armida Chow is quite sentimental. 
It will mark one year after she and her husband Brandon adopted Delaney, whom they had been fostering since she was four days old. It was a 15-month process toward adoption. 
"For me, I've learned that motherhood means that the children don't necessarily have to come from your stomach," Armida Chow, a teacher at an adult education school, told the Asian Journal. 
To date, the Chows have fostered five children at their three-bedroom home in the San Gabriel Valley, where they live in a community near families who have adopted or are fostering children. Before Delaney, who turned 2 earlier this year, the couple adopted a son named Cooper, who is now 6 years old and in kindergarten.
"During the first placement, it was a challenge because I got attached and didn't want to let them go. At the same time, reunification is important. I've been teaching my own children that we're taking care of other kids temporarily," Chow said. 
Eight years ago, the Chows took classes as they were looking to adopt a child from abroad. However, they realized that there are thousands of children here in the United States who are in need of a home and family. 
The couple became a resource (foster) family — an all-encompassing term in California for caregivers who provide out-of-home care for children in foster care — through the Los Angeles County Department of Children and Family Services (DCFS) and have been licensed to care for one child at a time. They had no race or gender preferences but wanted a child between infancy to 8 years old. 
In the separate cases of Cooper and Delaney, the Chows were called to pick them up at the hospital, as their mothers gave them up under California's Safely Surrendered Baby Law, which allows babies less than 72 hours old to be relinquished at a hospital or fire station anonymously and without any questions asked. (The caveat is that the baby's parents have 14 days to change their minds.)
"I've learned to be flexible as a mom. You have to laugh about things. I became resourceful getting services for the children and advocating for them because they can't speak for themselves. The number one job of being a resource parent is advocating and protecting them," Chow said.
She narrates several experiences they've had, including fostering an Asian American teenage girl who was separated from her parents who were verbally abusive. Another instance was Christmas Day two years ago when they got a call about a one-year-old girl who was in the hospital.
They went to see her the following day and noticed she had cigarette burns on her head and some older ones on her body. 
"It changed our perspectives and made us realize how sheltered we were. You'll never get to experience that…It was one of those heartbreaking things where we could have kept her," Chow said.
The couple ended up fostering her for seven months and had anticipated to eventually adopt her but she was adopted by her grandfather instead. 
"Attachment is important. If you can attach, then you're going to be a good resource parent because the children need attachment and need to be loved. It's not easy because you can't fall in love with them right away but the kids need to be protected and feel safe in order to develop trust because most of the time they can't trust grown-ups," Chow said. 
The foster children who had been placed under the Chows' care were reunited with their biological parents or relatives, which is considered the primary goal. Second would be putting the children with relatives; but if those two options don't work out and parental rights are terminated, foster/resource parents will be presented with the choice of adoption. 
"Sometimes my kids will say, 'Remember when we were in your tummy?' I'll remind them that they're actually adopted, but they came from my heart," Chow said. "It's our everyday language that they're adopted. In between my kids, we've had placements so we were able to have pictures of children who have lived with us and I've shown my son and told him that we cared for them while their parents had to work through some things."
She mentions that books like "Yes, I'm Adopted!" by Sharlie Zinniger and Tiffany Cunliffe or "Tell Me Again About the Night I Was Born" by Jaime Lee Curtis are staples in their home, as are conversations about how superheroes like Iron Man and Superman were adopted.
When asked if her son has started to ask questions about his background, she said, "He's still young where he hasn't been too curious yet, but I'm sure pretty soon he'll realize, 'my parents are Asians.' But he hasn't asked about race. They say in third grade that's when it kind of gets visible. Right now, he doesn't see color. That's the beauty of a child." 
The Chows' household is multicultural with Chow being Filipina, her husband is Chinese/Hawaiian, Cooper is Caucasian, and Delaney is Latina. 
"We teach the kids about what it means to be Filipino through food and Tagalog words. They call my parents 'lolo' (grandfather) and 'lola' (grandmother). My daughter calls my son 'kuya' (older brother) because I wanted to make sure they knew the Filipino customs," Chow said. "Still, we try to expose them to their birth culture. Since Cooper is white, we make sure we have friends who are Caucasian. For both of our kids, I pick three couples who come alongside with us and parent alongside us. For my daughter, who is Latina, I have friends who are Latinos so she can be exposed to her culture as well." 
She added, "At the end of the day, this is my family and I'm okay with that. I actually forget that my kids don't look like me or my husband until other people are staring at us and that's when you realize."
Chow said that when she and her husband attended trainings, they were noticeably the only Asian Americans in the room. She wondered if there were other resource couples like them.
They were contacted by the Korean American Family Services (KFAM), as the organization was looking for Asian American and Pacific Islander (AAPI) resource families to share their experiences and guide others who were interested in going through the process as well. Chow was familiar with KFAM because she had seen their commercial on a local public TV station. 
Push for more AAPI resource families 
Located in the heart of LA's Koreatown — in a multilevel building that's a one-stop shop with organizations and businesses that cover an array of services — KFAM has catered the Korean-American community since 1983 through counseling, domestic violence and child abuse intervention, community workshops, and a food program.
In 2014, it started the Korean Foster Family Initiative, which helped Korean families receive in-language resource family training who were then referred to partner foster agencies in order to be certified. In subsequent years, it branched out to include other Asian groups like Chinese, Vietnamese, and Filipino, rebranding itself as the Asian Foster Family Initiative (AFFI). 
The AFFI became a state licensed foster family agency (FFA) last year, making it the first non-profit organization in Los Angeles that focuses on connecting Asian foster families with Asian children in the foster system.
Its campaign has been to recruit more Asian families as licensed foster care providers through the DCFS. It is seeking to hire additional social workers who specifically focus on the different Asian groups. 
To be a resource parent, there is a long list of requirements, including being at least 25 years of age, attending pre-approval trainings, and complying with home safety inspections and background checks. 
The organization has helped some 40 Asian families with certification so far. 
In any given month, there are close to 35,000 children in the LA County foster system. Nearly 700 of whom are of Asian and Pacific Islander descent — that entails both children who immigrated to the U.S. with their parents and those who were born in the country.
Of that figure, there could be somewhere between 100 to 200 Filipinos, making them the largest population of AAPI foster children, according to data the AFFI shared with the Asian Journal. 
Alice Lee, the initiative's program manager, said Filipinos in the system are most likely undercounted since Filipino surnames could be Spanish-sounding. 
The social workers at AFFI told the Asian Journal that the top reasons why AAPI children get taken away from their families are cultural differences (parenting styles in the U.S. versus back in Asia), neglect (i.e. leaving underaged children alone for a lengthy period of time or not feeding them), and drug or alcohol abuse. 
2017 data from the DCFS showed that 31.7 percent of children in the LA County system were removed from their families for general neglect, followed by at-risk/sibling abuse and physical abuse.
"The reason for the high number of Filipino kids in the system is similar to the other Asian cultures in that Filipinos are not aware of how to parent their kids. It's different from how to parent your children in your home country coming to a Western society," Chow said, sharing some of what she along with other resource parents have observed. "Here, teachers are mandated reporters. Kids can just be telling stories like 'my parents don't feed me' and if teachers hear that, that's a red flag. It's more of a parenting issue." 
Though AAPI children comprise approximately 2 percent of the foster care population in LA County, there has been a lack of attention on minimizing cultural differences the children may face when they are placed in homes.
"It would be ideal to put them with a family that looks like them, eats similar food and speaks the same language they did at home," Lee said.
The AFFI shares one story in particular during its orientations wherein a three-year-old Korean boy lost his entire family to an accident and was placed in non-Asian foster homes so he didn't have an appetite and couldn't speak his native Korean language. 
His foster mom learned how to make a kimbap (seaweed rice roll) and he ate that at every meal for an entire month, Lee said. 
The AFFI recently hired its first Filipino social worker, Mariah Oca, who is slated to start this summer ahead of the organization's two-hour orientations on Saturday, June 9 (English) and Tuesday, June 19 (Tagalog/English) for those in the Filipino-American community who want to learn what it takes to be a resource parent. It also plans to hold other outreach activities. 
Oca said in an email that she intends to "shed light to not only to resource families but to the general Filipino community about the kind of support that Filipino children in the foster care system need."
Lee shared that the organization is willing to hire more qualified social workers to handle the number of Fil-Am kids in foster care. 
"It's a very labor intensive process from our perspective," she said. "When the family has to go through that much work, the social worker has to go through even more paperwork. The number of social workers does make a difference." 
Reducing hesitations
With May as National Foster Care Month, the DCFS is looking to raise awareness on the growing need for families to foster, adopt or mentor children in the system. There were less than 4,000 foster homes in LA County, as of 2015.
One of the ways is holding orientation classes and letting interested families know that the county provides financial support since the cost of child care can be a burden. According to recent rates, the monthly stipend is at least $923 a month. 
"Many families do not have a realistic portrayal of foster youth and are concerned they may not be up to the task. They may perceive foster youth as 'damaged goods,'" Neil Zanville of the DCFS' Office of Public Affairs told the Asian Journal in an email. "The fact is, foster youth are very resilient and capable of achieving great things with the support of a stable and caring resource family. A good stepping stone to becoming a foster parent is to first mentor a youth to see firsthand what's involved."
Lee said that AFFI doesn't "sugarcoat" the experience because it could take anywhere from four to six months to become a resource parent. The organization is upfront about the expectations and since it is a foster family agency now, it can not only recruit, certify and train families, but also provide support to them once they receive placements, like how to care for the child and dealing with social workers and the county.
Chow's parents have been supportive of her fostering and adopting children, but shared that she still gets criticized by extended family members because they don't understand why she does it. She hopes that AFFI's information sessions will reduce the stigma of foster parenting within the Fil-Am community. 
"Some of my relatives think it's silly and crazy. It's the mentality of 'why are you doing this? Don't you want to have your own child?' Of course everyone has an opinion. There are many children out there, why would I have one when I can actually help out?" she said. 
Life for the Chows hasn't stopped, despite the long and tedious procedure surrounding adoption and taking in foster children.
"It's like carrying your biological children, for me. We still have fun. Even though they've gone through challenges… it doesn't mean that we're living a sad story. We live like a family and take them out, eat out, and go on vacation — except we just report it to DCFS," she said. "When you and your partner or spouse need a break, have someone you can rely on to take care of your kids and still go out on dates. Your life and relationship don't have to stop. Take care of your emotional health. If you do this with a spouse, take care of each other emotionally because it can strain a relationship."
"Don't let your fear hinder you from becoming a resource parent. If you have the heart to help, follow it. I always tell people that my children are worth it. It was a hard journey from fostering to adopting, but in the end, it's rewarding. I wouldn't change a thing and would do it all over."