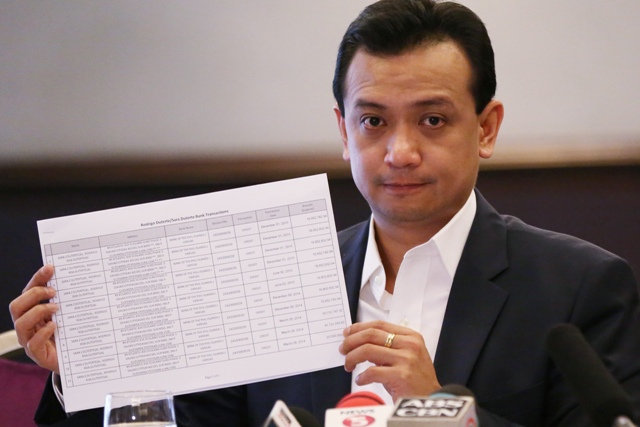 MALACAÑANG on Monday, February 5, downplayed Senator Antonio Trillanes IV's latest request for a Senate investigation into the alleged unexplained wealth of President Rodrigo Duterte and his family.
In a briefing, Presidential Spokesperson harry Roque dismissed Trillanes' accusations as old news.
"Lumang tugtugin, lumang balita para ng sirang plaka (It's old news that sounds like a broken record)," Roque said of Trillanes' call for a Senate inquiry.
He also maintained that the president has "nothing to hide."
He further noted that the senator does not possess any authenticated document to support his claims, as the Anti-Money Laundering Council (AMLC) had already denied that they provided Trillanes documents of Duterte's bank transactions.
"Ang tanong, anung dokumento ang hawak ni Senator Trillanes, eh wala naman siyang authenticated documents (The question is, what document does Trillanes has on hand, when he has no authenticated documents)," Roque stressed.
He continued, "Sinabi na nga ng AMLC hindi galing sa kanila ang dokumento at mali-mali ang datos na hawak-hawak ni Senator Trillanes (AMLC already said that the documents he had were not from them, and that his data were false)."
Trillanes recently filed Senate Resolution 602, asking the Senate committee on banks, financial institution, and currencies to probe the possible violations of the Anti-Money Laundering Act by Duterte and his daughter, Davao Mayor Sara Duterte-Carpio.
The senator has long accused the president of failing to disclose his wealth going back prior to the 2016 national elections, when Duterte was still the mayor of Davao City.
Duterte, for his part, has repeatedly denied the accusations and vowed to resign if Trillanes could prove his claims.
In his resolution, Trillanes said the probe aims to "promote efficient compliance with the AMLA" and "further improve the said the law."
"It is the state's policy to protect the integrity and confidentiality of bank accounts, and ensure that the Philippines is not used as a money-laundering site for proceeds of unlawful activities," the resolution further read.
Trillanes also cited a Vera Files report stating that Duterte and his daughter had at least P100 million in joint deposits and investments that were not disclosed in their Statement of Assets, Liabilities, and Net Worth (SALN).
Vera Files said its report was based on bank records previously released by Trillanes, who claimed that the same documents were from the AMLC.
'Tragic waste of time'
Opposing the Trillanes' fresh call for investigation, Senate President Aquilino Pimentel III said it would just be a "tragic waste of time."
Pimentel remarked that if Trillanes "really has the evidence, then he should bring an actual case in the proper body."
"Senate is not the body for that. We are part of legislative action. But if this is part of just making this issue land in the news then this should not be allowed. It will be a tragic waste of time by the Senate," Pimentel said.
Trillanes, in response, argued that his resolution was "valid."
"Senator Pimentel, even as Senate president, has no power to disallow its referral. Masyado namang syang ninenerbiyos agad para sa amo n'ya (He's too nervous for his boss)," Trillanes said, apparently referring to Duterte.
Trillanes further pointed out that "it was Duterte himself who challenged the Senate to investigate his bank account."
"So, ito na ang sagot sa hamon ng amo n'ya (this is the answer to his boss' challenge)," he added.