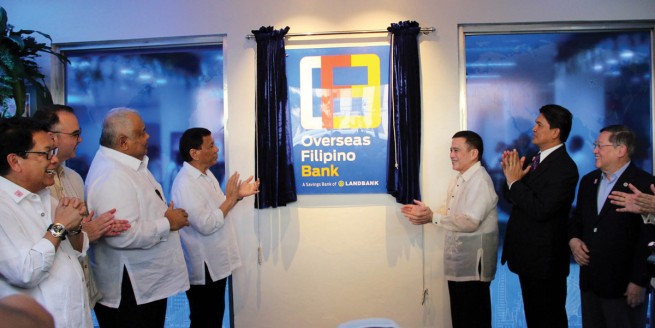 Fulfilling a campaign promise made by President Rodrigo Duterte, the Philippine government on Thursday, January 18 launched the new Overseas Filipino Bank (OFB)—a bank that caters specifically to Filipinos abroad.
This comes about four months since Duterte signed Executive Order (EO) 44 on September 28, which approves the Land Bank of the Philippines' (LBP) acquisition of the Philippine Postal Savings Bank (PPSB). It stated that the PPSB will be converted to the OFB.
Duterte, who led the inauguration of the OFB at the Postbank Center in Manila, expressed satisfaction that he was able to carry out one of his electoral promises.
"I made simple promises during the election. I am not into politics but I would just like to remind you that I kept my campaign very simple, with about four basic fundamental promises and I am very happy that mukhang naibigay ko sa inyo (I fulfilled it)," the president said.
With the OFB, Duterte added that the government can "give back what is due our kababayans abroad through a bank specially dedicated to servicing their banking and financing requirements."
The newly-opened bank is set to operate domestically and internationally. By the second quarter of 2018, the government plans to open foreign representative offices in Abu Dhabi, Dubai, and Bahrain.
The OFB will offer deposits, loans, investments, remittance, and payment services "tailored to the requirements" of overseas Filipino workers (OFWs), immigrants, and those with resident visas.
In an earlier statement, Finance Secretary Carlos Dominguez III said a key feature of the OFB will be its provision of a remittance service for OFWs and a loan program for Filipinos planning to return to the country to start businesses or build their homes.
According to him, the Landbank and the Bureau of the Treasury (BTr) "are also exploring ways of mobilizing the savings of overseas-based Filipinos for them to invest in the country's capital market."
"It's just a matter of the administrative integration of the bank. It's an administrative thing and all the approvals have been cleared away for the acquisition," Dominguez said.
"You know, we are just fulfilling [President Duterte's] campaign promise one by one. First, tax reform, then this new bank," he added.
Apart from fulfilling the president's campaign promise, the finance secretary also remarked that the conversion of the PPSB into the OFB also saved the former from bankruptcy.