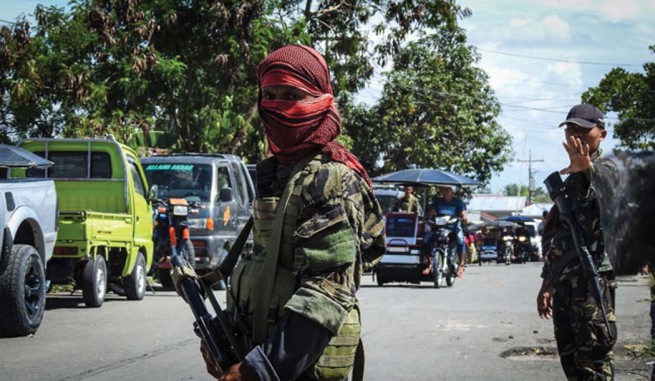 The Armed Forces of the Philippines (AFP) has teamed up with the Moro Islamic Liberation Front (MILF) in stamping out pro-Islamic State (IS) militants in Mindanao.
Soldiers were seen associating freely with their old foes in Maguindanao province, as the MILF joined the assault on the terrorists that pledged loyalty to IS.
The government troopers, reinforced by MILF, launched a series of airstrikes against  Daesh-inspired Bangsamoro Islamic Freedom Fighters (BIFF) last Sunday, September 3. The BIFF is a breakaway group of the MILF led by Esmael Abdulmalik, alias Abu Turaifi.
The joint operation is the latest tactic by the Philippine government to eradicate terrorism in the southern Philippines.
According to Maj. Gen. Arnel Dela Vega, the BIFF had taken the opportunity "to build up their forces" while the government troopers were engaging with a separate faction of IS-pro militants in Marawi city.
Dela Vega told Agence France-Presse that the military's alliance with MILF include "providing them with indirect fire support and even air support and other expertise." He said that the military is also feeding intelligence to the MILF in its fight.
Dismissing the awkwardness of fighting alongside former long-time foes, he also claimed the joint-operation was a "win-win" situation for both the government and the MILF.
"By and large the result has been substantially in our favor," Dela Vega added.
He, however, clarified that the military will not merge with the MILF fighting groups because they had "different operational tactics and procedures."
AFP Western Mindanao Command chief Lt. Gen. Carlito Galvez Jr., meanwhile, lauded the MILF members for taking necessary measures against terror groups operating in Maguindanao.
"We laud the liberation front's leadership for supporting the government's drive for peace to thrive in Mindanao against terrorism, criminalities, and drugs," Galvez remarked.
He went on to say, "We hope this call for peace would resonate and encourage more groups, organizations, and Filipinos to join the government in combating terrorism, and illegal drugs."