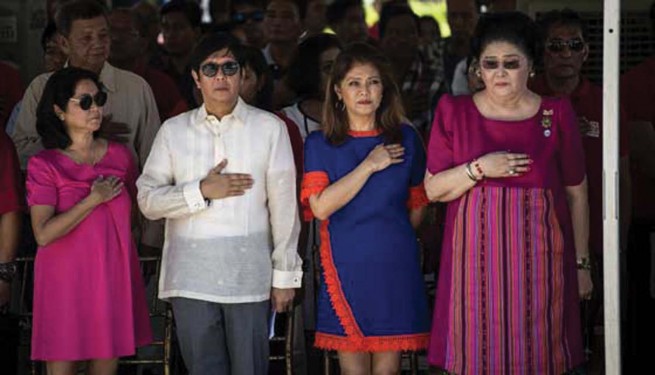 Both critics and supporters of late Philippine President Ferdinand Marcos gathered outside Libingan ng mga Bayani (Heroes' Cemetery) in Taguig city on Monday, September 11,  for the centennial birth commemoration of the former dictator.
Security personnel were deployed to maintain order in the area. The air was charged with tension, but there were no reported violent incidents between the two opposing groups, composing of around 200 each.
Imelda Marcos, the widow of the late president, has invited senators, House members, and other political personalities to the celebration of her husband's 100th birthday anniversary.
Among those who attended the event were former President and current Manila Mayor Joseph Ejercito Estrada, and former Senate President Juan Ponce Enrile.
Also seen in photos released by Ilocos Governor Imee Marcos, eldest daughter of the late president, were former Senator Francisco Tatad; former Prime Minister Cesar Virata; and former Central Bank Governor Jaime Laya.
President Rodrigo Duterte did not attend the commemoration. The Marcos family reportedly extended an invitation to him but a Malacañang source said Duterte was not invited to the event.
Duterte has declared September 11 a non-working holiday in Ilocos Norte, the home province of Marcos, upon the request of the late president's family.
Justifying the decision, he noted that the people of Ilocos believe that criticism and cases of human rights abuses and corruption against Marcos were mere "hogwash" and "garbage."
"He (Marcos) was a president. To the Ilocanos, he was the greatest president. Why do we have to debate on that? It's one day where they can celebrate the anniversary of a great Ilocano. As far as the Ilocanos (are) concerned, Marcos is a hero," Duterte said over the weekend.
In a statement, the Liberal Party (LP) condemned the celebration of a man "who has caused his country so much pain and suffering."
"Today should not have been treated any differently. Today should not have been singled out as anything more than an ordinary Monday," the party added.
In a separate statement, Vice President Leni Robredo, who is also the LP chair, criticized Malacañang's declaration of Marcos' birth anniversary as a holiday.
"What's there to celebrate? As if we are trying to forget the sins they have committed against the Filipinos. As if we're trying to revise the story, the history, which is not right," Robredo said in an interview on Sunday, September 10.
For Akbayan Rep. Tom Villarin, there was no reason to celebrate the birth anniversary of the dictator, whose two-decade regime was marked by killings, abuses, and corruption.
"Justice not compromise, uphold our laws and punish the wrongdoers! Marcos centennial birthday is no cause for celebration but a national tragedy heaped upon us," Villarin remarked.
He went on to say, "President Duterte's glorification of the late dictator and his entombment in the Libingan ng mga Bayani reflects how the present administration has distorted our values and beliefs as Filipinos."
Facebook Comments