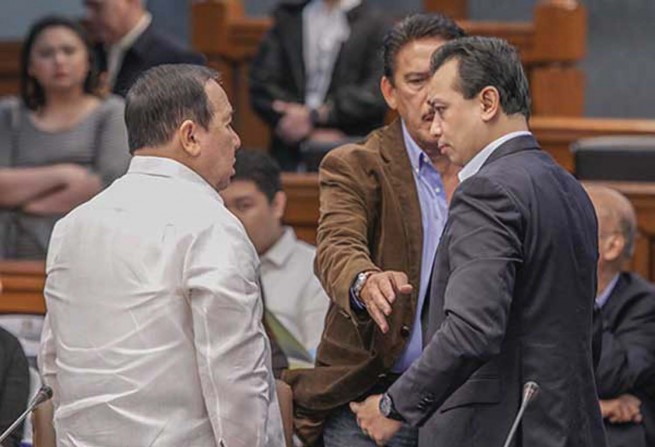 MANILA — Senator Antonio Trillanes IV on Tuesday, September 5, said he will also file an ethics complaint against Senator Richard Gordon and further expose the latter's supposed "corrupt acts" as chairman of the Philippine Red Cross (PRC).
A day before, Gordon filed an ethics case against Trillanes. This was after Trillanes called Gordon's panel "committee de absuwelto" (committee of exoneration) and accused the latter of "lawyering" for President Rodrigo Duterte and his family during a hearing on Thursday, August 31.
In response to Gordon's complaint, Trillanes said he will also file his own ethics case, citing the former's supposed "unparliamentary and unethical acts" during the proceedings.
"Normally I'm not the whining type and could have easily let these things pass so I could focus on the more important issues at hand," Trillanes said in a privilege speech.
"But in the spirit of justice and fairness, at the appropriate time, I'd be filing my own ethics case against Senator Gordon for his unparliamentary and unethical acts as senator and chairman of the blue ribbon committee," he added.
Trillanes said Gordon violated the Senate rules for refusing "the right of the minority to be heard," as well as committing dishonesty for insisting that the phrase "committee de absuwelto" was made on record.
The opposition senator argued that he made the comment while the session was already suspended.
"Senate Rules or the Rules of parliament only cover words said or actions done while a session or hearing is on-going. Conversations made while a session or hearing is suspended or adjourned are not covered. Statements made in private or in the Senator's lounge are definitely not covered. Statements made in media are not covered," he noted.
Trillanes also accused Gordon of disregarding the objection of a panel member, and disrespecting and insulting a member of the committee.
The opposition senator said Gordon disregarded his objection of a member of the committee, "insinuating that I was just peddling rumors when clearly, the information came from his resource persons."
"He further insulted me by saying, 'wag daw ako nagdadaldal nang hindi ko nalalaman (I should stop talking about what I don't know). If at all, the comite de absuelto remarks are but a response to his 'cockpit of chismis,'" Trillanes added.
He likewise accused Gordon of "monopolizing" the flow of hearings by conducting a "monologue for hours."
Aside from filing an ethics complaint, Trillanes said he would also "expose" Gordon's alleged anomalies in the PRC.
Gordon, in response, lamented Trillanes' attacks on the PRC. He insisted that he does not get "any salary or allowances" from the organization.
"I am also a governor of the International Federation of Red Cross. I just appeal to the senators to be very, very careful. You may hurt me but not the movement," Gordon remarked.
He went on to say, "He can accuse me of corruption, that is his privilege, but do not drag the Red Cross especially if there is no proof. That is my humble request."