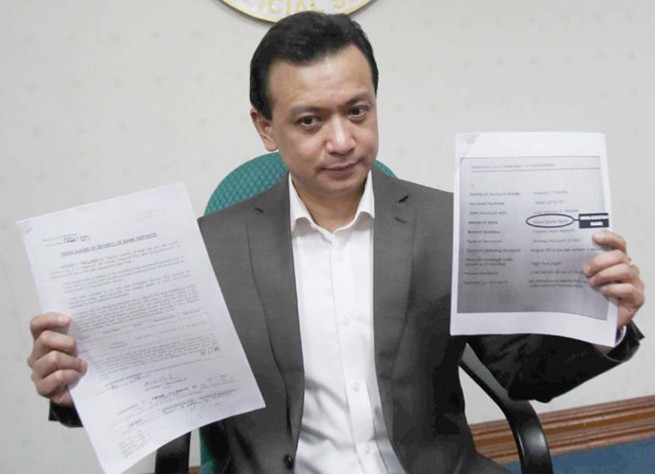 MANILA – Senator Antonio Trillanes IV maintained that he has not done anything unparliamentary during the recent Senate Blue Ribbon Committee hearings, saying that he trusts in the "wisdom and good judgment" of his colleagues who will decide on the ethics complaint filed against him.
In a radio interview, Trillanes insisted that it was Senator Richard Gordon who does not know which actions were considered parliamentary and which were not.
Gordon, chairman of the Senate Blue Ribbon Committee, has filed an ethics case against Trillanes over the latter's alleged "repeated display of unparliamentary conduct and disorderly behavior."
This was after Trillanes called Gordon's panel "committee de absuwelto" (committee of exoneration) and accused the latter of "lawyering" for President Rodrigo Duterte and his family during a hearing on August 31 into the smuggling of P6.4 billion shabu from China.
Trillanes' actions, according to Gordon, were "causing damage to the Senate and to the people."
But Trillanes insisted that he "did not do anything unparliamentary" during that hearing.
"Even in the previous hearings, I am very conscious on what is parliamentary and what is not," Trillanes told DZBB on Sunday, September 10.
"I trust in the wisdom and good judgment of my fellow senators so my fate is in their hands," he added.
On Monday, September 11, the Senate Committee on Ethics found Gordon's complaint against Trillanes sufficient in form and substance.
"The complaint is sufficient form and substance except for issue number 5. With no objection, motion is approved," said Majority Leader Vicente Sotto III, who is also the ethics committee chairman.
Sotto said Trillanes has 10 working days to submit a counter-affidavit.
Earlier, Trillanes expressed intention to file back an ethics complaint against Gordon.
He accused Gordon of violating the Senate rules for refusing "the right of the minority to be heard," as well as committing dishonesty for insisting that the phrase "committee de absuwelto" was made on the record.
Likewise, he threatened to expose the Gordon's supposed "corrupt acts" as chairman of the Philippine Red Cross (PRC).
Facebook Comments