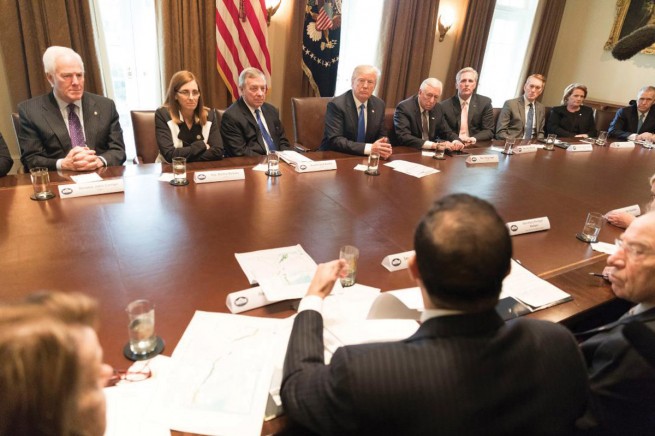 Pressures to pass immigration bill by Jan. 19 deadline heightened 
PRESIDENT Donald Trump took to Twitter Friday morning, Friday, January 12, denying reports of him using off-color remarks during an Oval Office meeting the previous day on immigration policies with both Democrat and Republican lawmakers.
The remarks on Thursday, January 11 made headlines following a report by the Washington Post that cited people familiar with the meeting quoting Trump in calling Haiti and African countries, "shithole countries."  Reports later said El Salvador was part of the discussion.
"Why are we having all these people from shithole countries come here?" said Trump according to the Washington Post's report.
Trump also suggested the U.S. bring in people from Norway instead, and expressed openness to allowing Asian immigrants come because he thought they helped the U.S. economically.  Trump had met with Norway's Prime Minister Wednesday.
"Why do we need more Haitians?" Trump was reported saying. "Take them out."
The comments came a day before the anniversary of the 2010 earthquake in Haiti that killed approximately 300,000 people.  Last November, the Trump administration ended deportation protections for the approximately 60,000 Haitians who came to the U.S. following the earthquake. They were given until July 2019 to return home.
On Friday morning, Trump acknowledged his "tough language" in a tweet, but denied the comments while blaming Democrats for the backlash.
"Never said anything derogatory about Haitians other than Haiti is obviously, a very poor and troubled country.  Never said 'take them out.'  Made up by Dems.  I have a wonderful relationship with Haitians. Probably should record future meetings – unfortunately, no trust!" he tweeted.
Whether or not Trump made the comments thus became a he-said-she-said situation with accounts coming from both parties.
On Thursday, Sen. Richard Durbin (D-Ill.) called out Trump's denial on MSNBC, describing Trump's language in the meeting as "hate-filled, vile, and racist."  Durbin said Trump used the words "repeatedly."
Sen. Lindsey Graham (R-SC) even confronted Trump on his comments during the meeting, according to Durbin.
"I cannot believe that in the history of the White House, in that Oval Office, any president has ever spoken the words that I personally heard our president speak yesterday," said Durbin in another Friday statement.
While at a luncheon in Milwaukee Friday, House Speaker Paul D. Ryan (R-Wis.) called Trump's comments "unfortunate" and "unhelpful," before sharing about his Irish ancestor's beginnings in America.
"The first thing that came to mind was very unfortunate, unhelpful.  But you know what I thought of right away?  I thought about my own family," Ryan said.
"It is a beautiful story of America.  That is a great story.  That is a story we have today, and that is a story we had yesterday, and that is what makes this country so exceptional and unique in the first place.  So I see this as a thing to celebrate, and I think it's a big part of our strength," he added.
But other Republicans, such as Sens. David Perdue (R-Ga.) and Tom Cotton (R-Ark.), said in a joint statement that they didn't hear Trump's comments.
"We do not recall the president saying these comments specifically, but what he did call out was the imbalance in our current immigration system, which does not protect American workers and our national interest," they said.
The two senators — who are also co-sponsors of the Reforming American Immigration for Strong Employment (RAISE) Act — said Trump "brought everyone to the table this week and listened to both sides."
"But regrettably, it seems that not everyone is committed to negotiating in good faith," they added.
The White House did not deny Trump's remarks on Thursday, and have yet to do so as of this writing.
Those from the attacked countries naturally shared their reactions as well.
President Macky Sall of Senegal tweeted:  "I am shocked by President Trump's statements on Haiti and Africa.  I reject and condemn them vigorously.  Africa and the black race deserve the respect and consideration of everyone."
African Union spokeswoman Ebba Kalondo said African leaders were "frankly alarmed" and said, "Given the historical reality of how many Africans arrived in the United States as slaves, this statement flies in the face of all accepted behavior and practice."
DACA "big step backwards," tweets Trump
Trump's remarks and following backlash came after he rejected a bipartisan deal regarding the fate of approximately 700,000 (former) recipients of the Deferred Action for Childhood Arrival (DACA) program, during the Thursday meeting.
In September of last year, Attorney General Jeff Sessions announced the federal protection's end before giving Congress six months to find a fix.  That gives Congressional members until March 5 to make a decision.
The looming deadline has kept DREAMer and immigration advocates focused on any affecting actions, and with a deadline for avoiding a government shutdown set for January 19, many are hoping a DACA solution is finally included.
On Tuesday, January 9, U.S. District Judge William Alsup blocked Trump's plan to end DACA protections, saying that the plaintiffs "have clearly demonstrated that they are likely to suffer serious irreparable harm absent an injunction."
"Before DACA, Individual Plaintiffs, brought to America as children, faced a tough set of live and career choices turning on the comparative probabilities of being deported versus remaining here," he said in his decision. "DACA gave them a more tolerable set of choices, including joining the mainstream workforce."
The ruling allows those previously protected by the program to apply to renew their status.  It does not though require the government to accept new applications.
Asian Americans Advancing Justice (Advancing Justice) — the largest legal and civil rights organization in the U.S. for the Asian American community — said in an emailed statement that they were "deeply disturbed" by Trump's comments, and added on to the pressure for Congress to decided on DACA.
"Our nation's strength is rooted in its global diversity and our nation's leaders should celebrate — and not demonize — immigrants," Advancing Justice said.
"While we condemn the President's racism, we also call on our Congressional members to not fall for this latest distraction," the group added.  "Congress must focus on passing a clean Dream Act that does not come at the expense of our long-standing family-based immigration system and diversity visa program."
In a succession of Friday tweets, Trump expressed his issues with what he called the "so-called" bipartisan proposal, by describing it as a "big step backwards."
Trump argued in his five tweet assertion that the deal did not properly fund the wall, and that it slackened policies on both the family-based immigration Chain Migration system, as well as the diversity visa lottery system.  He said he wants a merit-based system of immigration.
Under the proposed bipartisan deal, Trump tweeted that the U.S. would be "forced to take large numbers of people from high crime countries which are doing badly."
The proposal was introduced by Senators Durbin, Michael Bennett, and Robert Menendez from the Democratic party; and Republicans Lindsey Graham, Jeff Flake, and Cory Gardner.
The six said in a statement before the deal's rejection that they had "reached an agreement in principle that addresses border security, the diversity visa lottery, chain migration/family reunification and the Dream Act."
Following the meeting on Thursday, Trump's congressional liaison Marc Short said that they were "pleased that bipartisan members are talking" but added he thinks there's "still a ways to go."
White House spokeswoman Sarah Sanders said, "we still think we can get there."