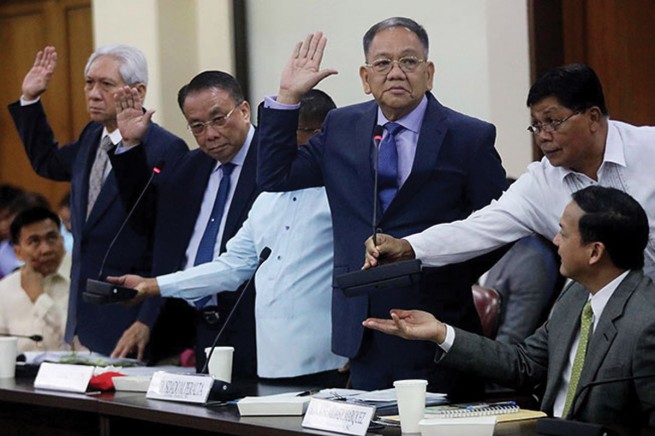 Three Supreme Court (SC) magistrates appeared before the House committee on justice on Monday, January 15 to testify in the impeachment hearing against Chief Justice Maria Lourdes Sereno.
They were Associate Justices Lucas Bersamin, Samuel Martires, and Diosdado Peralta.
Senior Associate Justice Antonio Carpio, meanwhile, declined to attend the hearing despite being invited, saying he has no personal knowledge on the allegations hurled against the chief justice.
During the resumption of hearings determining if the impeachment complaints filed against Sereno have probable cause, Peralta claimed that the existence of "favoritism" is "very clear" in the clustering method done by Sereno in the shortlist of candidates for vacancies in the judiciary.
"Very clear, [there is favoritism] in the clustering method. This is [also] repeated in other recommendations of the JBC (Judicial and Bar Council)," Peralta said.
He also slammed Sereno's claim that several justices had waived their right to vote on the JBC short-list.
"[That claim] is very shady. It is a privilege that I will not surrender. [The voting] is already a practice. I was shocked. [We] were pre-empted from nominating a candidate for the position of a Justice in the Supreme Court," Peralta said.
He went on to add, "This I can say with certainty — when we were inside the room [for the meeting], not one justice inside waived [his right to vote on the short-list]. I did not agree to take that away."
Martires, meanwhile, agreed that Sereno's creation of a technical working group (TWG) resulted in the delay of the issuance of retirement benefits to the surviving spouses of deceased judges.
He also urged families affected by the delay to file administrative cases against members of the judiciary who has "slept on the job."
During the hearing, Deputy Speaker Gwendolyn Garcia said the TWG delayed the resolution of 29 applications for benefits for at least one and a half year.
The alleged manipulation of the JBC list and the late release of benefits of the spouses of the justices who had passed away are among the grounds in the impeachment complaint of lawyer Lorenzo Gadon against Sereno.
Gadon has accused Sereno of culpable violation of the Constitution, corruption, high crime, and betrayal of public trust.