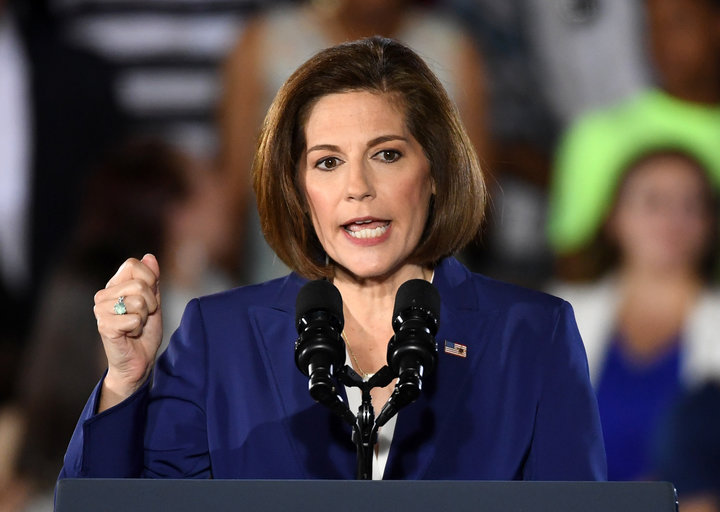 It's nearly been two years since Senator Catherine Cortez Masto (D-Nevada) was elected into office, making history as the first woman elected to represent Nevada and the first Latina in the Senate. 
Back in 2016, Cortez Masto — who previously served two terms as the state's attorney general — told the Asian Journal that "it's not my voice I'm taking to Washington. It's all of our voices to get something done." She outlined some of the key areas she would be taking on a federal level, including family reunification, comprehensive immigration reform, and affordable housing.
In a recent interview with the Asian Journal, Cortez Masto shares what legislation and issues she's prioritizing in the current Senate session as well as why Asian American and Pacific Islanders (AAPIs) are a crucial voting bloc to pay attention to. 
Q: With May as Asian Pacific American Heritage Month, how have you and your office been observing this month and particularly how important is for Nevada and the whole nation to recognize this celebration?
A: It's true what I said in my statement, Nevada is home to a vibrant and diverse AAPI community. It's one of the fastest-growing in the country, the largest of whom are Filipinos. It's incredible. I am excited every day when I go home — remember I was born and raised in Las Vegas — and to see that diversity and growth is fantastic. It's important when we're talking about and recognizing an AAPI Heritage Month because we're not just recognizing that culture and recognizing the families but we're recognizing the commitment and the contributions they have made to this country over centuries. Particularly in Nevada, working in our mines, building the railroads connecting the West to the rest of the country. I mean, it's incredibly important for many people to recognize the contributions that AAPIs have given to this country and continue to recognize those commitments. 
Q: Given Nevada's large immigrant population, many of whom are Asian/Filipino descent, what updates do you have from your end back in Washington that you'd like to share to share with the community who are waiting for some answers on the federal level?
A: Thank you for that question. Because I meet regularly with the community in Nevada not only when I was on the campaign but now I make it a point to have regular conversations to update them with what's going on. One of the issues they've always had concerns with, particularly Filipinos and the families of Filipino veterans, is family reunification. Sen. Mazie Hirono and I are continuing to fight for and support legislation to reunify those families that we made a commitment to…[and] we made a commitment to those veterans. 
The other area that I know that is important for many members of our community is just affordable housing. Unfortunately, in Nevada, affordable housing is the number one problem and I've held roundtables both in northern and southern Nevada to really focus on how we bring the two stakeholders together and address this issue at the state, local, and federal level. One of the things we're doing at the federal level — and I'm very proud to be a part of — is we increased the low-income tax housing credit about 12.5 percent when we passed the budget to help direct this issue.
I've also been fighting against discrimination in affordable housing and in mortgage loans in general because I know…in minority communities and communities of color, there was a lot of discrimination. So I've issued the amendments and will continue to introduce legislation to fight against discrimination in lending. 
Q: It's almost 10 years since the real estate crash, which you dealt with as attorney general. With Clark County's real estate market picking up, how can we prevent another crash a decade later?
A: Well, that's the key. We don't ever want to see that happen again. I sit on six committees — one of them is banking, housing, and urban affairs. One of the things we put in place is the Dodd-Frank Act to ensure that we have regulators who are doing their job because they weren't prior to 2007. The regulators weren't there to stop what was happening, [and] that we hold these banks accountable so they can't engage in that predatory lending like they did… I was opposed to this, but unfortunately, in the Senate the banking committee passed S.2155, which was to roll back some of those regulations and oversight over the big banks. I disagreed with it and didn't support it for that reason. With that said, there are community banks and credit unions in our communities who are integral parts of ensuring that we stand up to the housing crisis and we protect homeowners and keep them in their homes. I think they should be supported and I continue to support small community banks and credit unions.
Q: Going back to immigration, given the rhetoric that's been coming from the White House and other leaders, what's your message to the immigrant population who are continuing to live in fear, may feel dehumanized, and just increasingly feel unwelcome in the country? 
A: Two things: My colleagues and I, in a bipartisan way, are continuing to fight for them and their families and we will continue to make them the priority and get something done. We recognize not only the contributions immigrants have made across this country, but also the economic benefits in our community. And two, it's outrageous to me that this administration continues to want to play politics with these families and it is unconscionable and it needs to stop. 
Q: With this current session, what are some of the things you're proud of that you've worked on and what's on your priority list for the rest of it? 
A: I'm on six committees: banking, housing, and urban affairs; energy and natural resources; commerce, science, and transportation; I sit on Indian affairs, and I also sit on the special committee on aging and the Senate rules committee. Every single one of those committees gives me the opportunity to continue to be a voice for Nevadans. That's my proudest thing: I have the ability to be a voice to fight for Nevadans, whether it's on health care and access to affordable health care; whether it's fighting for Nevada as the innovative state that we have become that creates jobs and invests in our workforce and we lead the country in new technology that is evolving around the world such as drones, unmanned vehicles, and smart communities. The fact that I continue to fight to ensure that we have clean water to drink and the air that we breathe is free of pollutants and protect our public lands for outdoor use and hunting and recreation. Every single of the committees, including the committee on aging, the ability to fight to address the prescription drug crisis we have that is outrageous to me. Every single thing I've talked about, I have legislation that I have introduced or co-sponsored to address all of these issues.
I just recently was able to sit down with Asian American and Pacific Islanders representing a diverse group of non-profits and associations. We talked about how we also continue to fight for our communities across the country, including in Nevada, when it's addressing citizenship issues and the Census coming up, and when we're talking about your right to vote and educating them…on how to do it. I am proud in Nevada because there are 140,000 Filipinos and Tagalog is an important language barrier to many getting out to vote. [But] some of our ballots are in Tagalog because we want to cross that barrier to make sure there is more participation. So it's tearing down those language barriers as well.
Q: As we saw in 2016, especially with your election, AAPIs came out in record numbers and continue to be swing votes in crucial elections. What's the importance for them to get out to vote on June 12 for the primary and eventually in November? 
A: Thank you. I would not be here if they did not come out to vote. Every vote matters. The issues that we just talked about and that I know that they care about, by coming out to vote and supporting individuals that are going to represent your interests is going to be key. I know that, that's why I'm here fighting and am their voice to fight for the issues they care about. Participating in the election process and paying attention to the candidates and asking the questions is key and still important in our democracy moving forward and everyone should participate. 
(This interview has been condensed and edited for clarity).
Facebook Comments