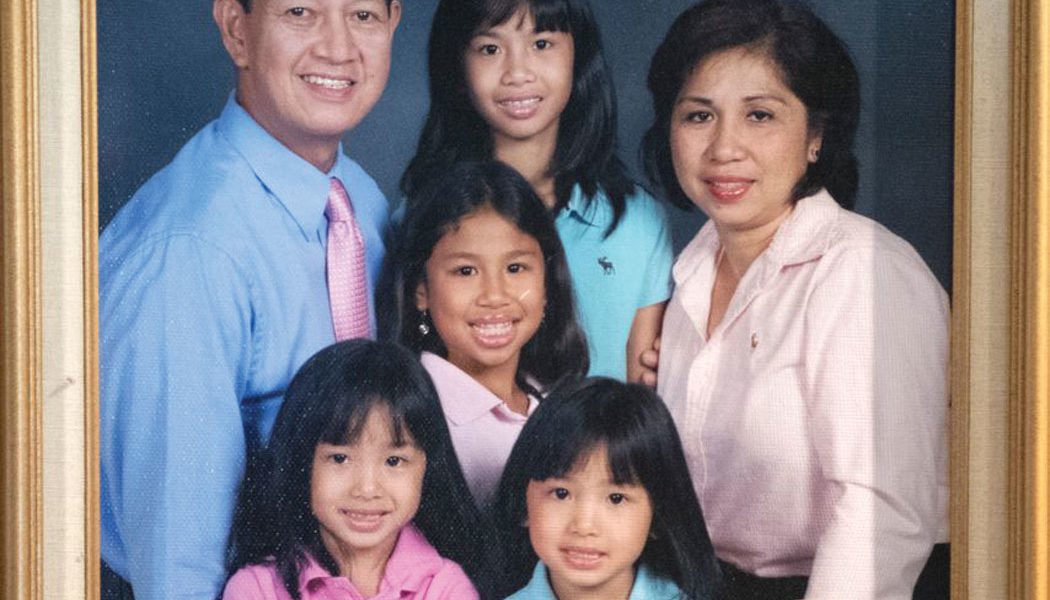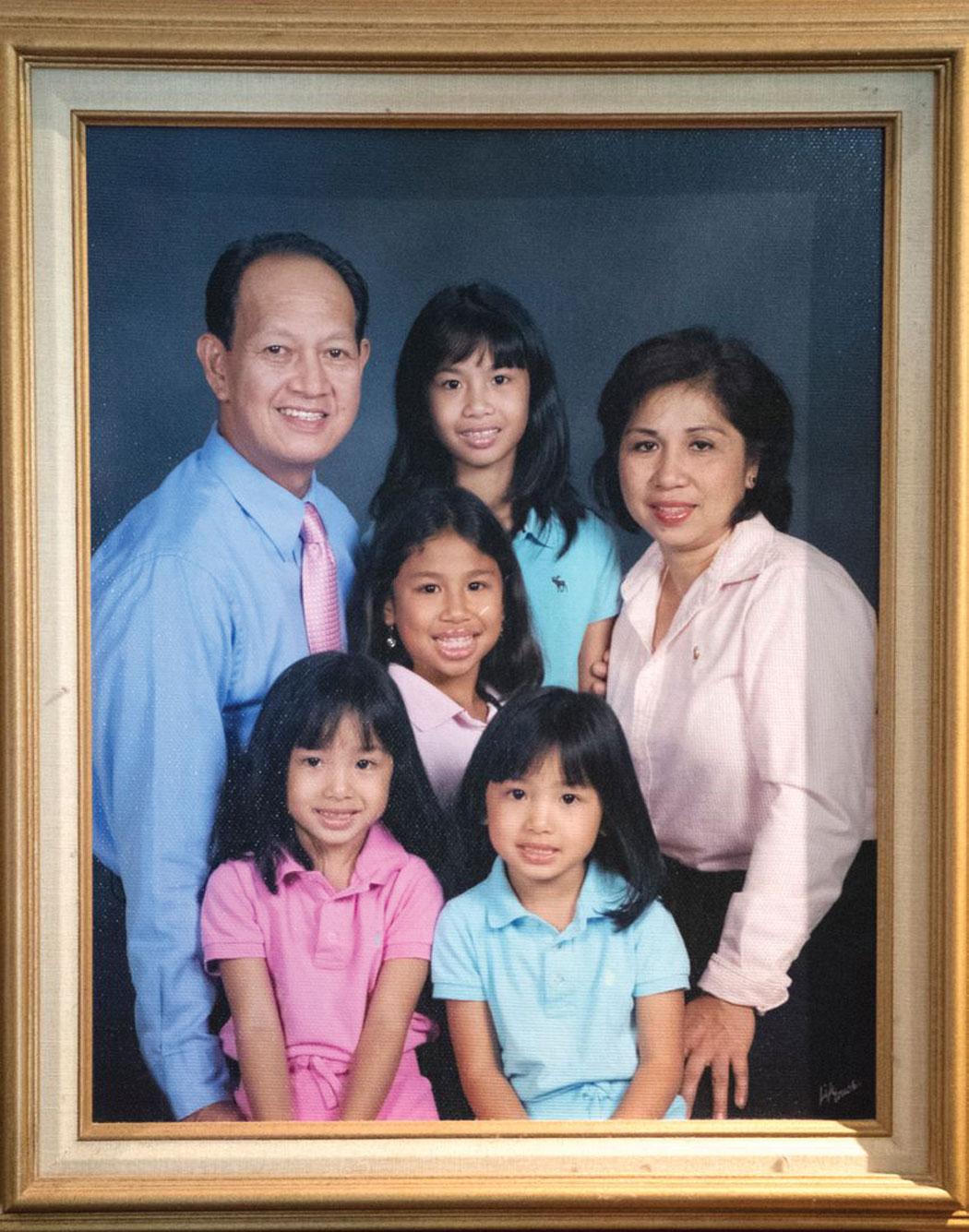 Horrific crash kills father, four daughters; mother survives
Trinidad-Family1
More than a thousand friends, schoolmates, neighbors and relatives trooped to Votee Park in Teaneck, NJ on Saturday, July 7, 2018 to remember the five members of the Trinidad family killed in a horrific crash in Delaware Friday afternoon. The father, Audie Trinidad, 61, and their four daughters Kaitlyn, 20, Danna, 17, and twins Allison and Melissa, 13. The mother, Mary Rose Ballocanag, is the lone survivor in the crash and is currently in a hospital in Delaware.  AJPress photo by Momar G. Visaya; inset photo courtesy of the Trinidad family
A Filipino-American family from Teaneck, NJ was on their way back from their July 4th vacation in Ocean City, MD when a tragic accident happened along Route 1 in Delaware. A pickup truck crossed over the median and hit the family's minivan head on, leaving five members of the family dead.
The crash killed the father, Audie Trinidad, 61 years old, and their daughters 20-year-old Kaitlyn, 17-year-old Danna and the 14-year-old twins, Melissa and Allison. Mary Rose Ballocanag Trinidad, the mother, is the sole survivor and was brought to Christiana Hospital in Newark, Delaware. The accident happened on the afternoon of Friday, July 6.
More than a thousand people came out on Saturday evening, July 7, to attend a prayer vigil at Votee Park in Teaneck. Friends, family and classmates came in droves, bringing candles, flowers and prayers for the Trinidad family.
Lydia Agas, Mary Rose's aunt, said that the latter was asleep when the accident happened.
"When she woke up, her husband was on her chest, leaning and she wondered what happened. She had fractures all over her body," Agas said.
Agas also delivered the family's response to the outpouring of support.
"We would like to thank everyone who came out tonight. We appreciate all the support. Let's continue praying for them," she said.
The husband and wife were properly restrained in the vehicle, according to police, but their four daughters were not.
"To lose four children in a crash … it's just unheard of," Delaware State Police Master Corporal Melissa Jaffe told ABC News. "I feel so bad for this family. I cannot imagine what they are going through," said Jaffe.
Police told local media that a Ford F-350 pickup truck traveling south crossed the median and hit a northbound vehicle which caused the car to spin out. The pickup truck, which was still moving southbound in the northbound lane, collided head-on with the white Toyota Sienna minivan Audie Trinidad was driving.
"I don't understand why these things happen. The whole family wiped out in the blink of an eye," Trinidad's brother Daniel told reporters. "I don't know how my sister-in-law will take this. She's the only one who survived."
Audie was a postal worker while Mary Rose worked as a nurse at Mount Sinai Beth Israel. The eldest daughter Kaitlyn was a nursing student at the College of Mount St. Vincent in the Bronx.
Her roommate and friend Frances Verdeflor found out about the accident after numerous texts and phone calls from their friends. She went to the prayer vigil with her entire family.
"We had so many plans for the coming school year. When I found out at 2:00 this morning, I thought it was a joke. I still couldn't believe that it happened," she said. "I can't help but feel for her mom because she is now by herself and her family is gone. It just hurts so much."
Verdeflor, along with other friends from Mount St. Vincent were among those who spoke at the emotional vigil.
Teaneck Mayor Mohammed Hameeduddin also spoke and expressed his condolences.
"As we grieve tonight and honor their memories, the question comes down to it is okay to grieve. It is okay to look and ask questions where there are no answers," he said. "As I was looking through everybody that I knew who went to high school or middle school with them, I could see that they have touched our lives in many ways."
One by one, friends, neighbors, classmates, teachers and community leaders spoke. The girls' classmates and the Filipino American Society of Teaneck organized the vigil.
A GoFundMe page was set up for funeral costs and to support Mary Rose Trinidad. It was set up by Linda Douglas for Teaneck Families and Friends and Douglas wrote that it's not clear what amount of support will be needed and the goal amount initially set at $10,000, and has been exceeded many times over. In 24 hours, the site raised more than $100,000.
As of writing, the goal amount has been raised to $250,000 and has received over $230,000.
Agas said that the family is overwhelmed by the support of the community, including online where people who do not know the family have been sending prayers and donations. She added that funeral arrangements for the five family members have not been made yet.
Facebook Comments