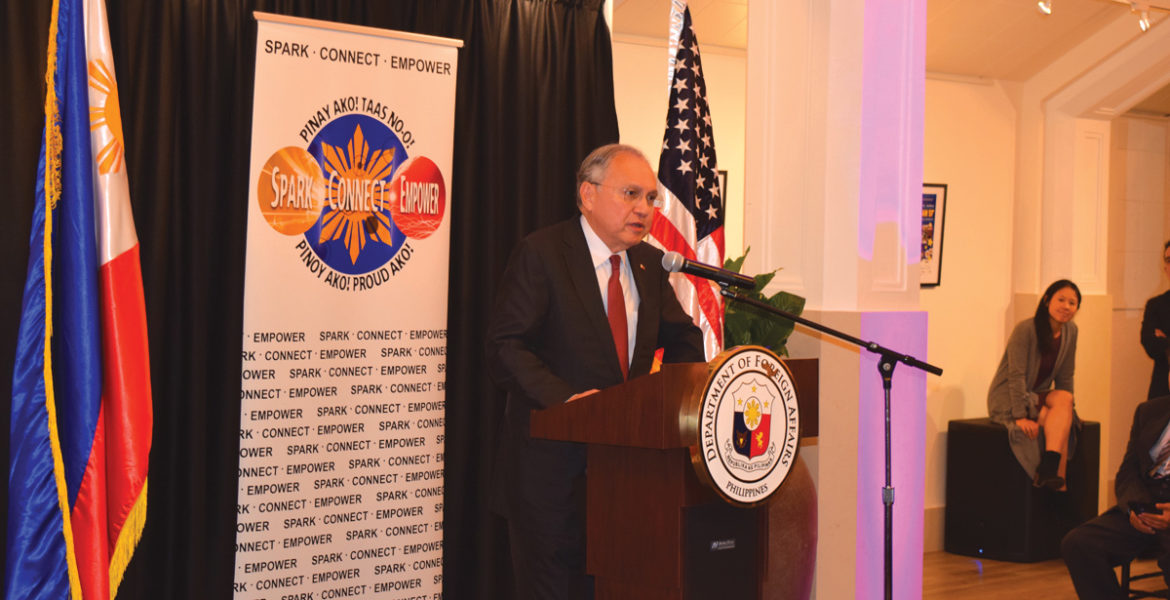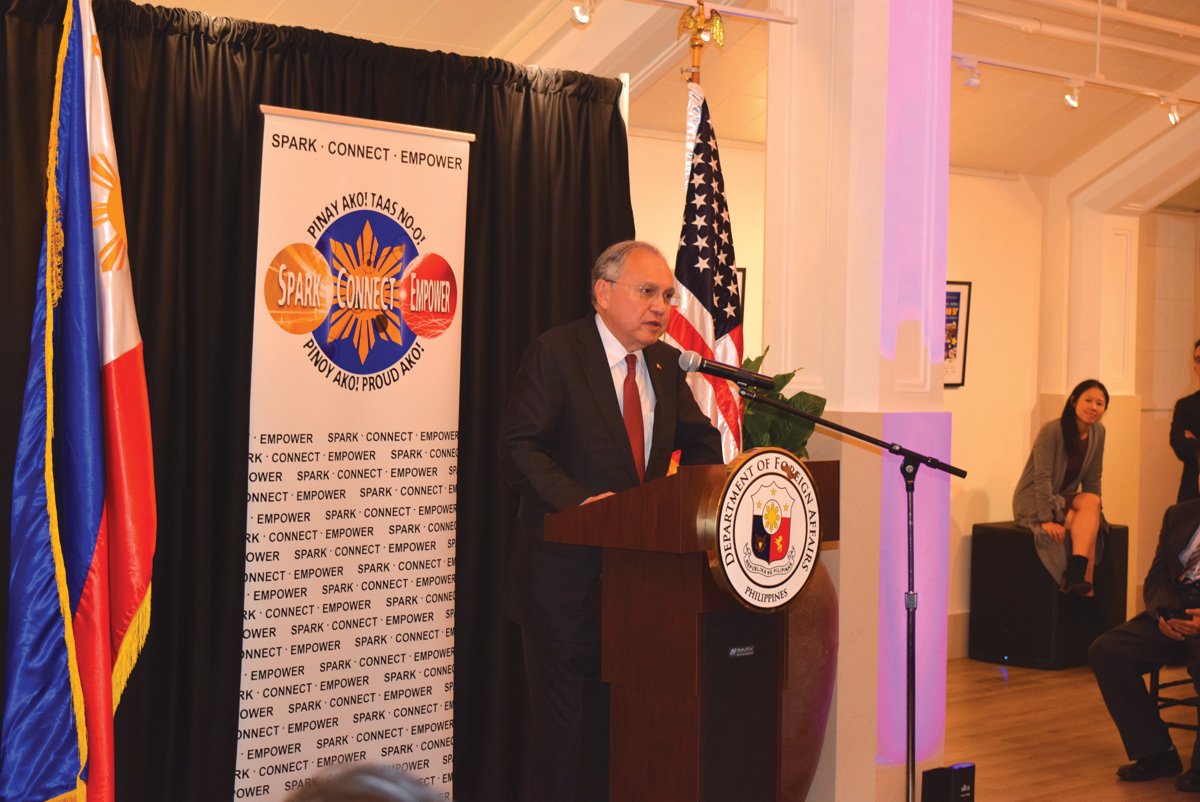 Ambassador Romualdez visits Bay Area, witnesses 'Spark' consular events
Philippine Ambassador to the US Jose Manuel Romualdez addresses the Filipino community at a reception held in his honor at the Kalayaan Hall in the Philippine Center Building in San Francisco. Ambassador Romualdez was in the Bay Area to witness the official launch of the Spark*Connect*Empower thrust of the consulate, as well as the soft launch of the Spark447 workspace and website. AJPress photo by Greg Michael Nitro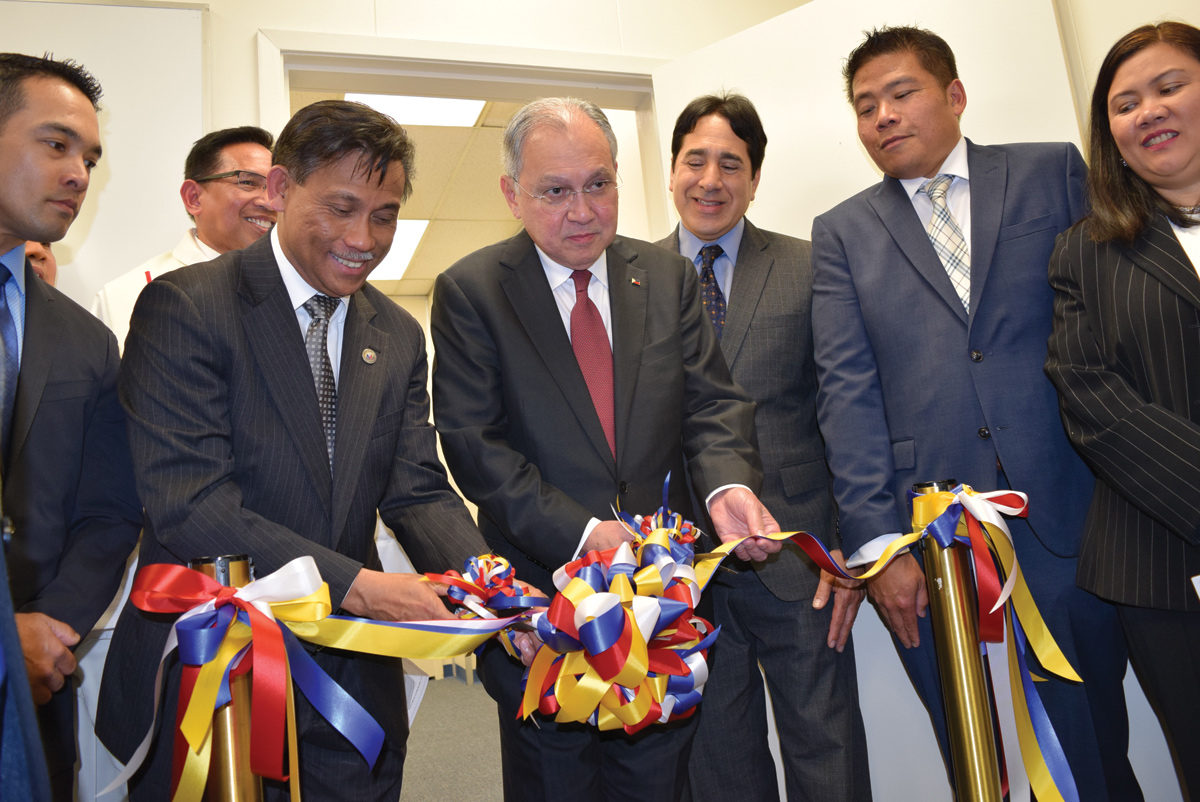 Ambassador Romualdez visits Bay Area, witnesses 'Spark' consular events
Philippine Ambassador to the U.S. Jose Manuel Romualdez (4th from left) and Consul General Henry Bensurto Jr. (3rd from left) cut the ceremonial ribbon opening the Spark447 Workspace in Suite 403 in the Philippine Center Building. With Ambassador Romualdez and ConGen Bensurto in photo are (from left) JR Calanoc of Panalo Solutions, Fr. Arnold Zamora, Richard Ortega of PLDT, Albert Lim of Xtrilogy Ventures and Mrs. Ann Mariza Sanchez-Bensurto. AJPress photo by Greg Michael Nitro
PHILIPPINE Ambassador to the United States Jose Manuel Romualdez made a brief visit to the Bay Area on Tuesday, May 22 to witness the opening of the Spark447 Workspace, the launch of the Spark*Connect*Empower and Spark447 websites, and attend a reception in his honor at the Philippine Center Building in San Francisco.
 Ambassador Romualdez had just finished a trip to Hawaii where he had a meeting with officials of the Pacific Command, attended also by some Cabinet members of Philippine President Rodrigo Duterte.
In his brief speech at the reception, Ambassador Romualdez lauded consular officials headed by Consul General Henry Bensurto Jr. for drumming up innovative ways to connect with all Filipinos.
"This Spark program initiated by our Consul General is the way to go as far as how we want to communicate with the many Filipinos who live here in the United States," the Ambassador noted. "It is also a good connection between the old and the new. And that's where we're going."
"I am very happy to be here in San Francisco where we have a very large Filipino community. I am very pleased that our Consul General and his staff are doing a great job," he said, while recalling an interaction with President Duterte who told him that what is expected of him as ambassador is that he does his job.
The Ambassador also reported to the audience the state of the Philippine economy and the government's approach to its relationship with the U.S. and the world.
"The Philippines today is poised to really take off. The kind of take-off that we've been waiting for for many years. As you probably know, the economy of the Philippines is going at a very fast rate. Some people are a little scared that it is going too fast. But perhaps it's about time that our country, our economy, is going quickly to catch up with the rest of the world. Our economy is growing by 6.7 percent today. Next year, we expect to shoot up to 7 percent. It is the second-fastest growing economy in the world today, second to India," said Romualdez, who holds a degree in Business Administration from De La Salle University.
"The United States, of course, continues to be our main partner," he continued. "But we are looking for other countries to also be our partners. I think that this is one way for us to precisely [be], in the words of our Foreign Secretary, 'friends to all, and enemies to none.' This is what we want to do when it comes to our relationships with all the countries in the world."
He added: "I just arrived from Hawaii. We had a top-level meeting with the Pacific Command, together with Secretary [Alan] Cayetano, Secretary [Delfin] Lorenzana, Secretary [Salvador] Medialdea and Secretary [Eduardo] Año. It was a very good meeting that we had with the Pacific Command with Admiral Harris. And it only crystalizes the kind of relationship that we have established here: no matter what happens, our relationship with this country remains solid and firm."
Ambassador Romualdez also paid tribute in his speech to the Filipino American community here in the U.S., whom he says has very good reputation among the senators and congressmen he has interacted with during his visits to the U.S. Congress.
"In Washington DC I have spent most of my time going around, trying to catch up, because we haven't had an ambassador for a year-and-a-half. When I went around in the US Congress, one of the things that is common to every single one of those who I saw – senators, congressmen – is that they have one good thing to say: we have a very good Filipino community in our district or in our area. This speaks very well of all of you… all of us Filipinos who are here, Filipino Americans (inaudible)… We have a very, very good image in this country," he stated.
"And we know that all of you will continue to keep it that way, and that makes my job easier. Because when you see a senator or a congressman who is not quite happy with the Philippines today, there is always one common thing that we talk about – that's the Filipino community. For example, in Alaska there are thirty thousand Filipinos. Senator Sullivan from Alaska told me that he is proud to have Filipino Americans working in his area. Again, that speaks well of the Filipino," he added.
Prior to Ambassador Romualdez's remarks, JR Calanoc and Albert Lim gave a glimpse of the Spark*Connect*Empower and the Spark447 Workspace websites, which aims to become an informational avenue for things that newly-arrived Filipinos in the U.S., or long-time and/or U.S.-born Filipino residents, after brief remarks from Consul General Bensurto.
According to Calanoc and Lim, the www.sparkconnectempower.com allows Filipinos to see the range of services offered by the entire Philippine Consulate General of San Francisco (PCGSF) umbrella, including the Department of Foreign Affairs (DFA), the Department of Tourism (DOT), the Department of Trade & Industry (DTI), the Philippine National Police (PNP), the Social Security System (SSS), the Philippine Center Management Board (PCMB), and the Spark447 Workspace. The site also allows partner organizations to post events, and users to join the site's forum/blog mechanisms (content to be overseen/checked for privacy issues).
The www.spark447.com site meanwhile, advances the vision of Consul General Bensurto to "create a forum and environment for the Filipino community to increase and highlight entrepreneurship, business, technology and community" via the Spark447 Workspace.
The Workspace, located at Suite 403 in the Philippine Center Building, is a shared office space and networking space, allowing for a place for Filipinos here in the Bay Area or those visiting from abroad to create, connect and support each other. Services at the Workspace include community desk packages, conference room, and virtual mailbox. It is a public-private enterprise of the PCGSF and the attached agencies, the PCMB, Panalo Solutions, Xtrilogy Ventures and Philippine Long Distance Telephone Company Company (PLDT).
In talking about the Spark*Empower*Connect and Spark447 launches, Consul General Bensurto told the audience that there was "a need to create a super structure that will provide an ideological foundation for all the activities of the Filipino American community" which will "create a greater impact of the Filipino diaspora in the United States and beyond, and to the Filipinos back home as well."
"With what we do in terms of cultural promotion by creating a powerful synergy through the efforts of the Filipino communities worldwide, this was the impetus for us to start the movement, SparkConnectEmpower, a movement that hopes to spark curiosity and pride in our culture and heritage… make us fall in love with what it means to be a Filipino and move us to connect and form a united and empowered Filipino American community," ConGen Bensurto explained.
He added that he hopes the community will "continue to intensify its efforts to fill that need for the youth to discover their Filipino roots and identity."
"Each one of us here in our own individual capacities has the ability to be the spark that would move our people, especially the youth, to love and nurture our culture and heritage. When you all take those little twigs, we can gather, create and build a bonfire, one that burns bright in our love and celebration that is all Filipino," the Consul General said.
Earlier in the day, both Ambassador Romualdez and ConGen Bensurto witnessed the signing of Spark Partnership agreements with the 11 founding and 38 additional partners of the Spark*Connect*Empower thrust of the consulate, and the ribbon-cutting and blessing ceremonies at the Spark447 Workspace located in the Philippine Center Building. 
Facebook Comments