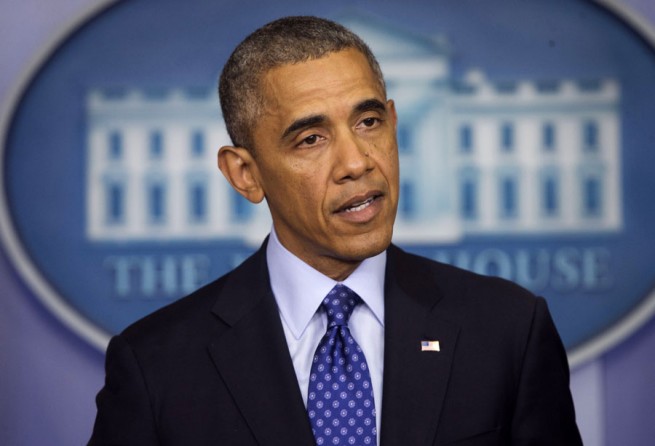 Friend of shooters arrested and charged
PRESIDENT Barack Obama and First Lady Michelle visited San Bernardino, California on Friday, Dec. 18, to meet privately with families of the victims of the mass shooting in the city that killed 14 and injured more than 20 others.
The president was slated to stop in San Bernardino while en route to his Christmas vacation in Hawaii, White House Press Secretary Josh Earnest said on Wednesday, Dec. 16, but was not set to make a public appearance.
In his third address to the nation from the Oval Office, the president condemned the attack in Southern California and sought to reassure Americans that the country can handle the dangers of terrorism.
"As a father to two young daughters who are the most precious part of my life, I know that we see ourselves with friends and coworkers at a holiday party like the one in San Bernardino. I know we see our kids in the faces of the young people killed in Paris," Obama said during the address to the nation earlier this month.
Rep. Pete Aguilar (D-Redlands), who represents the area, said he is pleased of the president's visit to families.
"I've conveyed to the White House the importance of the president's presence in our region as we rebuild, and I join with our community in welcoming him to San Bernardino," Aguilar said in a statement.
Obama has previously attended memorial services for the victims of mass shootings across the country, including in Tuscon, Arizona, Newton, Connecticut, Charleston, South Carolina, Fort Hood, Texas and the Washington Navy Yard.
He has also privately met with victims' families, including in October after nine people were shot dead at Umpqua Community College in Roseburg, Oregon.
Also announced on Wednesday was that the Inland Regional Center, where the shooting took place, will reopen on Jan. 4, 2016. However, officials said the conference room, the area in the building where the attack occurred, will be closed indefinitely.
Friend of San Bernardino shooters arrested and charged with terror plot
Gun charges were filed against a friend of Syed Rizwan Farook and Tashfeen Malik, the married couple that carried out the Dec. 2 attack and died in a shootout with police a few hours later.
Enrique Marquez, 25, purchased the assault rifles used by the shooters, US law enforcement officials said Thursday, Dec. 17. The weapons were purchased in 2011 and 2012, authorities said.
Marquez was arrested Thursday and charged with "conspiring to provide material support to terrorists," and with making a "straw purchase" of the two rifles used in the attacks, officials said.
Under California law, transferring gun ownership must be conducted through a registered dealer, with exemptions such as transfers between spouses or from a parent to an adult child. However, federal law enforcement sources told The Washington Post that no transfer record exists between Marquez and Farook or Malik, and when he handed them the rifles is unknown.
In addition to the terrorism charge, Marquez faces a count of lying on gun purchase forms to hide that he was really buying the rifles not for himself, and one of defrauding the immigration system by entering into a sham marriage with a Russian immigrant–the sister of the woman married to Farook's brother, so that she could gain legal immigration status paying him $200 a month, the New York Times reported.
Marquez told investigators that he and Farook, a longtime neighbor, had been discussing radical Islam since 2007.
"Farook introduced Marquez to radical Islamic ideology," FBI agent Joel Anderson wrote in the affidavit filed with the charges, which also discussed the time Marquez spent at his neighbor's house, reading articles and watching videos involving radical Islamic content. Marquez converted to Islam later that year.
Though Marquez had no direct role in the Dec. 2 massacre, he admitted to "conspiring with Farook to commit vicious attacks, as set forth in [the] charges," said US attorney Eileen M. Decker in a statement. "Even though these plans were not carried out, Mr. Marquez's criminal conduct deeply affected San Bernardino County, Southern California and the entire United States when the guns purchased by Marquez were used to kill innocent people and wound many others."
"His prior purchase of the firearms and ongoing failure to warn authorities about Farook's intent to commit mass murder had fatal consequences."
On the day after the shooting, a distraught Marquez allegedly called 911 to report Farook: "My neighbor did the San Bernardino shooting." He also said that Farook had "used my gun in the shooting," and "they can trace all the guns back to me."
Officials who requested anonymity told CNN that Marquez told investigators he and Farook were planning a terror attack in 2011 and 2012 at Riverside Community College, but dropped the plan partly because they were concerned about arrests of four Riverside-area men who were charged with attempting to travel abroad to carry out jihad.
In a report from The New York Times, Nick Rodriguez, a frequent patron at Morgan's Tavern, where Marquez worked, said he would say things like, "'There's so much going on. There's so many sleeper cells, so many people just waiting. When it happens, it's going to be big. Watch.'"
Rodriguez said the remarks were taken as a joke.
"When you look at the kid and talk to him, no one would take him seriously about that," he told the Times.
But Marquez's link to the San Bernardino incident came as a surprise to his boss, Jerry Morgan, owner of the tavern in Riverside, California, according to USA Today.
He described Marquez as an "emotionally immature" man who enjoyed reading comic books, but was not terrorist material, the publication reported.
"He was a goody, goody two shoes type kid," Morgan said. "If anybody was talking about sleeper cells, if I had any suspicion he was a weirdo, I would have fired him."
If Marquez was aware of a plot and aided it, he could face charges that could amount to a maximum life sentence to prison. Marquez will return to court on Monday, Dec. 21 for a bail hearing. His arraignment is scheduled for Jan. 6, where he is expected to enter a plea.
The conspiracy charge against Marquez carries a maximum sentence of 15 years in prison, and 10 years each for the firearms and marriage visa charges.