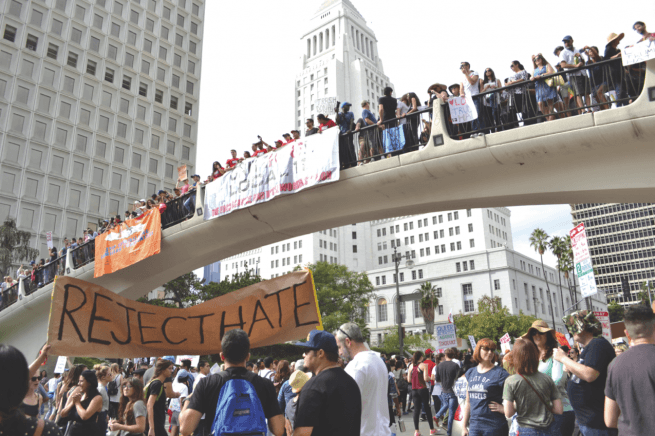 WHEN Filipino-American Catherine Garvey woke up on the morning after the historic presidential election, she knew the "status quo was over."
"I couldn't sit idly by and just accept that this was our new leader," an impassioned Garvey, 24, told the Asian Journal. "We have to fight for progression."
Garvey is a sociology student at UCLA and cites President-elect Donald Trump's rhetoric as a driving factor in her political involvement during this election.
The Fil-Am was one of the nearly 8,000 protesters who took to the streets of downtown Los Angeles on Saturday morning, November 12, to protest the win of the president-elect.
The rally started with a brief demonstration by protesters with loud speakers before leading the 3.1 mile-march from the Edward R. Roybal Federal Building in Little Tokyo to MacArthur Park. Several major streets were blocked off to serve the protest, which was, for the most part, peaceful.
Protesters of all ages, races, genders and sexual orientations marched the streets demanding to have their voices heard. Many held signs condemning the new president-elect. Those with speakerphones led chants like "Not my president!" which echoed through streets.
"We can't allow someone like Trump to do what he wants to do," said Clare Weber, a sociologist and associate vice president of faculty affairs and development at Cal State Dominguez Hills.
Weber said that the protests make her feel "really good" and that she hopes that they provide a safe space for those who feel "isolated."
"There's a lot of areas in the country where hate won, but we didn't allow that to happen in LA, and we didn't allow that to happen in California. But we really got to let everyone across the country know we're all in this together," Weber remarked.
"I can't stand and let the [president-elect] throw our country back a hundred years," said Josh Castro, a teacher at Pathway Community School, a charter school in South LA.
Castro, 29, cites Trump's plans for mass deportations of undocumented immigrants, which affects "all races," as a driving force to demonstrate with the protesters.
"I'm here to support women, immigrants, my students and their families, a lot of whom are undocumented. I'm here to stand in unity with them," Castro said.
Saturday's protest was the fourth day of anti-Trump protests in LA. The Los Angeles Police Department said that 187 arrests were made during the previous night's protest in downtown LA.
"The LAPD will continue to provide the necessary resources to ensure the safe and peaceful expression of opinions," the LAPD said in a statement Saturday morning. "When demonstrators begin to violate the law and create unsafe conditions for the demonstrators, officers, and the public, Department personnel will continue to take appropriate enforcement action."
The LA protests are a part of a global outcry over the president-elect occurring in at least 12 cities across the nation. Protests persist in New York City, Chicago, Washington, D.C. and Cincinnati, to name a few.
Protests have also transpired in Dublin, Ireland and Melbourne, Australia.
An issue of rhetoric
A common theme surrounding the anti-Trump cause is the president-elect's coarse language directed to women and ethnic minorities. Protesters' messages have called for equal rights for women, Latinos, LGBTQ+, and Muslims other ethnic minorities.
"We can't forget his words and what he's said about people of color, women, Muslims, the gays and almost every minority out there," Garvey remarked. "His language is dangerous, and many of our sisters and brothers have already have had to pay for it."
On CBS' "60 Minutes," host Lesley Stahl asked Trump about his thoughts on the demonstrations occurring worldwide in protest of his election and his rhetoric.
He responded: "I just don't think they [the protesters] know me."
"When they demonstrate against you, and there are signs out there, don't you say to yourself — I guess you don't — 'Do I have to go out and assuage them? Do I tell them not to be afraid?' because they're afraid?" Stahl asked.
To the protesters, he said, "Don't be afraid. We are going to bring our country back. But certainly, don't be afraid."
He added: "If Hillary had won and if my people went out and protested, everybody would say, 'Oh, that's a terrible thing.' And it would have been a much different attitude. There is a different attitude. You know, there is a double standard here."
When asked if he would change his rhetoric during the presidency, Trump defended his language.
"Well, sometimes you need a certain rhetoric to get people motivated," Trump said. "I don't want to be just a little nice monotone character and in many cases I will be."
Facebook Comments