THE start of a new season means different things to different people. But as a hair expert, it primarily means one thing for me: new season equals new haircut.
As you embrace the arrival of autumn, it's the best time to hit up the salon and get your fall season haircut. But before you do, check out these chicest hairstyles and cut. Based on my opinion, these are the six best "hair-looks" that are suitable for both men and women this season. Let me start with the ladies.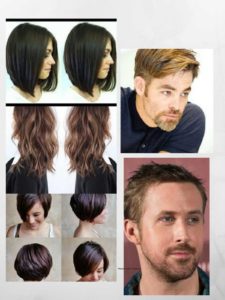 The bob cut
Seventy percent of my customers would request this type of cut for either of the following reasons: a new phase in their life (a relationship status-change or a new job), want a new look to reinvent themselves, or just because someone they know— and like— is sporting it. Your reasons may or may not fall under any of the aforementioned categories, but you are definitely in the best season to get a bob cut.
There is one thing you need to remember if you're interested in trying a bob like Keira Knightley, Ginnifer Goodwin or Rachel McAdams. You have to be prepared for the attention—or the shock (if you had long hair)—that this haircut draws. Know that this cut makes a serious statement. Don't dare if you can't take the heat. Also, you have to manage your hair's density with this look, or else the bob will look like a mushroom.
Grown-out Lob
According to Marie Claire's "20 Chicest Lobs of the Year," 'The Lob was this year's tour de force cut.' But while it is lovely, it is also way too much work to blow out the strands as regularly as the LA traffic permits. Don't worry, I have good news! You can still grow your Lob and look like you just stepped out of the salon every time.
Ask your stylist to texturize your mane for body and movement. You can also add some beachy waves to this cut. That is what's great about a grown-out lob, you can style it in a variety of ways and it still looks chic.
One renowned stylist's reminder: "Use a combination of oil and hold products to blow dry," he suggested, "and style with a flat iron to add bend."
Choppy and messy
Since we are on the subject of adding playful waves and body to your hair, let's push it further with some carefully sliced strands. It's razor-meets-gorgeous! You may check out Kim Kardashian for inspiration for this style.
If you think this should be your look for autumn, enhance the "messy" effect by using a curling wand on your waves. Use plenty of texturing sprays to out some volume at the roots.
The Mixie
Mixie is portmanteau for midlength pixie. This haircut is best suited for fine to normal strands that are straight. I suggest this cut for those who aren't ready for a super short style but want something short yet feminine.
For the men
After the goddesses, we move on to the gods of a killer haircut. And what easier way to describe the famous cuts is to name the celebrities who are sporting such looks. Allow me to borrow and coin the styles with their names.
The "Ryan Gosling" cut
Google it if you don't agree with me, but I must say this style is suited for any face or hair type. Ask your stylist for something high and tight on the side. Make the top about an inch longer and polish the look by combing it with a matte pomade. I must warn you: this is a head-turner look. Proceed with caution.
The "Chris Pine" cut
If you've seen "Star Trek,"  you pretty much have an idea of your new look sans the highlights. Rock the "Chris Pine" cut by going shorter and with much tight on the sides. And please make sure you go easy on the pomade or you just might become the next most eligible bachelor.
For curly hair
I also have a recommended cut for those who have curly hair. This is also for those who want a more modest, subtle and less-attention-grabbing look.
If you've got curly hair and a more angular face, go with a round cut. You're going to have to ask your stylist to cut about a half an inch longer on top than on the sides for best results.
And there you have it, ladies and gentlemen. These fall haircuts are sure to make you look trendy this season.
***
Monet Lu is a Marikina-born, award-winning celebrity beauty stylist with his own chain of Monet Salon salons across Southern California and Las Vegas, Nevada. Ultimately, Monet is known as an all-around artiste who produces sold-out fashion and awards shows as well as unforgettable marketing campaigns. Monet is also the founder of the revolutionary all-natural beauty products such as Enlighten, your solution to discoloration. To contact Monet, please visit www.monetsalon.com or email him at monetsalon@aol.com.