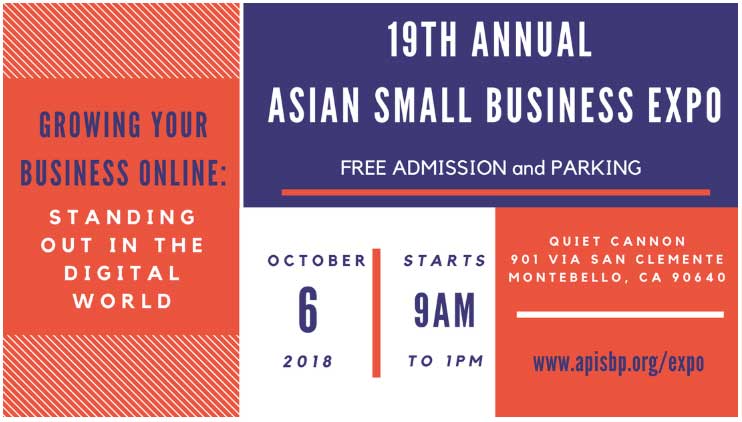 Starting your own business is always going to have risks. Maybe you're making a career shift and decided to pursue your passion. Or maybe you want to upgrade your current enterprise and expand its reach. Whatever the motivation is, starting and sustaining a business is a fulfill
For the Asian American community, starting a business may seem intimidating because of the competitive nature of the Los Angeles County commercial playing field. But a silver lining to that fact is the escalating demand for Asian-run businesses, whether it's restaurants and catering, tech start-up companies or health care centers for the elderly.
Possessing the right business acumen to create something from the ground up and sustain it in the long run, doesn't come naturally for some people, but luckily there are great resources available to guide you in the right direction.
Aspiring or current business owners have a chance to network with other business owners and learn valuable skills from Asian American veteran business experts at the 19th Annual Asian Small Business Expo, a yearly event hosted by the Asian Pacific Islander Small Business Program (API SBP).
Some of the expo's sponsors and exhibitors who will table at the event include U.S. Bank (the expo's title sponsor), Wells Fargo, Cathay Bank, Citizens Business Bank, the Port of Los Angeles and The Los Angeles County Metropolitan Transportation Authority; among other big name companies and organizations.
"There are a lot of things people will learn that are specific to the Asian American demographic," Fidji Nicar of the small business program at Search to Involve Pilipino Americans (SIPA) told the Asian Journal. "When it comes to being a small business owner in an underrepresented community, there's a lot of challenges you're going to run into like financing and finding the right resources, and at the expo they're definitely going to be meeting bankers, financing and lending companies, non-profit organizations, etc. that can help guide you in the right direction."
This year's expo will include four workshops focussed on financing your business, digital marketing and current trends in food delivery realm. There will also be an all-women panel of entrepreneurs featuring Patricia Tsai, owner of Choco Vivo; Mylen Yamamoto, founder of Cropsticks; and Filipina-American Fiona Hilario, CEO of Lay Bare Salon L.A.
There will also be a business pitch competition in which selected finalists have two minutes to pitch their business idea to a panel of judges that includes a $2,000 prize to the one with the best pitch.
In the last few years, Asian American-run businesses have been gaining more traction as resources like the API SBP extend to new waves of aspiring entrepreneurs. Asian-centric companies are on demand and the resources available to help uplift Asian American businesses have never been more widely available.
Admission to the expo and parking is free and all ambitious business owners looking to grow or start their dream companies are welcome.
The 19th Annual Asian Small Business Expo will be held on Saturday, Oct. 6 from 9 a.m. to 1 p.m. at Quiet Cannon, which is located on 901 Via San Clemente, Montebello, CA 90640. (Klarize Medenilla/AJPress)