EARLY morning on Tuesday, June 2, Mary Jane Rempola received a call from an employee that the front glass door of Bagnet in Panorama City had been shattered amidst the unrest unfolding across Southern California.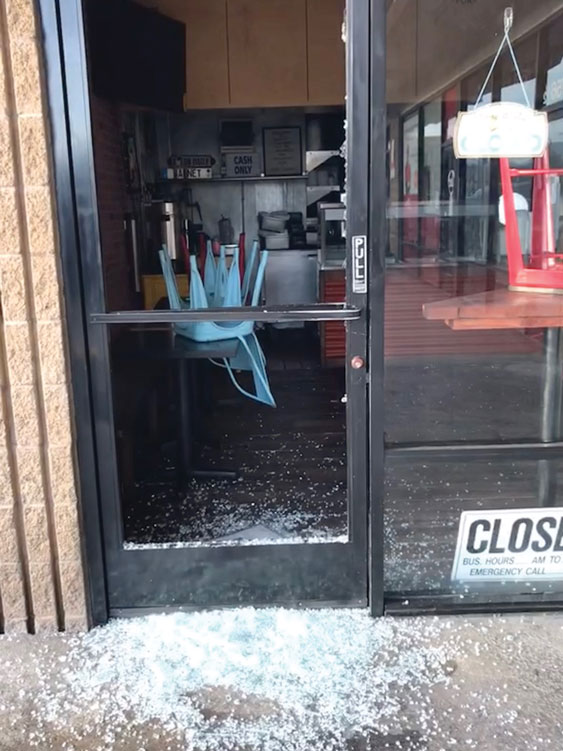 Rempola opened the small Filipino restaurant in a plaza along Roscoe Boulevard in February, but has since been struggling to attract customers following Los Angeles County's issuance of safer-at-home measures. Tuesday morning was another setback for her.
"It's a bit sad, but it's just the door," she told the Asian Journal, adding that nothing appeared to be stolen from the restaurant.
In less than five hours, a GoFundMe page started by Rempola's daughter Nicole exceeded its $1,000 goal to help repair the damage. (Editor's note: The fundraiser has since been updated as a "survival fund" for the restaurant since it has been denied business loans)
"My mom took a hard hit financially because of the pandemic. After this happened, my mom sounded so defeated so I wanted to reach out to our family and friends mainly to help us out because they all know my mom. She's the sweetest woman and she'll give until she has no more," Nicole Rempola told the Asian Journal. "I think we raised and met our goals so quickly because they know the kind of woman she is and they wanted to take this opportunity to give back to her."
Despite the property damage, the Rempola family expressed its support for the Black Lives Matter movement and the peaceful protests.
Nearby, the windows and door at Valerio's Bakery along Woodman Avenue were also broken into.
As the county continues to have daily 6 p.m. curfews this week, other business owners like Barb Batiste are taking extra safety measures to protect their brick-and-mortar locations, even if doing so is another expense.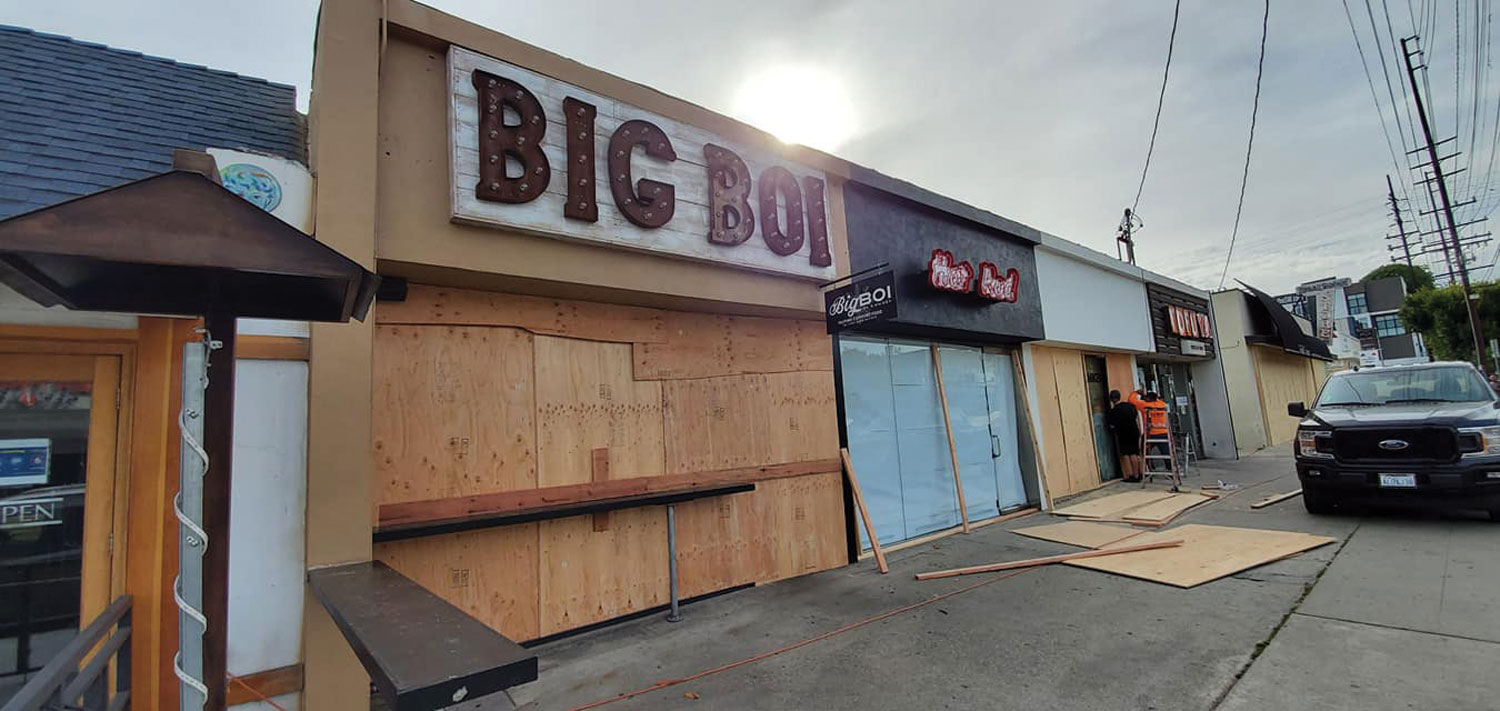 Batiste boarded up Big Boi and B Sweet along the usually bustling Sawtelle Boulevard in West LA with the help of friends. Since the pandemic, both shops have seen a decline in sales and have needed accommodations to pay rent at a later date.
Batiste is slated to reopen Big Boi on Wednesday for lunch service, however, another consideration is the availability of ingredients from suppliers which have also closed temporarily.
"I want to reopen for lunch as it'll help bring in some sales, especially since it's the time of the month when rent is due again, and help staff get in some hours. I support the movement and the right to protest and I want to be loud about it as I feel the pain of everything that's happening," Batiste told the Asian Journal. "But I just cannot support the criminal acts and looting. It becomes no longer about the message."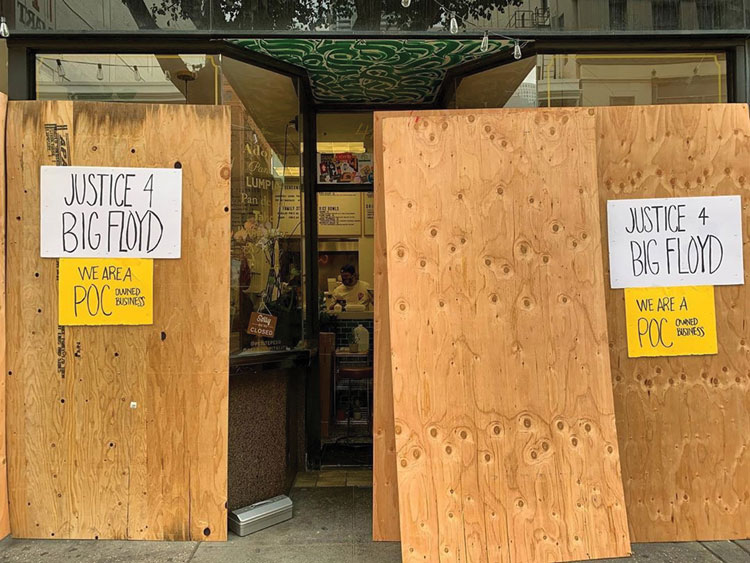 Miles away in Downtown Los Angeles, protests began late last week among dozens organized in major cities across the county in response to George Floyd, a black man, being killed by a white police officer in Minneapolis on Monday, May 26.
After closing early on Friday night, Petite Peso's front left window was shattered.
Executive chef Ria Barbosa wrote in an Instagram post, "Our window can be replaced. George Floyd can't. #blacklivesmatter."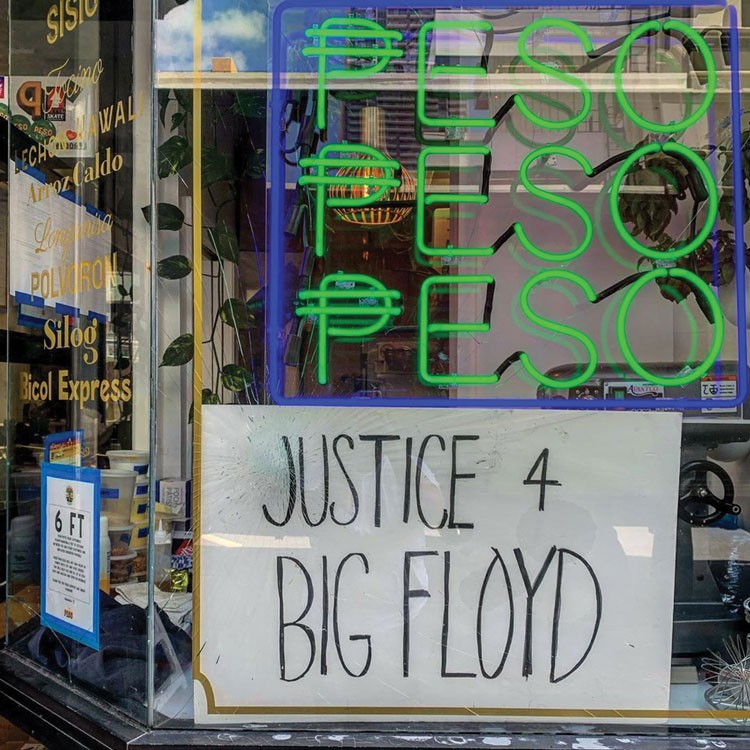 The restaurant reopened the next day with limited hours, but decided to suspend operations until this Wednesday to avoid local police and National Guard presence and to keep employees safe. On top of the boarded-up windows and door, the team left written messages: "Justice 4 Big Floyd" and "We are a POC owned business."
"Saturday night, we didn't want to take any risks from what we saw the night prior so we boarded up all our windows with plywood and brought all our valuables with us, POS, electronics, neon sign, etc. We thought things would possibly cool down on Sunday and Monday but [on Tuesday] the team didn't feel the vibe of DTLA was right for business or safe for our employees," Tiffany Tanaka, head of marketing for Peso Hospitality, told the Asian Journal in an email.
Wanderlust Creamery's co-founder and creative partner Adrienne Borlongan was preparing its four stores to be reopened for regular service on Saturday, May 30 when messages flooded saying that their bright blue storefront along Third Street in LA's Fairfax District was in the background of news coverage.
Outside of it, hundreds of protesters had marched from Pan Pacific Park and made their way along the main thoroughfare of the district which is dotted with many retail and restaurant businesses.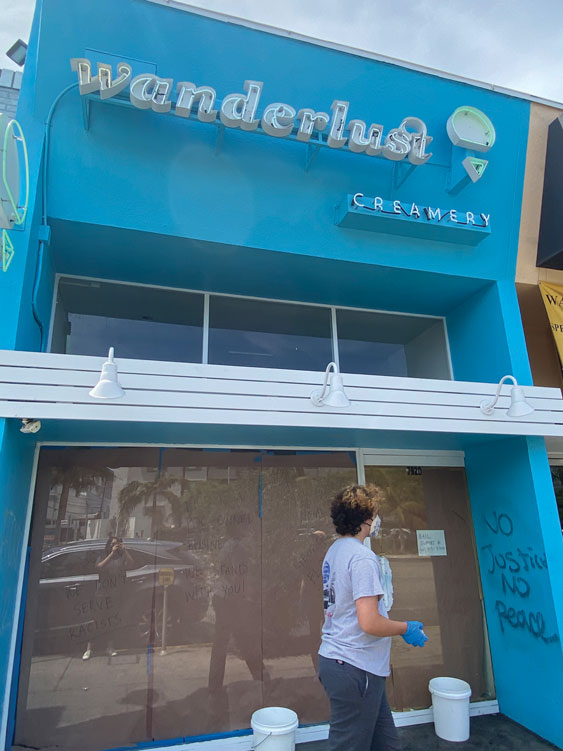 "That's when we realized there were bigger things going on than the city reopening. We knew it was an issue very close to home for a lot of our staff and we wanted to allow them the opportunity to participate," Borlongan told the Asian Journal.
That particular location of the ice cream shop had still been under construction but had brown paper covering its windows from the inside with the notes: "Sorry, we don't serve racists," "This is a POC-owned business, we stand with you!" and "Say his name, George Floyd!"
"No matter what is said about the social progress this country has made so far, there's no denying there's an unspoken white superiority that still exits in American culture. Let me be clear: the challenges most minorities, including Fil-Ams, face in dealing with this are nowhere near the gravity of what Black Americans are faced with," Borlongan said. "But we share a common problem, and so the burden and work needed to solve it is also one that needs to be shared. It's our responsibility to dismantle everything that allows systemic racism against black lives to exist, including the anti-blackness in our own culture."
Protesters spray-painted "No Justice, No Peace" on the shop's exterior walls but in the following days, volunteers came back to help clean up the building as well as surrounding stores. One individual went to Home Depot to buy the matching paint color and offered to paint over the graffiti, Borlongan said.
Over the weekend and early this week, Wanderlust Creamery closed all its locations in solidarity and to abide by the county's curfew. In addition to dealing with the physical side of the business, Borlongan acknowledged the significance of communicating as a brand and minority-owned small business, which boasts over 71,800 followers on Instagram.
"I also think that it's important to note that most small businesses struggle with crafting what to say publicly without getting backlash or having their message being dissected as disingenuous. Even more challenging is finding the time to carefully craft a statement with everything going at a moment's notice…Some people are so quick to jump on a business if they haven't taken a public stance by now. I think the last thing the world needs right now is more judgment," she said.
Downtown Long Beach was the site of another big protest on Sunday.
Bebot Filipino Soul Food along 4th Street was far from the main demonstration, but owner AC Boral covered the windows and barricaded its doors as a precautionary measure. The restaurant came out unscathed.
Boral said that he'll continue feeding front line health care workers and low-income families in the community as he has been since the pandemic began but implored fellow Fil-Ams to support black-owned businesses and to reflect on the systemic issues prompting the protests.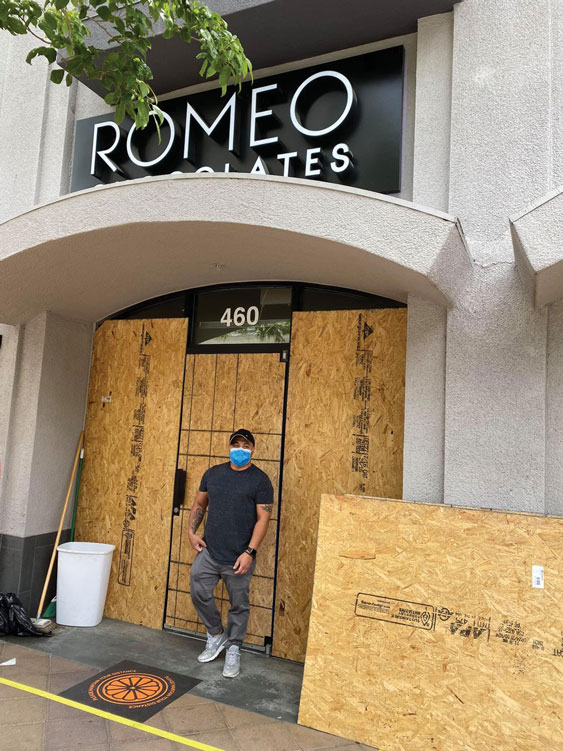 "It's important for us as community leaders, not just business owners, to support Black Lives Matter because this is our entire community and it does affect us," Boral told the Asian Journal. "At the end of the day for me, it comes down to our values…and the values that the restaurant stands for: to care for humanity and to take care of everyone. Black Lives Matter supports that."
Romeo Garcia was among those peacefully marching as an ally and to denounce police brutality on Sunday. However, by nightfall, many small businesses in the area were set on fire, damaged or vandalized, Garcia wrote in a Facebook post.
Romeo Chocolates, his chocolate and wine bar along Pine Avenue, was also affected. However, the next day, he and volunteers patched and covered the shop's windows in addition to cleaning the streets and repairing other nearby stores.
"My heart goes out to small businesses recovering from the damage. Thank you to the volunteers and neighbors who kept watch of our block last night, even making a human barricade at storefront broken doors to prevent further theft. Today, people donated food, water, and greeted one another as we all cleaned up our neighborhoods. It was a beautiful sight," Garcia wrote on Monday.