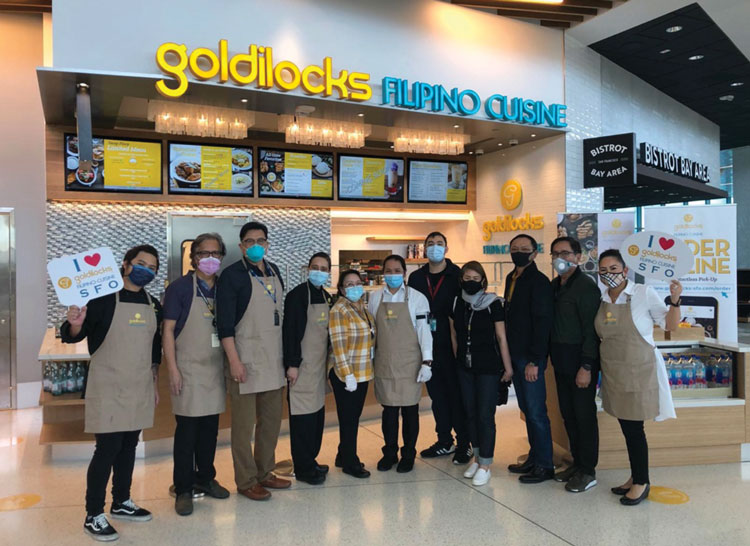 SAN FRANCISCO – As businesses across America are forced to shut down due to the economic impact of the COVID-19 pandemic, Goldilocks Filipino Bakeshop and Restaurant opens its newest North America branch at the Harvey Milk Terminal 1 of San Francisco International Airport.
SFO is open and providing services to travelers and partner airlines. Freddie Go Jr. of Goldilocks Bakeshop Inc. shared that travelers are looking for hot food in the airport and they are there to provide that. Go added that "the SFO branch is the first Filipino restaurant to be featured in all U.S. airports. Goldilocks is fortunate to be in a high-profile location where we can be accessible to travelers flying to and from various places around the world."
New measures are in place to maintain safety and protect the health of passengers and employees. The management assures the public that Goldilocks is prepared to observe all protocols such as wearing face coverings or masks and physical distancing, while serving up all-time favorite Filipino cuisine and baked goods.
In an interview last year at the grand opening of Harvey Milk Terminal with TFC's BA news, SFO Public Information Officer Doug Yakel said that "We want to be able to represent everything that's great about the San Francisco Bay Area, so being able to have a well-known brand like Goldilocks here in this terminal gives so many more travelers the opportunity to experience who maybe haven't before [sic]."
For a business that has been part of the San Francisco community since 1966, Go shares that "serving the people who live in, visit, and travel through SFO, is not simply a business opportunity for us, it's an opportunity to show people a piece of our home and what the people of San Francisco — and the Filipino culture — are about."
Goldilocks is open daily, from 6:00 a.m. to 3:00 p.m. at SFO Harvey Milk Terminal 1, Gate B18. Orders may also be placed online for contactless pick-up.
Goldilocks is a reflection of Filipino values such as thoughtfulness, caring, love for family, and pursuit of excellence. Every slice of cake or a spoonful of our scrumptious dish is a foretaste of something truly Filipino yet appetizing for all. At Goldilocks, every day is a happy and memorable celebration.