MAD Travel co-founder Tom Graham shares journey towards social tourism platform
Whether it's family, friends, pristine beaches, food, shopping, or business — people find themselves in the Philippines for a number of reasons.
For former business journalist Thomas Graham, his journey to the Philippines came by way of an assignment — to report on business and investment prospects in the country.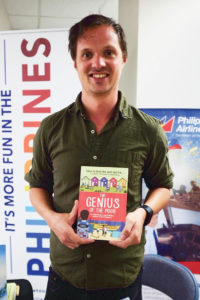 But what the British journalist instead took away were stories that would eventually lead him on a path of social entrepreneurship, co-founding social travel platform Make A Difference (MAD) Travels whose early travelers include the CEO of Microsoft.
On the seventh floor office of the Philippine Department of Tourism in Los Angeles on Thursday, July 27, Graham explained to tourism heads of different countries and travel entrepreneurs, of his journey from business journalist to social entrepreneur and the lessons he picked up along the way.
"I didn't really believe in what I was writing because it was very obvious to me the level of poverty and inequality I found in the Philippines," said Graham, of his initial report findings in the country.
"I wanted to tell a different story — a story that would really give me hope," he added before pointing to a photo of Gawad Kalinga founder Tony Meloto whom he decided to interview. 
Gawad Kalinga (meaning "to give care" in Tagalog) is a Philippine-based non-profit that focuses on poverty alleviation through efforts like community building.  Who better to give a different perspective on Philippine potential than Meloto, Graham thought.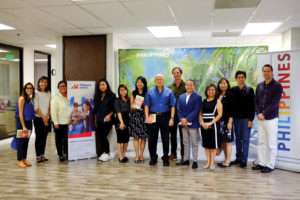 After a three-hour interview that went way beyond the planned time of 30 minutes, Graham said he was challenged by Meloto to "ditch the shirt and tie" he was wearing, and "go out and discover the genius of the Filipino poor."
Graham soon after decided to quit his job, exchange his 34th floor condo in one of the Philippines' most upscale neighborhoods, and embark on a year journey living and experiencing the country through the perspective of local communities.
'Genius of the poor' 
On his journey through over 100 communities, Graham recalled meeting numerous inspiring individuals looking to make change in the Philippines. These people, he shared, introduced him  to the Filipino values of walang iwanan (meaning "no one gets left behind"), and bayanihan, which describes the spirit of active collaboration.  Both values are what are behind the mission of Gawad Kalinga.
There was the young French foreigner who after graduating from one of France's top business schools, turned to chicken farming in the Gawad Kalinga Enchanted Farms, which Graham described as the "Silicon Valley of social entrepreneurship" in the country.  
There was also the young Filipino in the same farm, who now makes a living making iced tea from local ingredients despite having before lived under a bridge.  
Being a writer, Graham somewhat instinctively decided to chronicle his experiences and all of the people he met and put them in a book titled, "The Genius of the Poor:  An Englishman's Life Changing Journey in the Philippines."
He described the book as the "first stage" in his personal transformative experience because as he later found out, he didn't feel like the book had done enough.
Moving back to London, Graham found himself missing the Philippines and after a couple of beers one night, a friend attempted to console Graham by offering to double his donations to Oxfam.
"It was a very sincere offer, but at that moment I realized I don't just want my friends to double their subscriptions to a charity — to just give money.  I wanted them to come and experience the Philippines and its communities and that spirit of bayanihan and walang iwanan for themselves," said Graham.
Hence came the idea for Make A Difference (MAD) Travel.
Making a difference through travel
Launched in 2015, MAD Travel is a social tourism platform that looks to provide travelers with meaningful experiences while supporting marginalized communities in the Philippines. 
Thirty-percent of total tour profits go towards its partner communities like those of Gawad Kalinga and the Gawad Kalinga Enchanted Farms.
Touching on the growing appeal of experience-based travel found especially among millennials, Graham said MAD Travel hopes to take travel beyond being just sustainable.
"Everybody wants to be sustainable nowadays.  But a lot of it seems to be around limiting the harm that we do," said Graham.
He added that being responsible just isn't enough, especially in the Philippines where many communities remain vulnerable to not only inequality, but challenges like climate change.
He gave the example of the need for reforestation, specifically in the Central Luzon province of Zambales which experienced devastation after the eruption of Mt. Pinatubo.  It's also one of the destinations of MAD Travels.
The Philippines overall, he said, was over 90 percent forest some hundred years ago.  Today, it's less than ten percent.
"We need to somehow transform this environment.  Use tourism as an accelerator to basically replant an entire 3,000 hectare rainforest," said Graham, adding that reforestation would mean planting about three million trees.
In Yangil, San Felipe, Zambales, MAD Travel with its partnerships and travelers was able to start a small nursery in 2016.  By 2017, they started to see growth in planted trees.  Today, the nursery works closely with NGOs and other organizations, has a water pump, basic solar energy, and thriving tree yields.
Aside from tree planting, travelers to Yangil learn about the culture of the indigenous Aetas through dance, food, music, archery, and herbal medicine.  They also get to know the community through its people like Chief Erese, the tribal chieftain; Ate Vilma who is often the first to greet travelers; and Lolo Doyong who enjoys sitting outside the learning center with his  native self-made bow and arrows.
Other MAD Travels destinations include the GK Enchanted Farm in Bulacan, Metro Manila, and Maribojoc in Bohol.  But all travels are customizable to fit travelers' personal schedules.
Since its launch, MAD Travel has served over 2,500 and counting travelers from both the Philippines and abroad.
Its impact has meant putting over 30,000 plants back into the ground since 2016, having two indigenous partner communities from two different provinces, and an investment of roughly PHP 900,000 in community training and infrastructure development, among others.
"All of this happened because tourism was the initial driver," said Graham.  "It got people in the community."