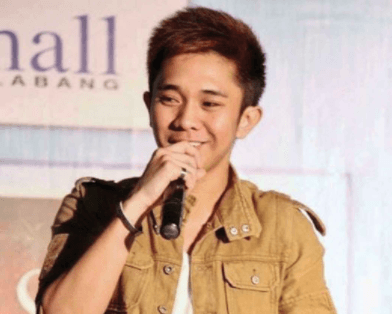 "Every man bears surreptitious pains which the world knows not…and oftentimes his silence is mistaken for taciturnity when it was merely reticence…for there are wounds that never show swelling but throb much more than those that bleed."   
Music aficionado Romy Orillaza Robielos, more prevalently addressed as Jerome, first saw the light of day on the 21st of July amid the verdant hills and sun-kissed fields of San Pablo City, a fast-booming southern metropolis in Laguna province popularly known as the "City of Seven Lakes."
The youngest among three boys born to Romulo Nuque Robielos and Belencita Esmilla Orillaza, Jerome believes that his nascence was sanctified by the deities of melodious composition for he loved music since the time he could remember. It won't be surprising at all since his mom (who came from a musically inclined Esmilla family) plays the piano, his dad is a karaoke enthusiast, and his two elder brothers can both carry a tune.
Displaying dexterity in understanding, reflecting good judgement and sound thought, and having the faculty of keen and skillful reasoning even at a tender age, Jerome had effortlessly established his scholarly demeanor from elementary to high school levels as Class Valedictorian despite having been admitted to Grade 1 at barely 5 years old.
Childhood days were memorable for Jerome for those were when he experienced a well-off life being well-provided for and sufficiently sustained with all amenities and luxuries a young boy could ask for. His father's flourishing business was more than enough to support their needs: his elder brothers were enrolled in exclusive Manila colleges while he, in a private school in San Pablo City.
Despite living a luxurious lifestyle, the family maintained a simple social status… approachable and easy-to-deal with. They believe that luxury wasn't necessarily something one was born into or need to accumulate. It was something that increased their comfort. Every member of the household was constantly reminded that their life encompassed more than the mere day-to-day existence and for that, their glorification of the Almighty was made even stronger.
But fate had it that even some good things have to end and Jerome's dad's business wasn't spared. Gradually, it suffered from a disheartening collapse until such time when they had to be parsimonious, penny-wise, and close-fisted, coupled with unforeseen sacrifice just to survive.
"There was a point in my life when we have to connect the electric cord to my aunt's house just so I could study at night… and the three of us had to squeeze ourselves in the living room to avail of the fresher air from an electric fan," Jerome vividly recalled teary-eyed.
"Even my daily visit to Jollibee and McDonald's every after classes were cut off… we just went straight home after picking me up from school. But I was already getting accustomed to it. I might be young but I already understood the situation we were in…and it didn't affect my academic standing at all," he continued in an emotionally stuttering tone trying to hold back an emotional build-up.
Jerome's positive attitude and intense determination served him well. All his jilts and anxieties were deciphered to his penchant to music and it paid-off. The mounting emotional turmoil within him prolifically built a more solid foundation for his musical proclivity that eventually became a perfect escape from reality. His innate penchant for music more than made up for what he was short of.
Motivated to seek greener pasture overseas, his parents tried their luck in the US but he chose to return to the Philippines to resume his studies at Ateneo de Manila and stayed with his elder brothers who fortuitously landed jobs. It was smooth-going for Jerome at first but he was drawn by his innate aspiration to realize a lofty dream— to invade the entertainment arena. He was certain he could make it. But he needed support financially and his family backing, not to mention, the right connection.
Dwelling helplessly in his aloneness brought him down…defenselessly tossed into a seemingly abysmal depth that inevitably induced a sudden feeling of despondency and dejection…then self-doubt crept in and made him felt so unwanted. Solitude enveloped his mortality until depression eventually enslaved his being.
"I was merely surviving on nothingness. I felt I was encased in a vacuum where nobody neither cared nor thought about me. I suffered from multiple occasions of self-pity until I started to deviate myself from people," he shared.
Persistent. Determined. Driven. Jerome tried to be aware of the power of his senses and believed that everything was merely temporary and soon would pass. He knew that very situation where he was in would empower a momentum that would build success. He trusted his senses that there could be a possibility for normalcy.
A devout born-again Christian and firm believer in his church's doctrine, Jerome found instant refuge and consolation when he surrendered himself and all his sorrows and woes to his Creator. "That was something miraculous! I discovered a different path to tread… a road that led me to a promising horizon.  I felt being renewed and reborn," he uttered sounding delightful.
With transformed insight and envisioned scheme, Jerome was ready to tightly embrace the fascinating world of showbusiness aptly armed with an earnest dedication and indispensable courage his ultimate dream progressively saw the desired realization.
Eat Bulaga's Mr. Pogi segment readily opened doors for him. The Philippines' longest running noontime variety show gave him the much-needed break that brought back his self-confidence and induced him to explore more avenues to proliferate his musical ingenuity.
From there, Jerome expanded his wing span and soared high. He started to receive TV guestings, events and mall show performances, and even product endorsements. His league of social and media friends became bigger while simultaneously carving a niche and stamping a mark in the industry. This time Lady Luck favored him with great opportunities… both career-wise and academically.
But his budding career came to a sudden halt when he had to migrate back to NY to join his parents. Inherently equipped with an optimistic attitude, that inevitable decision failed to dampen his spirit. "All I have to do is finish my studies and pick-up my singing career from where I left," he said devoid of remorse.
Currently enrolled as al scholar at Borough of Manhattan Community College taking Health Information Technology, (he expects to graduate in May, 2019), Jerome still finds time in giving in to his passion via performing in various events and concerts during weekends whenever he's free from his classes.
Fresh from his brief vacation in Manila last January, Jerome gave his passion another fortuitous opportunity by performing in a couple of events and private shows that brought back his self-reliance to its peak and reclaimed a more heightened aspiration.
For a better analysis of Jerome's real persona let's come closer and take some time to get to know Romy "Jerome" Orillaza Robielos up-close and personal:
Asian Journal: (AJ) Could you still recall the first song you memorized and performed?
Jerome Orillaza Robielos : (JOR) Aside from the Christian songs we regularly sang in church, I could still vividly remember that year when I was in Grade V when I performed Gary Valenciano's "Warrior Is The Child" during Mr. & Miss Valentine's search in school. I won the title!
AJ: Who was the singer who influenced you the most?
JOR: Easily, that would be Gary Valenciano. I loved his vocal style and infectious stage presence.
AJ: Where do you think you excel and at what point are you weak?
JOR: I can easily memorize a song and deliver its message effectually. But I have to be honest…vocally, I'm weak in technique. One thing more, I never learned how to play any musical instrument although I was initially taught to play the piano but didn't take it seriously.
AJ: Professionally, when was your first ever performance with a talent fee?
JOR: At the launching of Filio, an all-male band, at the Hard Rock Café… then at the SM Sky Dome.
AJ: What do you consider the event that gave you a break?
JOR: That would be Eat Bulaga's "Mr. Pogi" 2012.  I was with equally promising contenders Err Kevin Ilagan and Alwin Joseph Alba, who are now active with their own professions but we still perform together whenever we meet.
AJ: How long does it take you to study a song? And what's your favorite ditty?
JOR: Maybe just 3 to 4 hours. First I try to grasp its very essence, then I study and familiarize myself with the melody, and later inject my own style. My favorite song? Well, "I Will Be There" by Gary V.
AJ: What has been your biggest blunder?
JOR: When I forgot the lyrics…but I just kept on singing and pretended nothing was wrong.
AJ: What do you think is your edge over others?
JOR: My past experiences that developed me into a better person and built my character as a good performing artist.
AJ: What are your wildest dreams?
JOR: To make it big in the industry, to have an album for world-wide release, and a recording contract to ensure my future.
True enough, Jerome's dreaming of lofty dreams will surely pave way to success and his vision isn't far from being realized since he's persistently armed with perseverance, dedication, and a fully honed talent.