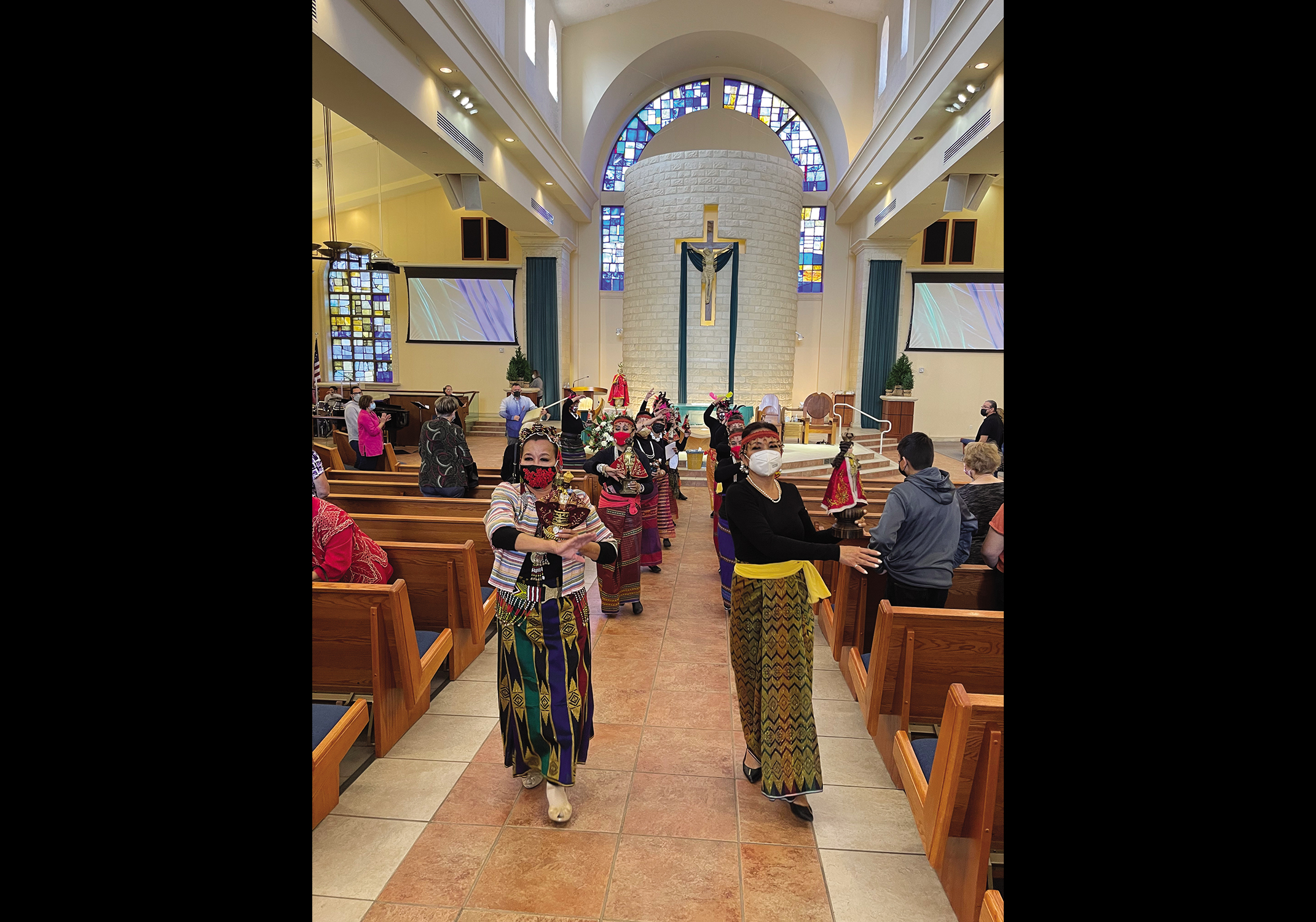 STRONG drum beats will signal entrance of Sinulog dancers from Our Lady of Fatima Rosary Crusade / Holy Family in Glendale and Vessel of Mary Liturgical Dance Group/ Holy Name of Mary/ San Dimas at a Eucharistic Celebration of Feast of Santo Nino at St. Anthony Church (2110 N. San Antonio Avenue, Upland, CA) on Saturday, January 29, 2022.
The Mass will be held at 6:30 p.m. to be presided by Rev. Gerry Vidad.  The parish community has been celebrating annual mass for Santo Nino but this is the very first time that Sinulog Dancers will be in Prelude. Sinulog is a praise worship ritual dance that signify thanksgiving to Santo Nino. Dance movements speak of gratitude to Child Jesus whose love, purity and innocence give hope to a devotee.
This year, the Feast of Santo Nino will also coincide with commemoration of 500 Years of Philippine Christianity in the Philippines. Our Lady of Fatima Rosary Crusade /Walnut Chapter will provide Statue of Santo Nino.
Vangie Sia, a parishioner from St. Lorenzo Ruiz shares, "I am a devotee of Santo Nino. I believe that He performs miracles every day. He comforts us when we are in sorrow and gives us joy when we need it most."
In the 16th century, the first statue of Santo Nino was presented to Hara Amihan, wife of King Humabon by Ferdinand Magellan. She was overjoyed upon seeing the innocent and kind face of Baby Jesus.  She was baptized and embraced Catholicism. The natives were also baptized. Ferdinand Magellan planted the Cross of Christianity on the day baptism occurred in Cebu. To this day, Filipinos from various walks of life bring prayers to the Santo Nino. He is the protector and has power to grant and answer their prayers. Devotions to Him are part of every parish's life. Every Filipino home has an image of Santo Nino.  The image is particularly revered by people from Cebu where Spaniards established the first colonial capital. The devotion to Christ Child Jesus has spread beyond that region. The Filipinos' love for our Blessed Virgin Mary and her Son, Jesus is quite evident in their prayer life. Long live Christ Jesus! Viva Pit Senyor!
For more information, please call:  Vangie Sia at (626) 523-8880 or St. Anthony Parish Office at (909) 985-2803. (Contributed by Jo Solomonson)