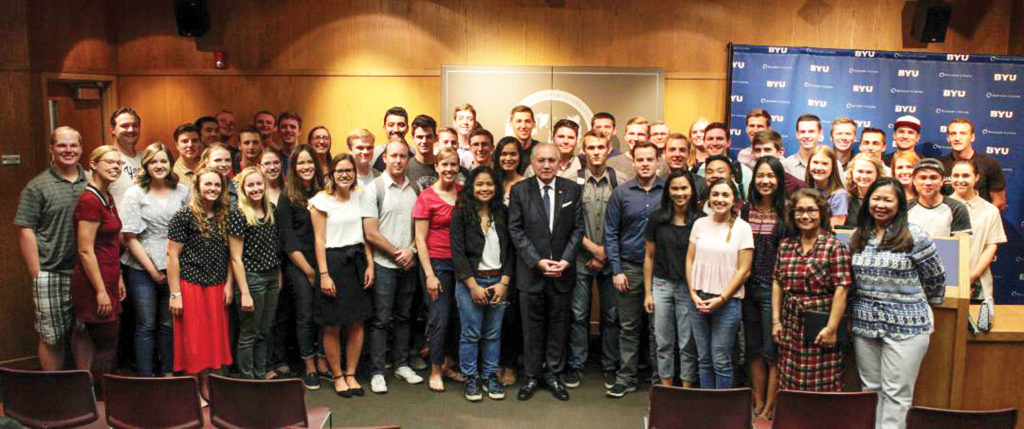 WASHINGTON, D.C. – Philippine Ambassador to the United States Jose Manuel G. Romualdez undertook an official visit to Utah on September 12-15 upon the invitation of Brigham Young University (BYU).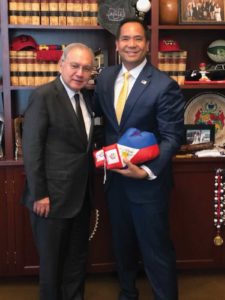 As the featured speaker of BYU's Ambassadorial lecture series, Ambassador Romualdez talked about developments in the Philippines and the enduring alliance between the Philippines and the United States. Previous speakers in the lecture series include former Philippine Ambassadors to the US Albert Del Rosario, Willy Gaa, and Jose Cuisia, Jr. 
 Ambassador Romualdez was warmly received by BYU officials, led by University President Kevin Worthen and International Vice President Sandra Rogers. He also met with state officials, including Michael Mower, Deputy Chief of Staff of Utah Governor Gary Herbert; Ben Hart, Deputy Director at the Utah Governor's Office of Economic Development; and Attorney General Sean Reyes, the first Filipino American to hold a statewide office in Utah. 
 Ambassador Romualdez likewise had the opportunity to engage the First Presidency of The Church of Jesus Christ of Latter-day Saints. He thanked the Church for its assistance to the relief efforts in the wake of Typhoon Haiyan in 2013, and the sustained humanitarian work that the Church has been doing in the Philippines. The Church of Jesus Christ of Latter-day Saints has more than 765,000 members in the Philippines, who constitute the Church's largest congregation in Asia. 
The World Trade Center Utah, the Governor's Office of Economic Development, and the Salt Lake Chamber of Commerce also hosted a luncheon for the Ambassador, during which the Philippine envoy answered questions about the state and prospects of the Philippine economy, and offered observations regarding the possibility of increasing trade and business links between Utah and the Philippines.
In between the meetings, the Ambassador was able to visit the important sites such as the Missionary Training Center, Welfare Square and Temple Square. He was also treated to wonderful performances by the world-renowned Mormon Tabernacle Choir and BYU Chamber Orchestra. 
"I would like to thank the BYU community, and the church, government, and business leaders in Utah who warmly welcomed me to their state and gave me the opportunity to present Philippine advocacies to their stakeholders. Indeed, the visit proves the longstanding friendship and deep connection between the Filipino and American peoples," Ambassador Romualdez said at the conclusion of the visit.