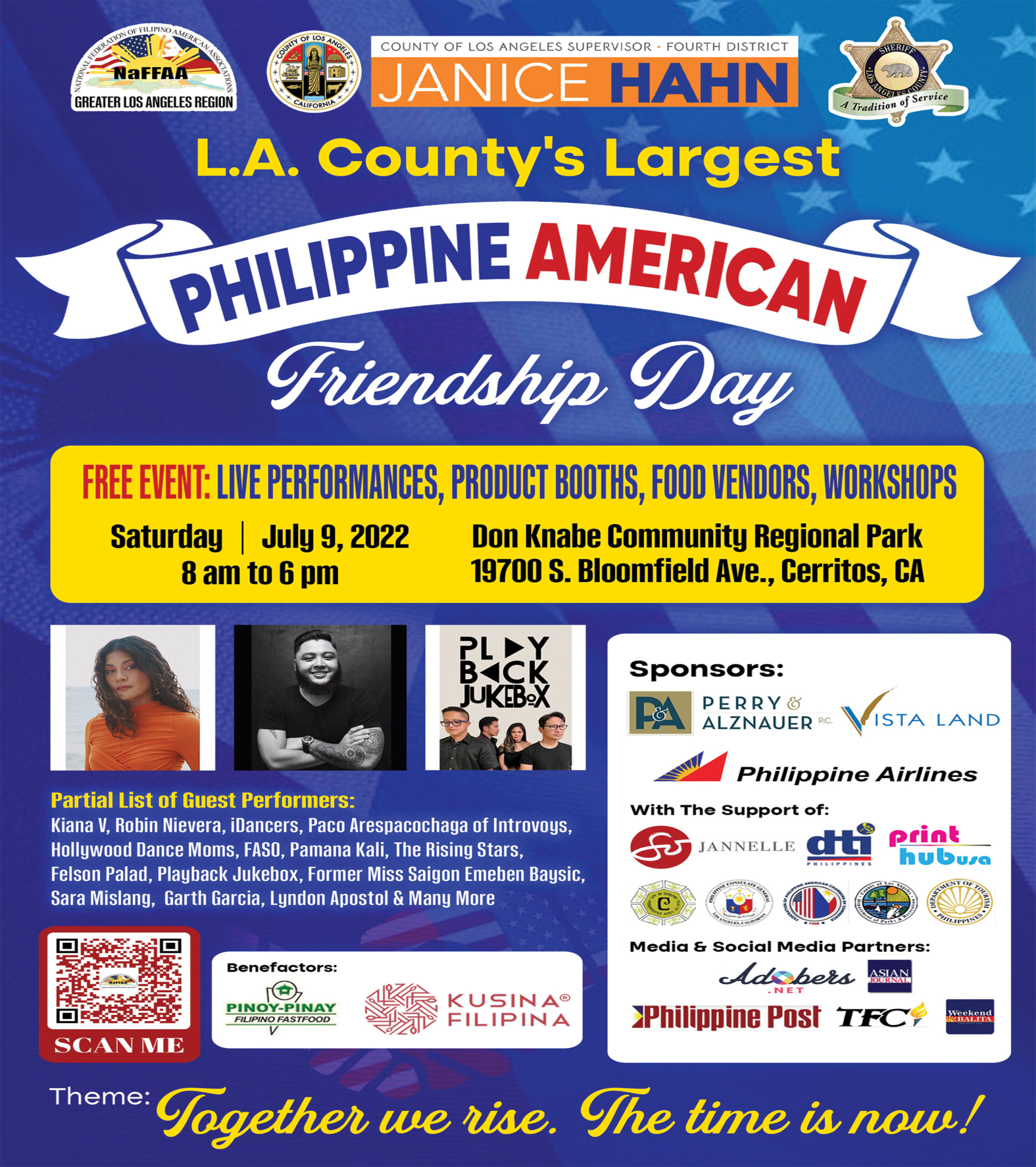 Cerritos – All roads will lead to this city as non-stop musical entertainment, Philippine cultural presentations, inspirational messages, product booths, food vendors, and workshops, await attendees during the Philippine American Friendship Day on July 9.
Hosted by National Federation of Filipino American Federation Associations (NaFFAA) Greater Los Angeles in partnership with Los Angeles County's 4th District Janice Hahn and LA Sheriff Alex Villanueva, this historic milestone promises to be the L.A. County's Largest Philippine American Friendship Day that had its roots in the City of Carson in 2021. It will be held from 8 a.m. to 6 p.m. at the Don Knabe Community Regional Park on 19700 S. Bloomfield Ave. in Cerritos.
Among notable entertainers who will perform at the huge park overlooking the park's picturesque lake include R&B singer Kiana Valenciano, Robin Nievera,  Felson Palad, Sara Mislang, former Miss Saigon Emeben Baysic, Lyndon Apostol, Filipino American Symphony Orchestra (FASO), Garth Garcia,  Club Magkaisa of Cerritos High School, Filipino Cultural School Ensemble, Pamana Kali, Carson Street Dancers, Playback Jukebox,  Pamana Kali, The Rising Stars,  Visual Movement, iDancers,  and Hollywood Dance Moms, to name a few.
A short parade on the site will kick off the festivities to be participated in by community leaders representing various Fil-Am organizations, City of Cerritos Council members and other Fil-Am elected public officials accompanied by mounted sheriff deputies with a fly by helicopter.
Dignitaries who will deliver their inspirational messages include State Treasurer Fiona Ma, LA County Supervisor Janice Hahn, A. Sheriff Alex Villanueva, Philippine Deputy Consul General Ambrosio Brian F. Enciso, Artesia Mayor Melissa Ramoso, Cerritos Mayor Chung Vo, Cerritos Councilmembers Lynda Johnson and Frank Yokoyama, Bellflower Mayor Pro Tem Sonny Santa Ines,  Lakewood Mayor Pro Tem Ariel Pe, Carson Councilmember Arleen Rojas, Jessica Caloza, the Deputy Chief of Staff to Attorney General Rob Bonta and other elected Fil-Am public officials.
This year's theme, according to organizers, "Together We Rise. The Time Is Now, will celebrate the extraordinary contributions and accomplishments of everyday Filipino Americans with our diverse community who have also contributed to the prosperity in our adopted country – despite its challenges as a nation in pursuit of perfect union."
This Philippine American Friendship Day festivity is in lieu of the July 4th which also used to be celebrated as Philippine Independence Day granted by the United States in 1946 until it was reverted back to June 12, the original proclamation of the country's independence from Spain on June 12, 1898.