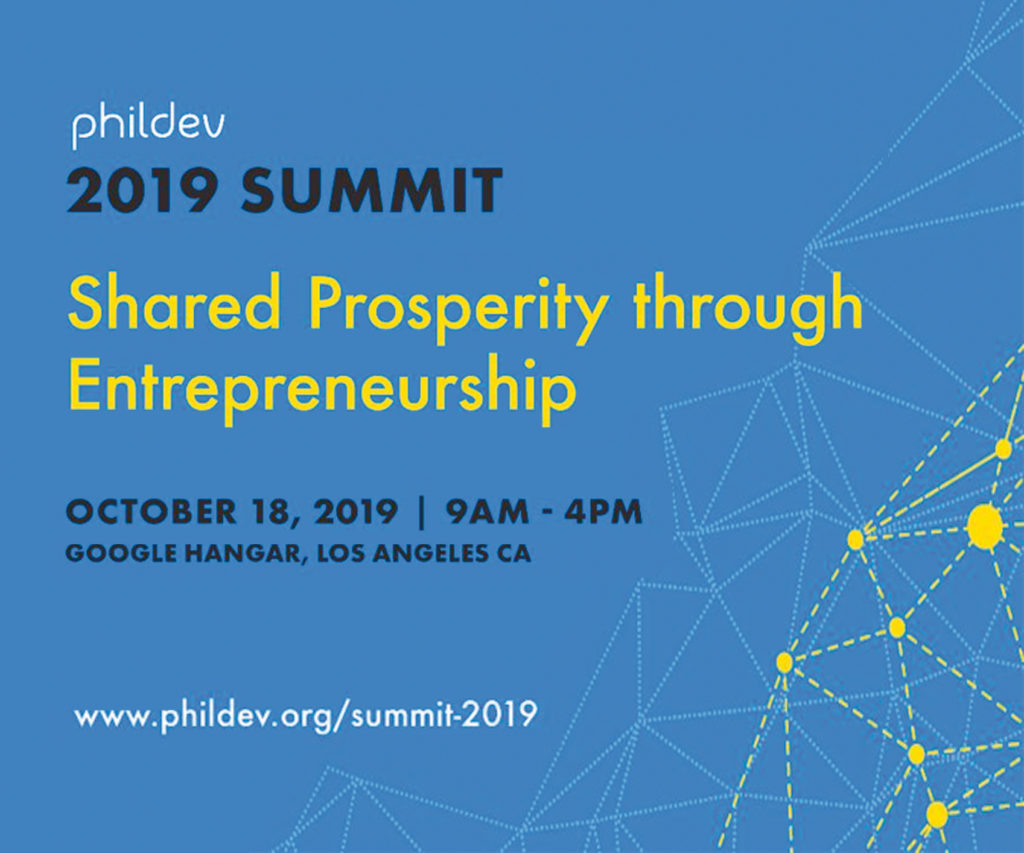 BEARING its core values of education, innovation and entrepreneurship, the Philippine Development Foundation (PhilDev) is back with a summit on Friday, October 18 with the theme "Shared Prosperity through Entrepreneurship." 
This year's FREE summit will be held at the Google Spruce Goose, Playa Vista, Los Angeles from 9 a.m. to 4 p.m. It will be a day full of  full of meaningful connections, learning opportunities and inspiring stories from thought leaders, allies, visionaries, entrepreneurs, educators and change makers in the Filipino American community. 
Speakers include Paolo Malabuyo of Google; Priscilla Hunt of Hunt Enterprises; Michael Balaoing of Candlelion; Pulitzer Prize-winner, immigration advocate and author Jose Antonio Vargas; restaurateur and author Nicole Ponseca; PhilDev chairman Dado Banatao; and Tony Alvarez of Alvarez & Marsal. 
PhilDev envisions a prosperous Philippines. With its mission of eradicating poverty through the benefits of science and technology, it builds and strengthens links for knowledge, capacities, and opportunity exchange. PhilDev's mission planning began in the United States, and established our main office in the Philippines.
In the Philippines, the organization responds to the vision by bringing together multi-sectoral partners to exchange ideas and share initiatives on the role of science and technology in national development; connect people and organizations in creating scalable and sustainable solutions to domestic needs; and advocate for innovative ideas and usher them to a global platform.
In the United States, PhilDev mobilizes the Filipino diaspora to give back and support technology-driven innovations and entrepreneurship in the Philippines. It develops links with private industry and universities to share resources, expertise and collaborate with counterparts in the Philippines, as well as granting scholarship opportunities.
PhilDev was founded by Diosdado "Dado" Banatao, one of Silicon Valley's most significant men, and together with like-minded Filipinos, committed to make a difference and give back to the Philippines in the way that they knew how. Through their combined efforts and influence, they have been able to initiate programs in education, start-ups and mentorship.
Founded in 2011, PhilDev is a registered non-stock, nonprofit organization.
For more information and to register for the summit, please visit http://www.phildev.org/summit-2019.