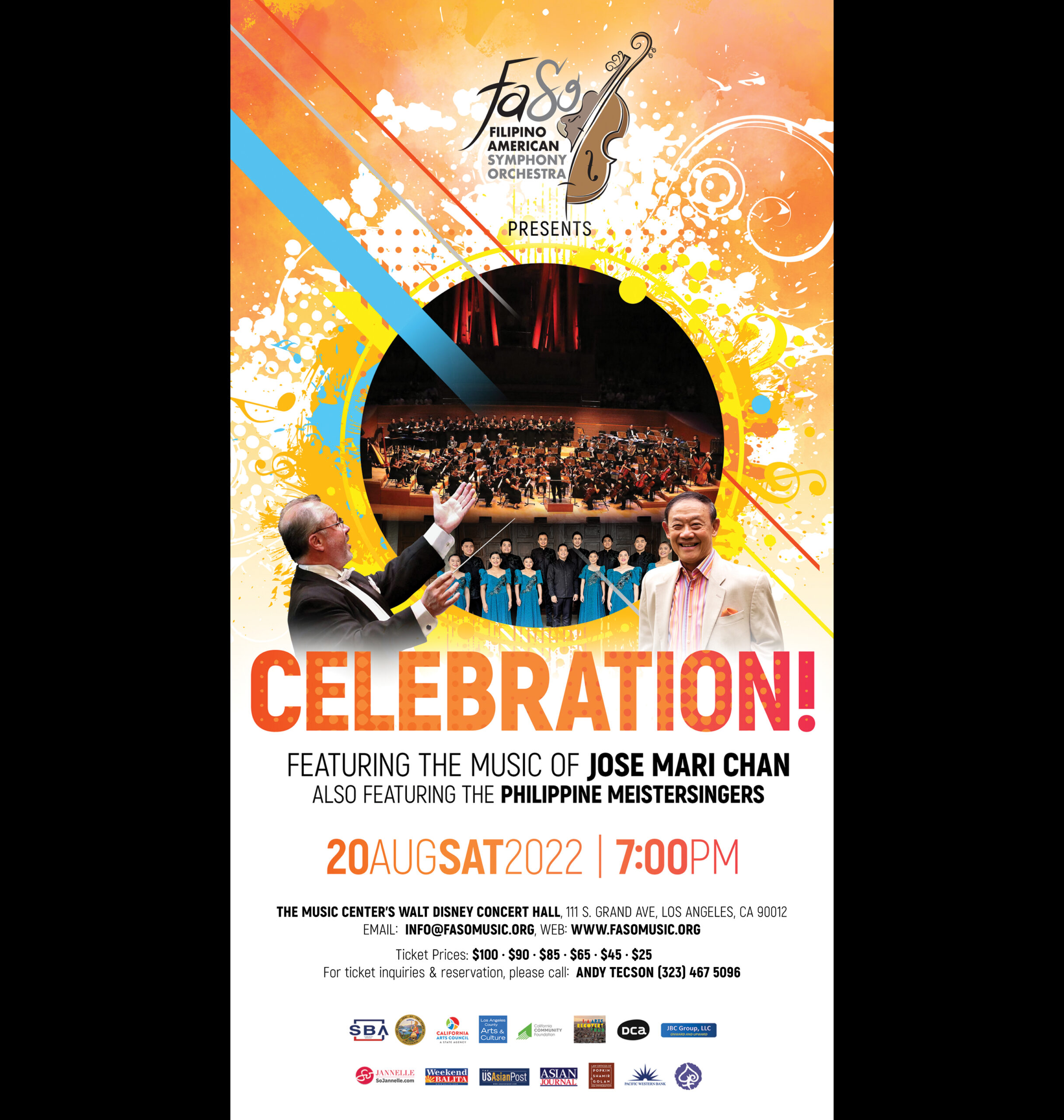 THE Filipino American Symphony Orchestra (FASO) presents CELEBRATION! featuring the music of Filipino singer and composer Jose Mari Chan and internationally recognized Filipino and classical suites. This concert is the orchestra's return to in-person events since their last production in 2019, which makes this evening an extra special one not to be missed.
Under the direction of Maestro Robert Shroder, FASO will take you on a celebratory journey through multiple musical eras starting from traditional marches for bands to modern-day anthems about finding your heart's true love. Jose Mari Chan will be in attendance to be honored with a special award for his decades-long career and accomplishments as an internationally awarded singer/songwriter.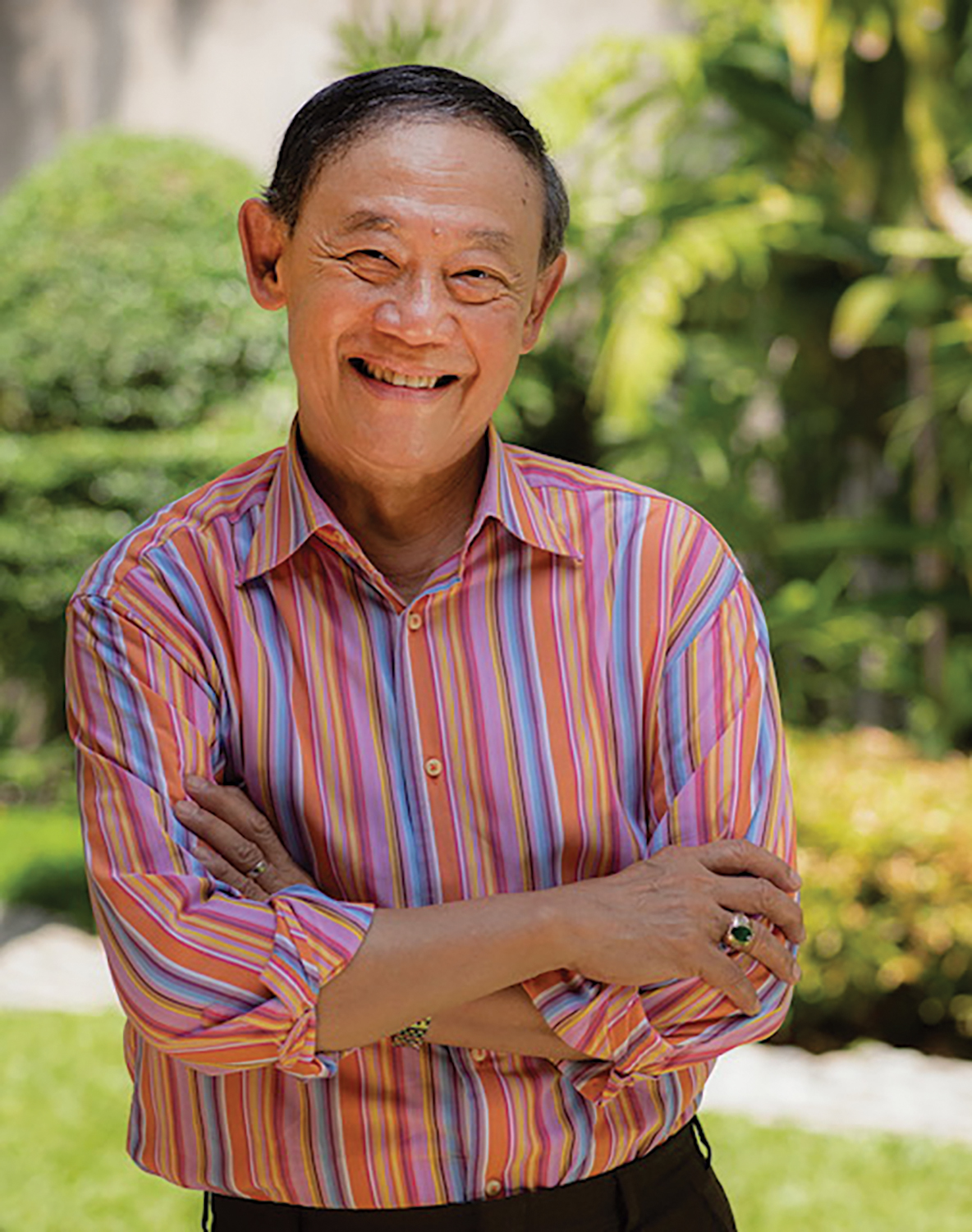 Jose Mari Chan, in his 55 years of being a singer-songwriter-recording artist in the Philippines, holds the distinction of being the biggest selling artist in the country, having recorded 14 albums and the holder of several Platinum awards in sales.
Notably he is the only Philippine recording artist with 3 Diamond Record Awards in sales where a Diamond Record is equivalent to 10 Platinum Awards in sales. His first recording "Afterglow" was released in 1967 followed by a series of top hits which include such classics as "Deep in My Heart", "Refrain", " Tell Me Your Name", " Beautiful Girl", "Constant Change", "Please Be Careful with My Heart", "Hahanapin Ko"
"A Love to Last A Lifetime", "Love at 30,000 Feet" and many others. His biggest perennial sellers are his "Christmas In Our Hearts" and "A Perfect Christmas" which continue to define the Yuletide Season in the Philippines all these 32 years.
Jose Mari also wrote several music scores for Philippine movies and Jose Mari Chan's songs have been recorded by artists in Australia, Japan, Hong Kong, Indonesia, and in the United States. In 1974, he was named one of the 10 Outstanding Young Men of the Philippines in the field of arts. As a concert performer, Jose Mari performed at the Carnegie Hall in New York, the Bellagio in Las Vegas and other prestigious halls in Tokyo, London, Vienna, Zurich, Paris, Toronto, and in other metro areas around the world.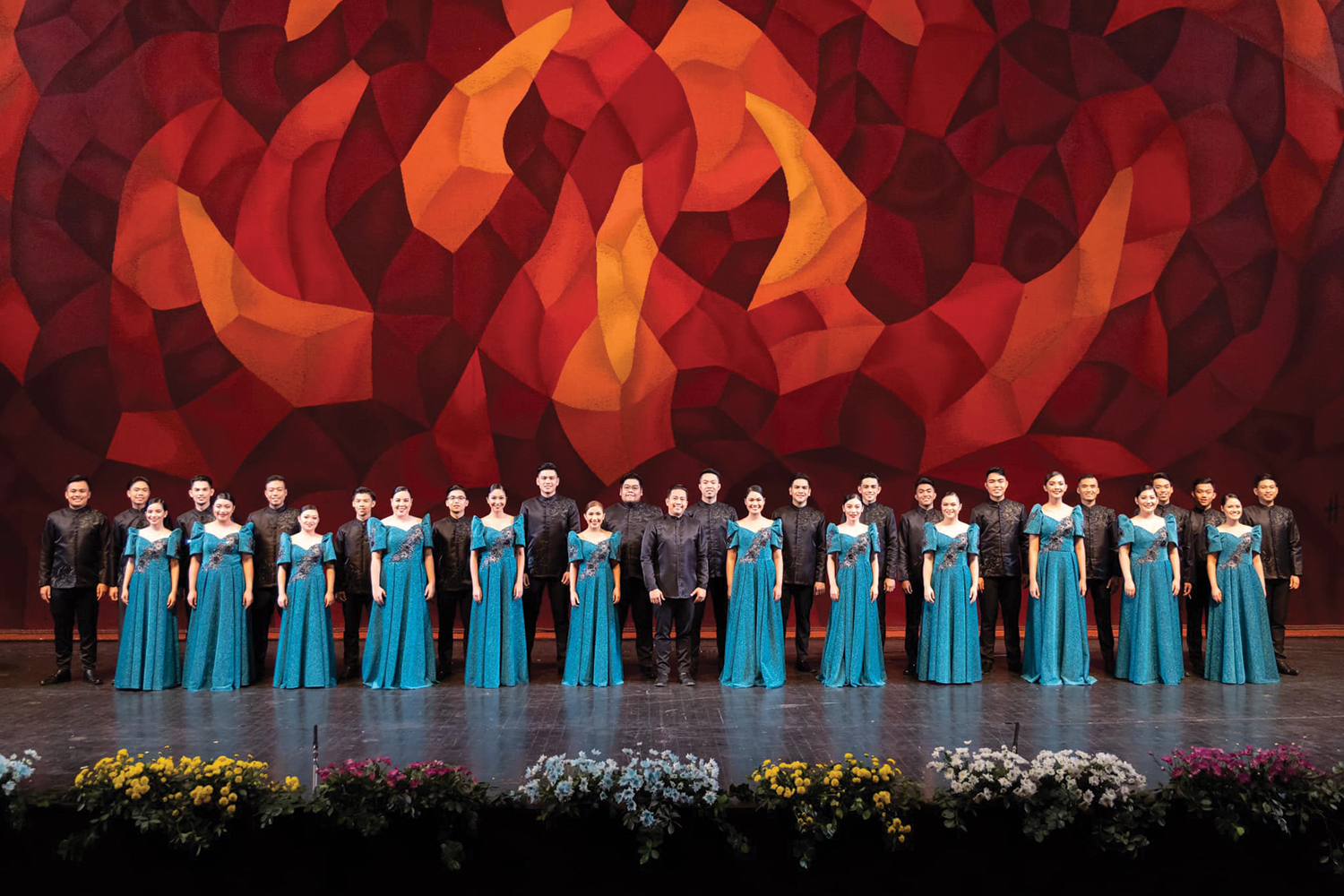 The Philippine Meister singers (formerly the AUP Ambassadors), is one of the most active and respected choirs in the world. They garnered the coveted title, "Choir of the World 2011" in the 2011 Llangollen International Musical Eisteddfod, receiving the Luciano Pavarotti Trophy. With this award, in 2012 they received a Philippine Congressional Proclamation recognizing their contribution to Philippine music and culture. Along with many other international awards, they are also a national recipient of the 2012 Ani ng Dangal Awards for Music given at the Malacanang Palace.
The Philippine Meistersingers are very active in the music ministry, giving concerts and lectures on singing and choral music around the world. They have ministered throughout the Philippines, Asia, Canada, USA, UAE, United Kingdom, and Europe.
The director, Ramon "Bojo" Molina Lijauco, Jr. is an international vocal and choral consultant. He is based both in the Philippines and Thailand, conducting another internationally awarded choir, The Suanplu Chorus. He has lectured and gave speeches around the world. He has degrees in Nursing, Music Education, and a Masters of Music in Choral Conducting (Summa Cum Laude). He is now finishing his Doctor of Music in Choral Conducting. He is the recipient of the 2020 Jayne Davis Prize (Most Outstanding Conductor) in Wales, United Kingdom, and the 2020 Ani Ng Dangal for Music given at the Malacañang Palace. In all their activities, the Philippine Meistersingers aim to give ALL THE GLORY TO GOD.
Also featured are FASO Youth String Ensemble, FASO Youth Orchestra, Soloist Irene Castillo, FASO Kids: Ardyanna Ducusin, Stazy Reoma, Iesha Ringor, Vocalists: Felson Palad and Deb Victa.
FASO's mission is to sustain artistic excellence in the community and to be an avenue of cultural growth for our youth, by developing love for and pride in one's music as well as in one's identity.
For tickets, head to the Music Center website.