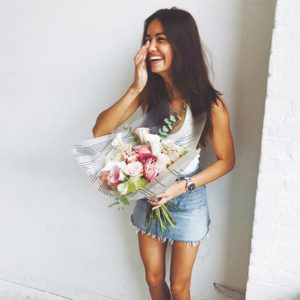 Increased diversity in the fashion world welcomes inclusion of Asian models
In the world of modeling, walking in the Victoria's Secret Fashion Show is a coveted dream, a rite of passage for young models everywhere.
This year, Filipina-American model Kelsey Merritt gets to live that dream as the first Filipina to be in the show, confirming the news on Friday, Sept. 7 in an elated post on Instagram.
"We did it, Philippines! What an honor it is to be the first Filipino to walk in the Victoria's Secret Fashion Show 2018!!! Ahhhhhh I can't believe this! Thank you soooo much," Merritt, 21, said in an emotional post thanking her fans and management.
The freckle-faced model joins a group of the world's top models to showcase the brand's latest collections. Branded "Victoria's Secret Angels," the young ladies wear extravagant angel wings in the televised fashion show which typically airs at the end of the year.
Merritt has been a brand spokeswoman for the top lingerie brand since May of this year, appearing in the company's campaigns. She has also worked with Maybelline Philippines, Kashieca and Palmolive and is managed by Wilhelmina Models in London and New York along other international modeling agencies.
Before becoming a full-time model, Merritt studied communication at Ateneo de Manila University and graduated in 2017. Throughout university, she also juggled modeling in New York, saying in May, "People often ask me how I managed to do it, and all I say is that as long as you have your priorities straight and manage your time well, then it really can be done."
Asian invasion in the fashion industry
Amid the overwhelming success of two Asian-driven films — "Crazy Rich Asians" and "Searching" — studios and casting directors are realizing the marketability of Asian representation and diversity.
Diversity is also seeping into the fashion world, an industry that has famously imposed strict limitations on the body types, skin tones and ethnicities represented on catwalks, magazine spreads and brand campaigns.
In the same weekend Merritt announced her casting for the Victoria's Secret Fashion Show, Chinese-New Zealander fashion designer Claudio Li premiered an all Asian cast of models for her New York Fashion Week showcase on Sunday, Sept. 9
According to Li, the casting of 35 Asian models was intentional because it was her fashion house's first official runway show. She told Refinery29 that the Spring/Summer 2019 collection "is all about memories of how I grew up in New Zealand as an Asian woman."
Of the 35 models, three were Filipina models — Irka Canseco of Cebu City, Charlene Almarvez of Laguna and Charmie Pfeffer — joined the all-Asian cast in a spectacular show of the diversity that exists beyond the unvaried pool of mainstream models frequently strutting the catwalks.
Li hopes that her historic demonstration shifts the fashion industry from a body-exclusive world into one that embraces diversity and champions a wider definition of beauty and fashion.
"I want them to have their own personalities," Li said of her choice to show a wide range of Asian bodies. "I feel like this collection is really connecting that with who I am, who they are, and who Asian women are. We have so many differences to show."
On representation, Li believes that merely casting Asian women isn't enough and that casting directors in the fashion industry should take an intersectional approach to its recruitment of women of color.
Li added: "It would be great if people can start casting Asian women not just because they're Asian. Diversity is within each race and country, and I would like to see more of that represented."