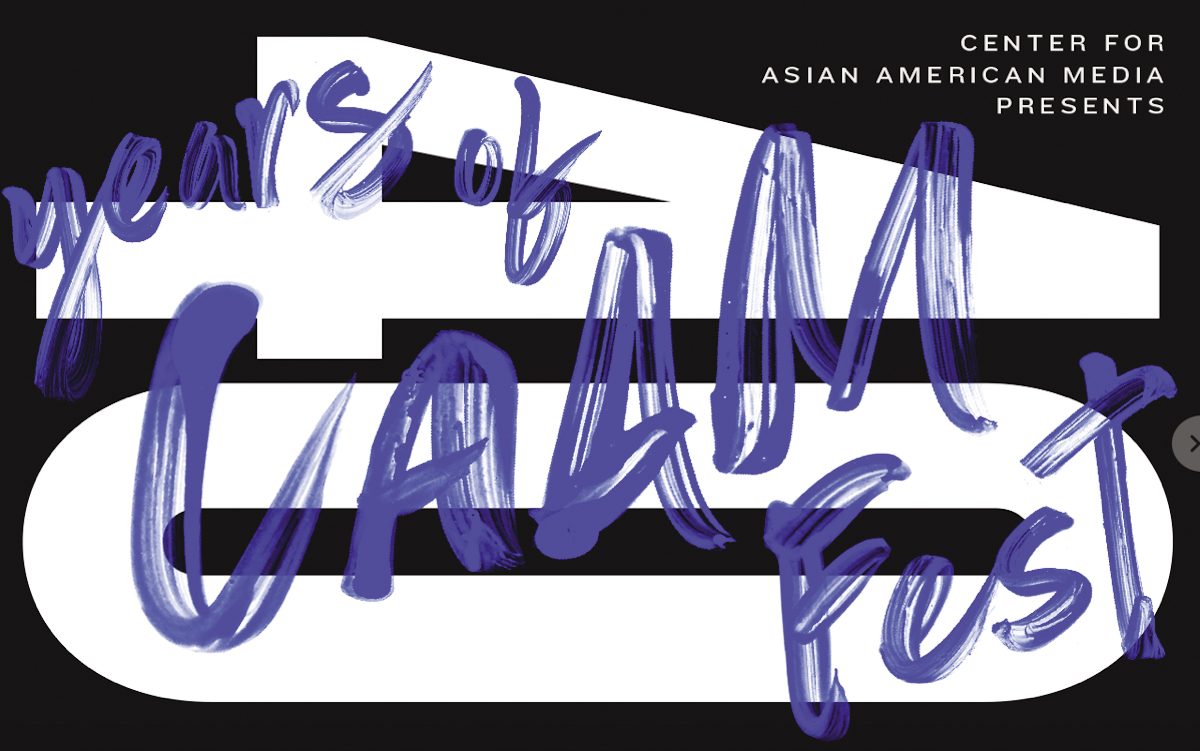 SAN FRANCISCO – On the 40th anniversary of CAAMFest, the Center for Asian American Media (CAAM) is excited to spotlight the SOMA Pilipinas Filipino Cultural Heritage District and Filipinx films and filmmakers. CAAMFest40, which takes place May 12-22, 2022, will hold in-person and virtual events in celebration of Asian and Asian American voices.
"We have always been centered in Japantown and Chinatown during CAAMFest, but the pandemic really gave us an opportunity to reflect more on how we can increase the visibility in other communities throughout the Bay Area," says Don Young, Director of Programs at CAAM.
As a Filipinx American, Jo Boston, CAAM Events Production Manager, recollects the historical importance of the SOMA Pilipinas Filipino Cultural Heritage District. "San Francisco is a hub where many Filipinos have landed — it is a gateway to possibilities for Filipinos," she says. Though, the redevelopment of Manilatown and South of Market in the 1960s and 1970s displaced many Filipino families. Boston adds, "This is history that brings us together and strengthens our Filipino community in the district and beyond."
In correlation with this new emphasis, Thúy Tran, the new Festival and Exhibitions Director at CAAM, is excited to bring programming that parallels and intersects with what community partners are already doing in the neighborhood. Programs that highlight Filipinx culture and/or artists as well as the SOMA Pilipinas Filipino Cultural Heritage District are noted below.
In-person events
Saturday, May 21, 2022
SOMA Pilipinas Community Engagement
12:30PM | Yerba Buena Gardens, Free Event
Thúy Tran, Festival and Exhibitions Director at CAAM, introduces our spotlight for CAAMFest40 on the SOMA Pilipinas Filipino Cultural Heritage District. A celebration of the generations of Filipinos throughout San Francisco and beyond, the event partners with community organizations such as Bindlestiff and Balay Kreative. SOMA Pilipinas Filipino Cultural Heritage District organizations and supporters are invited to participate in creating the art installation that will find a home later in the district.
DIRECTIONS IN SOUND: Pinays On the Rise
1:00PM | Yerba Buena Gardens, Free Event
Following the introduction of the SOMA Pilipinas Community Engagement, and, in partnership with the Yerba Buena Gardens Festival, revel in an outdoor music showcase featuring emerging Pinay voices. Up-and-coming turntablist and SOMA resident, DJ Bitesize, will start the event by spinning and scratching party tunes. Ouida, named one of Nylon Magazine's rising musicians, blends catchy pop melodies with jazz, R&B, and blues. Closing out the concert will be Union City's own singer-songwriter Kiyomi, who brings R&B stylings based on personal experiences.
Artists Kiyomi, Ouida, and DJ Bitesize are all Filipinx and originally from the Bay Area
CENTERPIECE PRESENTATION, NARRATIVE FILM: LEONOR WILL NEVER DIE*
5:30PM | SFMOMA Phyllis Wattis Theater
Directed by Martika Ramirez Escobar
What if you could change what was happening before your very eyes? Genres collide in this wild tale of an aging filmmaker who becomes the hero of her own unfinished script, after she's knocked into a coma by a television.
Filmmaker Martika Ramirez Escobar is Filipinx
Actors Sheila Francisco, Bong Cabrera, Rocky Salumbides, Anthony Falcon are Filipinx
The film was acquired by Music Box Films and won the Special Jury Prize for Innovative Spirit at Sundance, making filmmaker Martika Ramirez Escobar the first Filipinx feature director to win an award
*screener available
Sunday, May 22, 2022
LOVE & CORONA*, directed by Nicole Maxali
Part of the Shorts Program: HOMEGROWN
2:30PM | New Parkway Theater 1
After losing her job during the pandemic, an energetic wallflower conducts virtual dates on a subscription service site — and perhaps love will go from URL to IRL along the way.
Filmmaker Nicole Maxali is Filipinx and local to Daly City. Nicole is also Program Manager of Balay Kreative, a Filipino Arts Accelerator in SOMA.
Actors Kristiana Torregosa, Francis Lansang, Jeff Francisco, and Giancarlo Cariola are Filipinx. Giancarlo is also an active member of the local SOMA theater company, Bindlestiff.
*screener available
Virtual Programming (available on-demand during the festival)
ALL I WANT IS EVERYTHING, directed by Alexandra Cuerdo
Part of the Shorts Program: GREAT EXPECTATIONS
When being "good" isn't good enough, a fiercely driven teenager indulges in the bad to reach her goals in New York City's wild underground rave scene.
Filmmaker Alexandra "Allie" Cuerdo is Chinese/Filipinx. She was also named one of the 100 Most Influential Filipina Women In the World by the Filipina Women's Network.
DELIKADO*, directed by Karl Malakunas
Documentary Feature
Palawan, a tropical island in the Philippines, is a tourist's dream—white sand beaches, clear blue waters, and lush, diverse forests. It is also one of the most dangerous places for an environmental crusader.
Film takes place on the island of Palawan in the  Philippines
Producer Marty Syjuco of Call Her Ganda is Filipinx
Film features Nieves Rosento, former mayor of El Nido town on Palawan island
Film features Atty. Bobby Chan of the Palawan NGO Network, Inc. (PNNI)
*screener available
DEAR NANAY*, directed by Frances Grace Mortel
Part of the Shorts Program: BOUNDLESS
A love letter to her grandmother, this experimental documentary explores the filmmaker's early memories in the Philippines and her search for refuge from pandemic anxiety and domestic claustrophobia.
Filmmaker Frances Grace Mortel is Filipinx.
*screener available
RECORDING FOR DODIE, directed by Frances Rubio
Part of the Shorts Program: ASIAN AMERICAN STORIES OF RESILIENCE AND BEYOND
After fourteen months physically apart, a Filipino daughter struggling with depression finally reunites with her COVID-survivor father at his nursing home.
Filmmaker Frances "Frankie" Rubio is Filipinx.
RIVER OF SMALL GODS*, directed by Bradley Tangonan
Part of the Shorts Program: PACIFIC SHOWCASE
On the brink of eviction, a Hawaiian woman takes a job from a mysterious sculptor to retrieve stones from a riverbed deep in the forests of northern O'ahu.
Filmmaker Bradley Tangonan is mixed-race Filipinx.
*screener available
OPENING THE GATES: ACCESS IN ASIAN HOLLYWOOD
On-Demand Panel Presentation
Authentic representation is great, but who defines what "authentic representation" is – in and outside Asian Hollywood? Dino-Ray Ramos, Founder and Editor-in-Chief of DIASPORA, holds an unapologetic roundtable conversation with Asian American leaders in Hollywood as they discuss the challenges that marginalized voices face in the film and TV industry and how it has impacted the Asian American community.
Curator and moderator Dino-Ray Ramos is Filipinx.
IT TAKES THE HOOD TO SAVE THE HOOD, directed by Harvey Lozada
Part of the Shorts Program: PEOPLE POWER
This documentary short was created in partnership with San Francisco-based violence prevention and youth development organization UNITED PLAYAZ. This project explores UNITED PLAYAZ's role in developing a coalition with community-based organizations in San Francisco's South of Market (SoMA) neighborhood and providing mutual aid to those impacted by the COVID-19 pandemic. See firsthand how local s/heros continue to adapt and respond to the community's needs while processing how the pandemic has personally affected them.
Filmmaker Harvey Lozada is Filipinx.
Subject, Aureen Almario, is the artistic director of Bindlestiff Studio.
The film title is the motto of the SOMA nonprofit United Playaz. United Playaz is a violence prevention and youth development organization that has worked in San Francisco for 25 years and is a vital organization in providing kids with a safe place.
 Ticket information
General admission tickets for virtual screenings and panels range from complimentary to $14. Special presentations range from $20 – $65. For more information, visit the box ticketing information page at CAAMFest.com.
COVID safety
CAAMFest will be taking guidance from local and federal safety guidelines to prevent the spread of COVID. For in-person events, CAAMFest requires proof of vaccination and will be checking guests upon arrival. Guests may also be required to mask while indoors. Please check CAAMFest.com for the most up-to-date details.
CAAMFest40 is made possible with lead support from Presenting Sponsors Comcast Xfinity and Amazon. Additional support is provided by the Asian Art Museum; Bloomberg; Meta; Hong Kong Economic and Trade Office, San Francisco; AARP; Motion Picture Association; Verizon; NBCUniversal; Warner Bros. Discovery, Inc.; Pacific Islanders in Communications; San Francisco Symphony; The Gotham; Viki Rakuten; Film SF; Kaiser Permanente; POV; and America ReFramed. Special thanks to the following institutional funders and government agencies: Corporation for Public Broadcasting, San Francisco Office of Economic and Workforce Development, San Francisco Grants for the Arts, Ford Foundation, National Endowment for the Arts, The William and Flora Hewlett Foundation, John D. and Catherine T. MacArthur Foundation, Asian Pacific Fund, Jessie Cheng Charitable Foundation, and APA Heritage Foundation. Thank you also to the following media supporters: KQED, KTSF, KTVU, SF/Arts, and AsAmNews.
Celebrating its 40th year in 2022, CAAMFest is the world's leading showcase for new Asian American and Asian film, food, and music programs. CAAM (Center for Asian American Media) has been dedicated to presenting stories that convey the richness and diversity of Asian American experiences to the broadest audience possible. As a nonprofit organization, CAAM funds, produces, distributes, and exhibits works in film, television, and digital media. For more information about CAAM, please visit www.CAAMedia.org.