WITH "Crazy Rich Asians" predicted to become a hit with audiences and at box offices in the U.S. and abroad, male lead Henry Golding is on his way to becoming one of the biggest stars of 2018.
In the film, Golding plays Nick Young — Singapore's most eligible bachelor and heir of one of the country's wealthiest families — who brings his girlfriend Rachel Chu back home with him. 
The 31-year-old British-Malaysian actor grew up in England and spent several years as a hairdresser, before moving back to Asia, where he developed an on-screen career as a travel host and TV presenter, with credits including BBC's "The Travel Show."
For the "Crazy Rich Asians" production, finding the right Nick — someone who could believably play a Singaporean educated in England — was a challenge, as thousands of actors around the world and online were auditioned. Film director Jon Chu then received a suggestion to take a look at Golding after someone from the casting team saw the latter on TV. 
"He was a travel show host, doing cool adventure stories," Chu said of Golding. "When you watched him talking with people on the street, he was truly a person of the world with such easy charisma."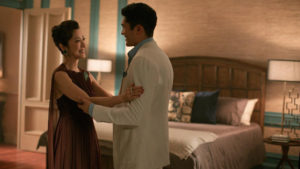 Golding recently revealed on "The View" that he was invited to audition for Nick, but initially turned the opportunity down because he believed it was meant for someone else.
After landing the role and getting into the script, he quickly realized how Nick "was much closer to my personal character than I thought," he told the  Asian Journal  in a recent interview. 
"He really wanted to distinguish himself away from his family's pressures. He wanted to be independent, he didn't want to be defined by who he was in Singapore, and he didn't want his girlfriend Rachel to judge him upon that so that's his fault as well for not telling her and informing her who he exactly was," he continued. "It was amazing to have such a grounded character and above all, he held himself in such a respectable manner. He had that regality as the 'Prince William of Asia' but he never used that to his advantage. He always used that as just a personal trait." 
He said he "grew every single day" while filming under the guidance of Chu and working alongside actors like Constance Wu (who plays Young's girlfriend Rachel) and Michelle Yeoh (who characterizes Young's protective mother Eleanor). 
"When we got into the thick of things, it was just phenomenal to be able to sit in and be comfortable and work with my fears," he remarked.
Without dishing any spoilers, Golding shared some of his favorite scenes in the movie, including one with Yeoh, when they have a mother-son moment in Nick's childhood bedroom. 
"We just have this moment when you realize what Eleanor is all about. She's being [that way] to Rachel because she wants to protect her son, she wants to protect the golden treasure. She's the dragon mum, she's gonna fight tooth and nail to ensure he's not making any mistakes," he said. "You just see where that comes from in that scene and Michelle plays it so well."
The themes of love, loyalty and family — while dominant in Asian cultures — are universal and that's what can draw audiences of diverse backgrounds to "Crazy Rich Asians," Golding said. 
"Love is the true testament to everything. That's what we tried to achieve. Because it's an Asian story doesn't mean people aren't going to be able to relate. You're rooting for this young couple to be able to love each other," he said. 
Though "Crazy Rich Asians" is his first undertaking, acting appears to be part of Golding's destiny. 
"Say 'yes.' That was my biggest takeaway. I kept saying 'no' but when I said 'yes,' amazing things happened," he said. 
After "Crazy Rich Asians" wrapped up filming last summer, Golding landed the male lead in "A Simple Favor," directed by Paul Feig and starring Anna Kendrick and Blake Lively, which will be out in mid-September. Golding plays Sean Nelson, the husband of Lively's character Emily who disappears. 
"Again it's pushing the boundaries of leading men…It's not dependent on who I am as my ethnicity. I'm just a leading man, I play Blake's husband," he said. "We're pushing the boundaries [instead] of normalizing these leading men stereotypes. We don't have to have blonde hair and blue eyes to get the woman." 
As for more leading Asians on screen, Golding said there's going to be "more and more of that" to come. 
The budding actor noted, "Jon always says it so well, 'If you're a director, direct. If you're a writer, write. If you're a storyteller, tell a story. If you're an actor, get out there and act. Don't sit questioning yourself. Don't consider just because I'm Asian, I'm not going to have my voice heard.' You don't know what's going to happen. Now is the climate where anything is possible and there's such people power when it comes to these big studios now."