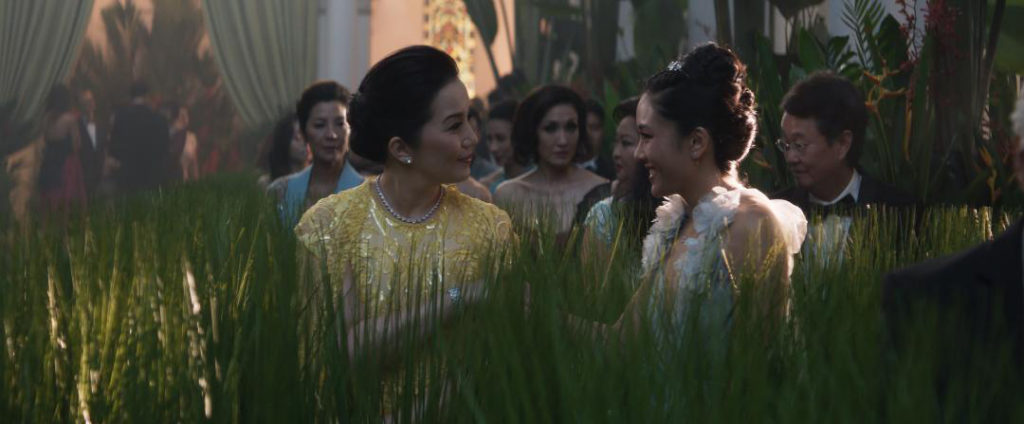 The Philippines' "Queen of All Media" Kris Aquino was in Los Angeles this week to attend the red carpet premiere of "Crazy Rich Asians," in which she plays Princess Intan.
Before the premiere on Tuesday, August 7 at the Grauman's Chinese Theatre in Hollywood — which would be first time she saw the final film and her scene — Aquino sat down with the Asian Journal to talk about how she landed the royal part and what we can expect from her in the future.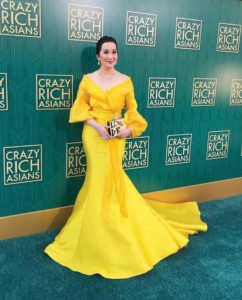 "I may never get the chance to portray a princess…God [gave me] this once-in-a-lifetime opportunity," she told the Asian Journal of how the film led her to cross off an item on her bucket list.
At the premiere, dozens of Filipinos were reported to greet Aquino at the sidelines of the red carpet and wave the Philippine flag. Aquino said she was "touched" that she had a fan base in LA to support her and the film. She walked he red carpet, alongside her younger son James "Bimby" Yap Jr., in a Filipinana-inspired yellow gown made by Filipino designer Michael Leyva to highlight Philippine fashion and artistry.
The media personality, who was in the news a few weeks ago for medical reasons, said she pushed through and flew out to LA as a chance to represent Filipinos globally, even though Warner Bros. offered to do a special red carpet and screening for Aquino in the Philippines.
"I want to try the Chinese Theatre and walking there so that naman represented tayo (we are represented)," she said. 
Her son Bimby during the interview said it was "cool" how much attention is surrounding the film and his mom's involvement, especially how she was included in a Teen Vogue article on the actors and the characters they play.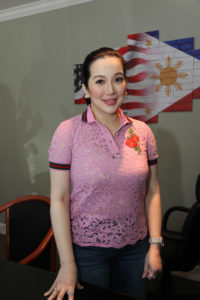 "We really want to highlight who we are as a people…My heart feels it that when bits and pieces came out about what my role was, for any Filipino, whether you like me or not, the fact that a Filipina got to play that role, will matter," she said.
"Now that the opportunity is here, I really want to savor the moment."
"Crazy Rich Asians" culminates in the wedding of the year with Colin Khoo (Chris Pang) and Araminta Lee (Sonoya Mizuno), which Rachel Chu (Constance Wu) and Nick Young (Henry Golding) come to Singapore to attend. Chu, who is made to feel like an outsider, is told by Nick's mother Eleanor that there is no more seating room in their row so she finds an empty row next to Princess Intan.
Of the wedding scene — where the church is turned into a tropical paradise with a lot of plants and flowers — Aquino said the decorations and how the bride enters the scene made her think, "Wow, how is this happening? That's really movie magic."
"I was told to walk in such a manner… In my mind, I was wearing really high platform heels and then my gown had a long cape behind me so I kept thinking, 'Dear God, don't make me trip, please,'" Aquino shared.
Last year, Aquino recalls waking up on a Thursday to texts from several individuals, including Iza Calzado and the older sister of Jose Mari Chan, who asked if she was interested in auditioning to be part of a Hollywood movie.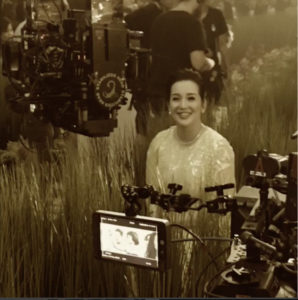 "I wasn't aware they were casting anything at that time…I wasn't sure until I saw that they were coursing it through Jhett Tolentino who has already won a Tony Award and a Grammy so I said, 'ay parang (it seems), legit,'" she said.
After realizing it wasn't a scam message and being told it was for "Crazy Rich Asians," Aquino — who is a fan of Kevin Kwan's book — and her team were interested and saw that an audition tape needed to be sent by Saturday.
There was no script but they said the character will be "very rich and very regal," she said.
Her house was under renovation at the time so her team went on an ocular inspection that very afternoon to find a shooting location. As fate would have it, the presidential suite at the Peninsula Manila was available.
"I remember I had the shoot Friday and then I said, 'We have to shoot something that doesn't look like I'm just staring at the camera and reading lines,'" she added.
"From Ms. Kris' vision, she wanted to really make sure that when she gave it her all, it has to be an all-out type of production and how she would read the lines and how she would portray the role. So it was really a legit set-up and not just reading lines,"Aquino's manager Nicko Falcis said.
Her audition tape of three scenes (afternoon tea, pretend cocktail dinner and sitting in a living room), which made the deadline by Saturday, was so professionally shot — she used a director who does commercials — and edited that she said director Jon Chu told her, "Did you know the camera you used, it's the same camera that we're using [in the film]? You're the only one who gave something like that."
"I said, 'okay, if we're going to do this and this is just one chance, let's do it,'" she said, describing that her team scoured her closet for clothes that would look the part. "Basing it off the book, I knew they didn't want someone who is flamboyant so it had to be conservative."
Three weeks later, Aquino and her team flew out to Singapore to shoot her scene in the film. There have been reports that she left an impression on other cast members because she arrived to a lot of fan fare in the city.
"You have to remember, we shot in Singapore. All of the frontliners at the hotels, all the restaurants…those in middle management, the nurses…they're all Filipinos and I was the only Filipino passport carrying person there. They couldn't understand why there are so many people here having their picture taken with her so it's just an assumption that [the Filipino fans] checked Instagram," she explained.
In the book, Princess Intan is described as a Muslim princess and since Aquino is not of that faith, she "made that specific request that we did not want to offend any of our brothers and sisters who are of the Islam faith because syempre diba (of course right) they would want someone who is really Islam to represent them."
The writers ended up not naming what country the princess is from, but simply just said she was a Malay princess for some ambiguity.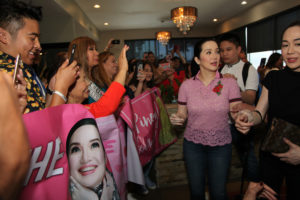 In the wedding scene, Princess Intan dons a yellow — the color usually worn by a Malay princess — gown with a cape that was designed by Filipino designer Michael Cinco.
"We've been given a chance for a Filipina to portray [this role]…if it's how we look at society in the Asian culture, a Filipina actress was chosen to be the one head and shoulders above everybody else…the one wearing a crown is a Filipina. So it was my duty to make sure that on that set, I looked worthy because I know I am representing everyone," she said.
Referencing The Hollywood Reporter article in which novel author Kevin Kwan says he turned down a large payday from Netflix to have the film made by Warner Bros. Pictures instead.
"That's why Kevin and I hit it off because we both go for broke," she said. "Grabe yung (It's extreme the) guts and the courage…The fact that, based on that article, he's not getting any upfront money for the rights of the book. He needs it to do well for him to earn anything…The winners take big risks."
She and the author had met a few years ago when he went to the Philippines to promote the sequel book, "China Rich Girlfriend." The two have "kept in constant communication" and thanked him and Warner Bros. for giving her the opportunity.
"It was luck but Kevin also championed us. I have to give credit and we Filipinos have to say thank you to him," she said of her "pivotal role" and how it was a way to appreciate the book's Filipino "super fans."
After "Crazy Rich Asians," Filipinos are wondering what they can expect from the Queen of All Media. It's been two years since she announced she would be leaving ABS-CBN after 20 years to focus on her health, family, and her businesses.
"People had written me off and that was two years ago but look at where I [walked on Tuesday]. I want everyone who ever felt all doors are closing, it was useless to keep going, I went for it because I felt there was nothing to lose," the media personality said. "Thank you all for allowing me to have this next chapter in my life…that's why I want to share it with all of you."
Falcis hinted that "there are a lot of options and opportunities that are happening now but at the end of the day, our priority is really her."
Aquino added that she had quite a few projects lined up because she is the type to not say "no," despite her physical limits, which has prompted her siblings to tell Falcis to remind her to rest and stop taking on too much.
She and her team announced that in two weeks, she will have her videos streaming on the subscription platform iflix, which is available in Asia and Africa.
Her manager chimed in, "That's why it takes a village." 
"If this will be the last movie listed in my screen credits in my filmography, don't you think mom would be so proud that the last movie is a Hollywood movie for someone who has dreamt of this career since she was 2 years old?" Aquino recounted a conversation she had with her siblings. 
As she savors her participation of the film, she notes her main priority is to listen and take care of her own self.
Despite her family history and her decades-long career, at the end of the day, what does she want her legacy to be? It's a question to which Bimby jokingly said, "being my mom."
Aquino said, "There's something that life has taught me. In order for you to become a true person, you have to know where you stand and what you stand for. In doing that, though, there's no need to step on anybody else to reach your goals. I hope that with how ever long God plans me to be doing this, that people will realize that and that I never failed to say thank you because all of this is really a gift."