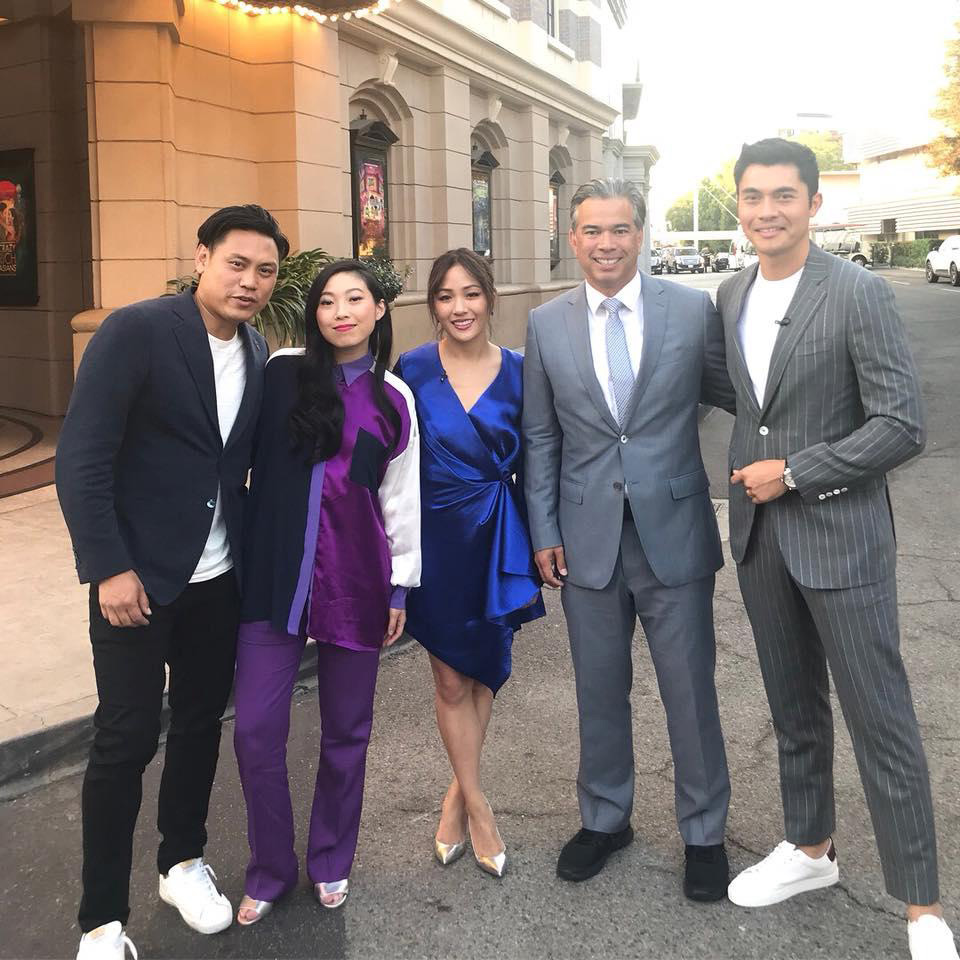 "CRAZY Rich Asians," which hits theaters nationwide on August 15, has already made history as the first major Hollywood film in 25 years to feature an all-Asian cast.
In this issue of MDWK Magazine, the Asian Journal explores what "Crazy Rich Asians" means for succeeding Asian representation in Hollywood and sits down with author Kevin Kwan, leading man Henry Golding and the Philippines' "Queen of All Media" Kris Aquino (who plays Princess Intan) who all share their experiences working on the film.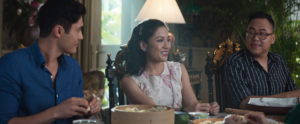 Based off the best-selling book of the same name by Kwan (who served as an executive producer of the film), the romantic comedy follows American-born Chinese economics professor Rachel Chu (Constance Wu, "Fresh Off the Boat") as she joins her boyfriend Nick Young (Golding) on a trip back to his hometown Singapore for his best friend's wedding. Nick forgets to tell Rachel a minor detail, however, that his family is one of the wealthiest in the country. The trip opens Rachel's up to a new world and she becomes the target of jealous socialites and Nick's mother Eleanor (Michelle Yeoh, "Crouching Tiger, Hidden Dragon," "Star Trek: Discovery").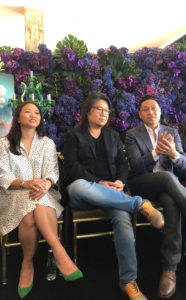 In addition to Wu, Golding and Yeoh, the Warner Bros. film — directed by Jon M. Chu— lines up an international cast, including Gemma Chan ("Humans"), Lisa Lu ("The Joy Luck Club"), Awkwafina ("Ocean's 8"), Ken Jeong ("The Hangover"), Sonoya Mizuno ("La La Land"), Chris Pang (Crouching Tiger, Hidden Dragon: Sword of Destiny"), Jimmy O. Yang ("Silicon Valley"), Ronny Chieng ("The Daily Show"), Remy Hii ("Marco Polo"), and Filipino-American Nico Santos ("Superstore").
Kwan and Chu — whose directorial credits include "Now You See Me 2," "Step Up 2: The Streets" and "Justin Bieber: Never Say Never — in a recent interview with The Hollywood Reporter revealed that they turned down a big payday from Netflix, which included "artistic freedom, a greenlighted trilogy and huge, seven-figure-minimum paydays for each stakeholder, upfront."
Instead, the duo opted for Warner Bros., as they believed that the story should be shown on a big screen first, instead of from the push of a button at home.
"We knew that putting it on the big screen still means something. Cinema still means something to tell people it is worth your time and energy to gather your friends or family or by yourself, leave your house, find parking, go pay for food…and say, 'tell me a story,'" Chu said during a filmmaker roundtable in Beverly Hills, California on Sunday, August 5. "It says this romantic couple and cast of all-Asian characters are worth your energy to do that and when you put something in a museum in the glass box, it still trickles down to everything else and says a lot."
Kwan, who said that he hoped his book would be made into a film one day, said that the story has resonated across generations with family members passing down the book and bonding over the experience of reading it.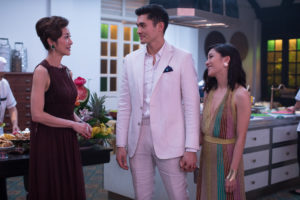 "I wanted this to be a community experience first of all, and also, this was the first chance we had in 25 years… I wanted this to be an experience that future generations could look at and say, 'look, we achieved this.' We're watching a red carpet of amazing Asian actors walk up and down it, in the same way that any other Hollywood movie would get. We want that treatment too because ultimately we want to inspire," he said on Sunday.
In the same The Hollywood Reporter feature, the process of finding the right producers for the film was detailed, including a bit about how one producer had told Kwan to reimagine the lead female character as white.
Wu, who's best known for her role in ABC's "Fresh Off the Boat," was the filmmakers' first and only choice for the lead role as Rachel.
For Chu and Wu, the film was about exploring visiting Asia for the first time from the Asian American perspective and that identity.
"But for me personally, my journey as an Asian American going to Asia for the first time was something that I really wanted to explore. The way through that would be Rachel so Rachel was really personal to me of watching her go into Singapore. It was also my first time in Singapore and to see all these different Asians from all around the world converge on this island," Chu said at the roundtable.
In a Twitter post, Wu wrote how both "Fresh Off the Boat" and "Crazy Rich Asians" have changed her career and have made history in terms of Asians depicted on screen.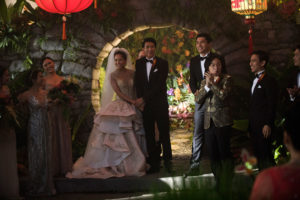 "My dear Asian American friends, we are building our own damn houses. We got the tools, the ability and we definitely got the style. Just because others don't see it, doesn't mean we don't have it," Wu wrote, adding "I hope Asian American kids watch CRA and realize that they can be heroes of their own stories. I know CRA won't represent every Asian American. So for those who don't feel seen, I hope there is a story you find soon that does represent you."
Even with the all-Asian cast, the story is universal and is a "cinematic experience," producer Nina Jacobson said.
Screenwriter Adele Lim said, "How do we show the conflict of [Rachel] being an 'other'? It came back to that otherness and it came back to Eleanor's fear of losing her son, so in a way, it's a foreign culture but when you get right down to it, the fierce family dynamics below it, it's something that someone everybody can relate to."
Jacobson's production company Color Force acquired the movie rights to the novel in 2013 and said that they did not intend for it to just cater to one demographic or region in the world.
"The Asian markets are huge and of course, everybody wants their movie to perform globally and get a chance to have the exposure and upside of a global release that includes these very powerful Asian markets," she said.
She added, "For us, we're very much an inside-out approach to the movies and TV that we make — do we love it and if we love it and relate to it, do we think that experience will be contagious for audiences everywhere? And so, we just went for it and honestly make the best movie we could make that was the most relatable movie in hopes that people would relate to it all around the world and not in any one particular market."
Though it's a romantic comedy and you want to root for Rachel and Nick's relationship, the movie explores strong female characters, from Eleanor Young's protective instincts to Astrid's decision with her marriage to Rachel sticking up for herself.
"What we found at the end of the movie was that we didn't want these women to depend on some man and the decision had to be their own decision. That is something that Adele [Lim, screenwriter] and Nina [Jacobson, producer] talked about a lot. This is not about getting the guy ultimately for both Rachel and Astrid," Chu added. "It's about self-worth, knowing that you're worth everything and you deserve anything you want. Rachel goes through that and she actually instigates that in Astrid as well."
#GoldOpen
The last film to have an all-Asian cast was "Joy Luck Club" in 1993. One would hope that in 25 years, the representation and opportunities for Asians and Asian Americans to appear on screen should have opened up.
However, a USC Annenberg study of 900 films from 2007-2016 found only 5.7 percent had Asian characters with speaking roles and 3 percent (or 30) of the films were directed by an Asian or Asian American.
Recent legislation pushed by the California Asian Pacific Islander Legislative Caucus seeks to address this problem in Hollywood by requiring film and television projects to report diversity statistics and anti-harassment and retaliation policies if they apply for state film tax credits. The program, which would provide $330 million in tax credits a year, was signed by Governor Jerry Brown on June 27 and will take effect in 2020.
Sharing with The Hollywood Reporter why the caucus pushed for this provision, Filipino-American Assemblymember Rob Bonta said, "We want to see our stories being told by API writers, directors, producers and actors, and this [reporting provision] isn't a crazy or overly aggressive ask. This is a fair ask, exceedingly achievable and doable."
The USC Annenberg study offered solutions to fix the inequality problem — one of them being "consumers can support content" that is driven by or features underrepresented groups.
At the roundtable on Sunday, the filmmakers discussed that for future projects, while putting diverse backgrounds on the team — whether they're Asian or any other ethnic group — is a priority, groups should also find allies within Hollywood who can champion that.
Chu recommended that studios should place some budget emphasis on looking for more Asian actors beyond the same faces.
"That's the problem with movies is people get lazy and you get the same 10 Asian actors that are presented to you and you say there are no Asian actors out there," Chu said. "They're all out there, they just don't know the opportunities are there."
Producer Brad Simpson of Color Force said that worlds "we don't know" are attractive in scouting for stories because "…you're looking for stories that have specificity and I think one of the things that make people feel exhausted is they're seeing the same stories being told with the same characters."
He added, "It wasn't important just to have one Asian person involved. I think that's the mistake people often make when they're doing something. They'll hire one person of color and that person will become the spokesperson. You create actually a competition for that role amongst people of color, but also you don't get the dialectic."
One of the prime examples of the dialogue that happened within the "Crazy Rich Asians" cast and crew was the removal of a line about Rachel's character not having dated Asian men in the past, which Wu had called for in a strong email. (It was thoroughly explained in the book, but given the short time frame of a movie, it could've been misinterpreted.)
"It was because there's a conversation going on and I think that's the important thing that I would say when you're representing cultures that aren't your own…" Simpson added. "You need to set up something that is a conversation where you're not just relying on one voice throughout."
Days before the Hollywood premiere of "Crazy Rich Asians" on August 7, the hashtag #GoldOpen — initiated by digital media entrepreneur Bing Chen — began circulating on social media to drum up support for the movie and call on audiences to buy tickets.
"100+ creatives, founders, and leaders have bought out theaters nationwide to show the world: Representation means business," read a poster, listing Asian American names and organizations who have contributed, posted on Chen's Twitter.
"Go because you have a love for movies. Go because you want to be told a fantastic tale, a story of love. Go because you want to support the community," Golding told the Asian Journal. "This movie will go down as being a classic."
Early tracking for the movie, which cost $30 million to produce, has it at a $20 million debut when it opens next week. Both Chu and Kwan have stated that the success of this will help open doors for future Asian projects to move forward.
"We are poised with this unique opportunity now where we're breaking through these floodgates. Now that this movie has become part of a movement, the more that we can prove to the establishment that people want these stories, the more that people come out on opening weekend to support the film, the more chances we will have in the future to tell these stories. It begins with setting the bar high with "Crazy Rich Asians," Kwan told the Asian Journal.