Irregularities in tone, poorly-written female characters and a frustratingly unexplained murder are two of the major pitfalls of the official Philippine entry to the Academy Awards
"Come, let us sing for joy to the Lord; let us shout aloud to the Rock of our salvation." -Psalm 95:1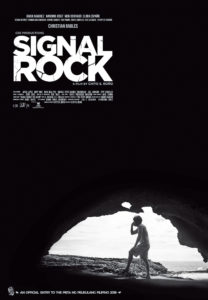 In veteran Filipino filmmaker Chito S. Roño's latest film, "Signal Rock," a tiny rocky island off the coast of the small town of Biri in Samar, Philippines provides locals the only spot in the region that has cellular reception. Each day, citizens trek to the rock to reach their overseas Filipino worker (OFW) family members as a way to ensure that they are working regularly to send money.
But most importantly, they want assurance that they are safe.
According to the filmmakers, the film is based on true events from the late 1990s and chronicles a young man in his twenties named Intoy (Christian Bables) who is the jack of all trades in his close-knit town: he emcees weddings and parties, he helps unload cargo and runs errands for all the titas and titos and ates and kuyas in town.
As the ever-reliable helper, Intoy is also responsible for being the sole contact between his family in Biri and his older sister, Vicky (Judy Ann Santos, whose talent is tragically relegated to a mere voice on the other side of phone calls), who lives in Finland to work.
Every day, Intoy gets on Signal Rock to reach his sister via mobile phone and asks her to send money to the family. This routine transaction goes off-route when Intoy discovers that Vicky has been emotionally and physically abused by her husband. What follows is Intoy's efforts to forge documents and recruit the help of the townspeople in order to get Vicky back home and help her win custody of her young daughter. The official poster for Philippine film "Signal Rock," by Chito S. Rono and written by Rodolfo Vera.
Vicky, like all the other girls from this town, leaves in search for work. But more importantly, they're in search of wealthy husbands who can help provide them with a stable life.
Another character, Gina (Mara Lopez), returns to the island with a much older, wealthy German fiance and introduces her former fiance, Kiko (Jomari Umpa), as her cousin. Gina reignites a tryst with Kiko amid her lavish wedding to the German, which puts Kiko in the difficult position of "does she still love me, or is she just using me?"
Nearly all the female characters in the film are portrayed as zany, nagging or selfish counterparts to the largely loyal and good-hearted men, which in 2018's call for diverse and complex characterization of women isn't a good look.
At the end of the film, when Intoy and his family finally get all the necessary papers in order and received confirmation from the related embassies, Vicky inexplicably opts out of coming home, completely nixing the weeks of hard work and emotional turmoil Intoy had to endure. We only know Vicky through phone calls, so we're not given any real context with her identity, choices and intentions.
The lack of dimension given to the film's women  including Intoy's mother (Daria Ramirez) whose charm surprisingly saves the day in the third act  — may not have intentionally been set out to paint a toothless portrait of the provincial woman, but it certainly doesn't answer the universal call for more fleshed out lady characters.
But the female representation is hardly the film's biggest problem.
The narrative is far too stodgy; it's as if the filmmakers tried to fit in as many subplots as they can, including a sex scene between Intoy and his girlfriend Rachel (Elora Españo) that didn't fit the film's tone as well as several tangents involving the other townspeople's drama. There's a point in between the second and third acts where you forget about Vicky and Signal Rock altogether.
Late in the movie, a prime character is beheaded by his brother after a wedding in a weak attempt at a plot twist; the murder goes frustratingly unexplained. ("Wait, what happened to the brother who was beheaded?" several moviegoers loudly asked at a recent screening in Los Angeles.)
Though the film was largely executed poorly and far too many scenes should've been left on the chopping board, the optics were gorgeous. Primarily, the strength of "Signal Rock" relies on Neil Daza's picturesque cinematography that captured the unabashed emotion and rigor of Bables' brilliantly acted performance. It's raw without being overly exploitative of the very real struggles lived by so many OFW families, in the 1990s and today.
Though the film is in excess of narrative flaws and incongruencies — which make it hard to believe this was the Philippines' official entry into the Academy Awards (and unsurprisingly, did not get nominated) — the representation of the grappling of OFWs and their families is a necessary addition to a cultural film oeuvre inundated with frivolity and oblivion of reality.