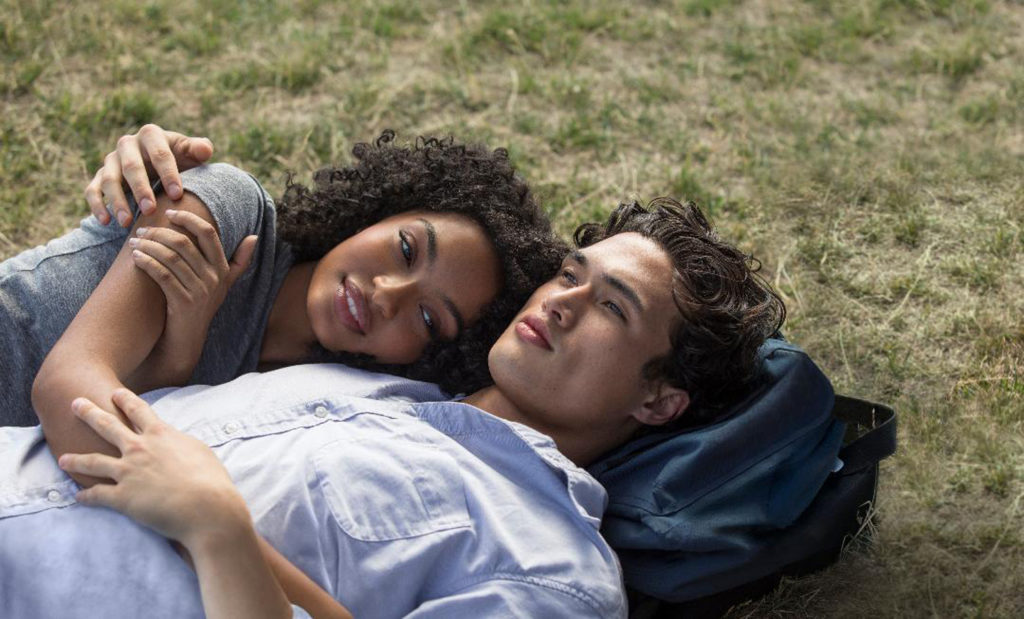 CAN two individuals fall in love in a day? Does destiny exist? 
These are some of the questions put forth by "The Sun is Also a Star," an upcoming movie based on the young adult novel of the same name by #1 New York Times Bestselling Author Nicola Yoon.
The story revolves around Natasha Kingsley (Yara Shahidi, "Grown-ish"), a Jamaican-born, aspiring physicist who considers New York her home. On the day before she and her family are to be deported, she catches the attention of Korean American Daniel Bae (Charles Melton, "Riverdale"), a hopeless romantic and poet who poses the question: "What if I told you that I could get you to fall in love with me? Just give me a day." 
In their hours together, Natasha and Daniel weave through different New York neighborhoods and instantly fall in love as told through a dreamy narrative under the direction of Ry Russo-Young and cinematography by Autumn Durald Arkapaw. 
Though centered on a teenage couple, the film tackles themes — from immigration to living up to family's expectations to the second-generation American experience — that will resonate beyond any age or racial group. With deportation such a hot topic today, "The Sun is Also a Star" takes a look at how communities that we don't normally see in the media are affected by this issue.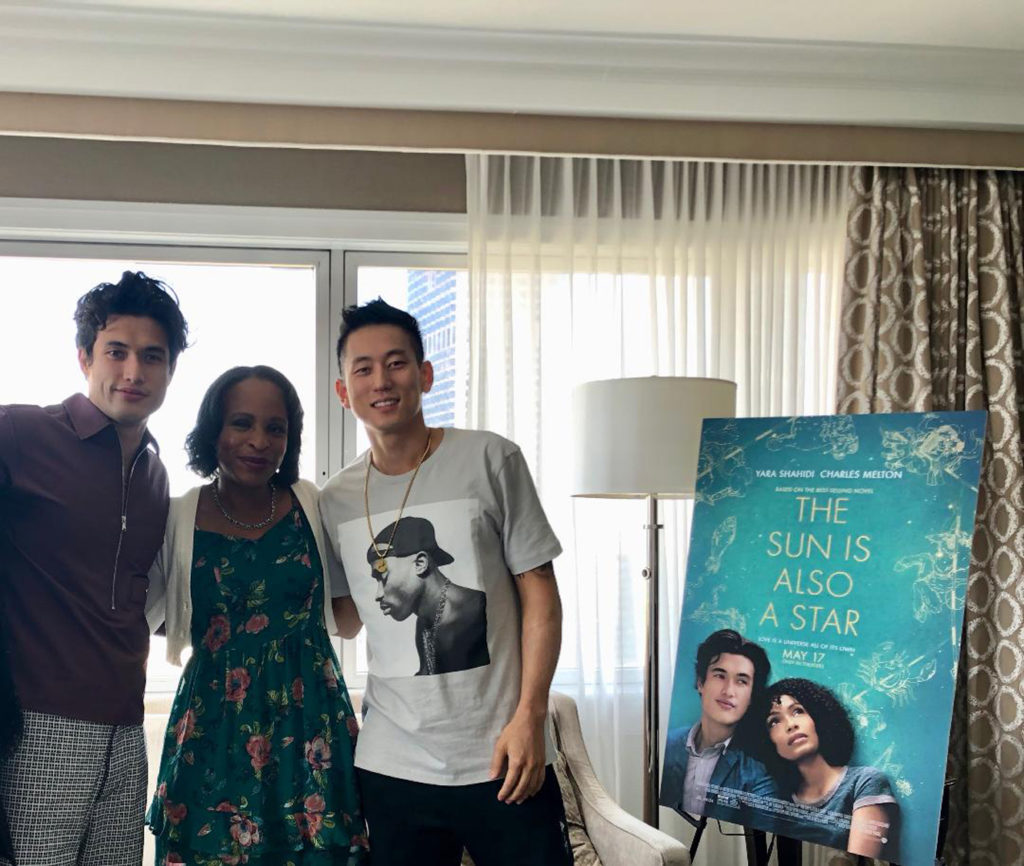 Ahead of the release of "The Sun is Also a Star" on May 17, we spoke to Yoon and Melton, as well as Jake Choi (who plays Daniel's older brother Charlie), during their stop in San Francisco about telling multi-layered immigrant stories and Asian American visibility. 
Asian Journal (AJ): Nicola, congratulations on your book being turned into a movie. What was it like seeing your writing come to life on screen and Charles and Jake embodying the characters [of Daniel and Charlie]? 
Nicola Yoon (NY): The word I always use is surreal because it just is. When you're writing, you're in your room by yourself and writing by hand…it's miserable sometimes… and you eventually revise it and it goes into the world. You get super lucky by getting something like this to happen to you. I feel like I'm walking on clouds.
AJ: Charles, this is your first major film and you're the star. What was the process of getting into Daniel's character and to play someone also of Korean descent? The first moment we see Daniel on screen, he's speaking Korean. 
Charles Melton (CM): I'm very honored to be part of the story and to tell a story where a lot of people are not aware of the Asian and Korean culture. Correct me if I'm wrong, Nicola, but that poem that I'm saying at the beginning, David [Yoon, Nicola's husband] wrote it….There's a unique thing that people aren't aware of with the Korean language — it's a very poetic language. Writing something in English, when translated into Korean, is completely different. Like any other language, this is all universal. The translator said it was the hardest thing for her ever to translate via text from English into Korean, and that's what you hear at the beginning of the film: may each day be today, may each day never end, but if it does, may it dawn into today. 
For the character…I really lived in his shoes and it was something that inspired me as a human being, as a version of myself that I portrayed. To really let go as an actor is a dream.
AJ: Daniel's older brother Charlie is an interesting character during the moments he's on screen. It's relatable for many Asian Americans to try to be more "Americanized" and we see that with Charlie going by his American name and hiding his Korean heritage.
Jake Choi (JC): Charlie has a lot of self-hate and it comes from a lot of things — from being ridiculed about being Asian…to his immigrant parents being very passive and putting their head down and not standing up for themselves when there are people who antagonize them for being Asian. What it does instead of you embracing your Asian identity with pride, you push it away. 
CM: To feed off of what you're saying, in the book, which we've read and done our work in, there's a scene when Charlie and Daniel are around 7 and 8 years old and Daniel is hanging out with his white friends. There's a moment when I was reading it when it really painted a picture of the relationship because…my character goes up to Charlie and starts speaking Korean and calls him 'hyeong.' There's this disconnect because the white kids are wondering 'what is he saying?' because they were unfamiliar with the culture. Charlie is embarrassed because he has this facade with his friends.
JC: 'Hyeong' means older brother in Korean so I think just his younger brother coming up to him and saying something that's very organic for him is very embarrassing. But the thing is, in the book and the script, he pushes his Korean culture away but interesting for me and my character work was, he's actually pretty fluent in Korean for the movie but he chooses not to speak it. You'll see that he is fluent during a very explosive scene between Charlie and Daniel.
AJ: What was it like punching each other during that one heated scene?
JC: [laughs] It was so much fun. I wish we could have done that for a couple more days. We're both former athletes so anything active and physical is always fun, but of course in a very safe environment. That was a really, really fulfilling, draining, emotionally satisfying scene to film. 
CM: It doesn't matter how much you rehearse. When you get to the set and when it comes game time, things are going to be different…One thing that's very vital as an actor is trust. You can be unfamiliar, but if you trust, there's this openness and being present. We had that in this scene. After each take, we were just hugging each other and saying, 'I love you' and 'I trust you.' It was just beautiful and organic and it was a lot of fun filming that scene. 
JC: And you know how I know it was great after every take? Ry, the director, would come up and she had tears in her eyes. Not just a tear, but actual tears in her eyes that you could see coming down. 
AJ: "The Sun is Also a Star" book is catered toward young adults and Charles and Yara are icons in teenage pop culture at the moment. A lot of themes and topics in the book and movie are so heavy and relevant to what's happening politically today. What kinds of conversations do you want families to have when they're watching the movie?
NY: A couple of things — just an openness to the world. I believe that we're not so different. The person across the way that doesn't look like you and doesn't share your language or religion, they're the same. The differences are fine but they don't make a difference. If we could take that, that would be awesome. If we could look at immigrants as being people just like any other citizen, that would also be lovely. Also, love is all there is. 
JC: There are very demeaning, dehumanizing stereotypes attached to black women and Asian men. Casting a black woman and an Asian man to be the leads and love interests, who are very well fleshed out, will help to sort of eradicate those. It's not going to happen overnight, but I think that would be my takeaway for someone who has these subconscious biases to say, 'okay, they are human too.' 
CM: It's amazing to do what we do as artists. For example, reading Nicola's book, I'm Daniel and I'm Charlie or I'm Natasha in ways. As an actor, it's great to escape in a movie theater and watch and say, 'that could be me.' Our first sense is sight so to see someone who may look like us is humbling, and it's an honor to be a part of this. 
AJ: This past year alone, we've seen more Asian representation, whether it was "Crazy Rich Asians" or "To All the Boys I've Loved Before." How can the Asian American community and viewers come out and support and make this another box office hit?
JC: Spend your money, buy the tickets and spread it by word of mouth. We know the movie is great and trust that. When you have a good product, you gotta share it. 
NY: It's a great love story and we get to see people we don't always see on screen. I'm all for super cute Asian boys in everything [laughs]. 
CM: It's an aspirational love story with so many timely and universal themes that I feel like no matter where you are in the world or where you may be with your own ideas of love or what race you are, you can walk away finding a part of your story in this film, which is done so well. 
Warner Bros.' "The Sun Is Also a Star," lands in theaters nationwide May 17, 2019.  This film has been rated PG-13 for some suggestive content and language.
This interview has been condensed and edited for clarity.