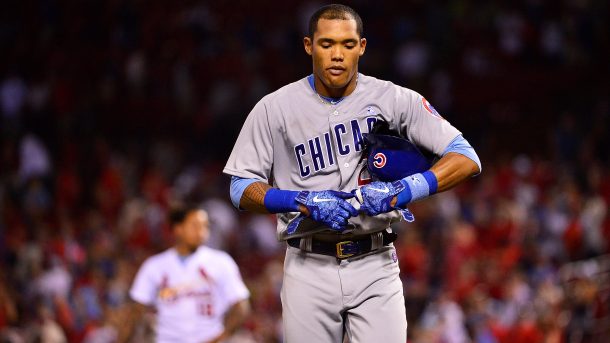 Ex-wife of Fil-Am shortstop opens up to MLB investigators, speaks publicly for the first time since divorce filing
On Wednesday, October 3, the Major League Baseball league suspended Chicago Cubs shortstop Addison Russell for 40 games for violating the league's policy on domestic violence, sexual assault and child abuse after Russell's ex-wife opened up to investigators regarding alleged domestic abuse by Russell.
Melisa Reidy-Russell, who filed for divorce from Russell (who is half-Filipino on his mother's side) in June 2017, wrote an emotionally-charged blog post last month that detailed years of physical and emotional abuse at the hands of her ex-husband.
This week, she spoke with ESPN and said that league investigators reached out to her last year in response to a since-deleted Instagram post suggesting Russell was unfaithful and abusive. She said she wasn't ready to speak then, but after her September blog post is ready to speak publicly.
"Last year when the MLB contacted me, I wasn't ready," Reidy-Russell, 24, told ESPN this week. "I didn't know what was the right thing to do. I didn't even believe in myself enough to think I should do that. I just left my husband and all this blew up."
On Wednesday, MLB Commissioner Rob Manfred announced that the league had completed the investigation and concluded that Russell violated league policy "and should be subject to discipline in the form of an unpaid suspension that will cover 40 games."
Chicago Cubs President of Baseball Operations Theo Epstein gave a news conference on Wednesday condemned domestic violence and when asked if Russell will return to the team next season Epstein answered, "I don't know. With all of our words and actions going forward, whether we know it or not, we're sending messages to our fans."
"Domestic violence is everyone's problem," Epstein added. "Because of that, we all have an obligation to be part of the solution as well. Discipline, in a case like this, is part of the solution going forward."
Russell, 24, initially denied his ex-wife's allegations, but in a statement released on Wednesday, he said that he has "gained better understanding" of the situation.
"I have concluded it's the best interest of my family to accept MLB's proposed resolution of this matter," Russell said through his lawyers "I wish my ex-wife well and hope we can live in peace for the benefit of our child.
Reidy-Russell, with whom Russell has a 3-year-old son, alleges that the Cubs shortstop has been unfaithful to her. On the Instagram photo posted June 2017, a user, who is reportedly a close friend to Reidy-Russell, claimed that Russell "hit" his wife.
On Sept. 19, 2018, Reidy-Russell published a blog post titled, "you no longer have a secret,  you have a story" which details her emotional and psychological distress allegedly brought on by physical, emotional and verbal abuse and infidelity on Russell's part.
"The way I was treated and the way he made me feel about myself, tore me down to nothing," Reidy-Russell, a licensed cosmetologist from Bay Minette, Alabama, wrote. "No matter who you are or what you're going through, you should not be afraid or ashamed to speak out about any type of abuse regardless [of] who it will offend."
Less than 12 hours after the blog post was published, the MLB announced that Russell had been put on paid leave under the league's domestic violence policy.