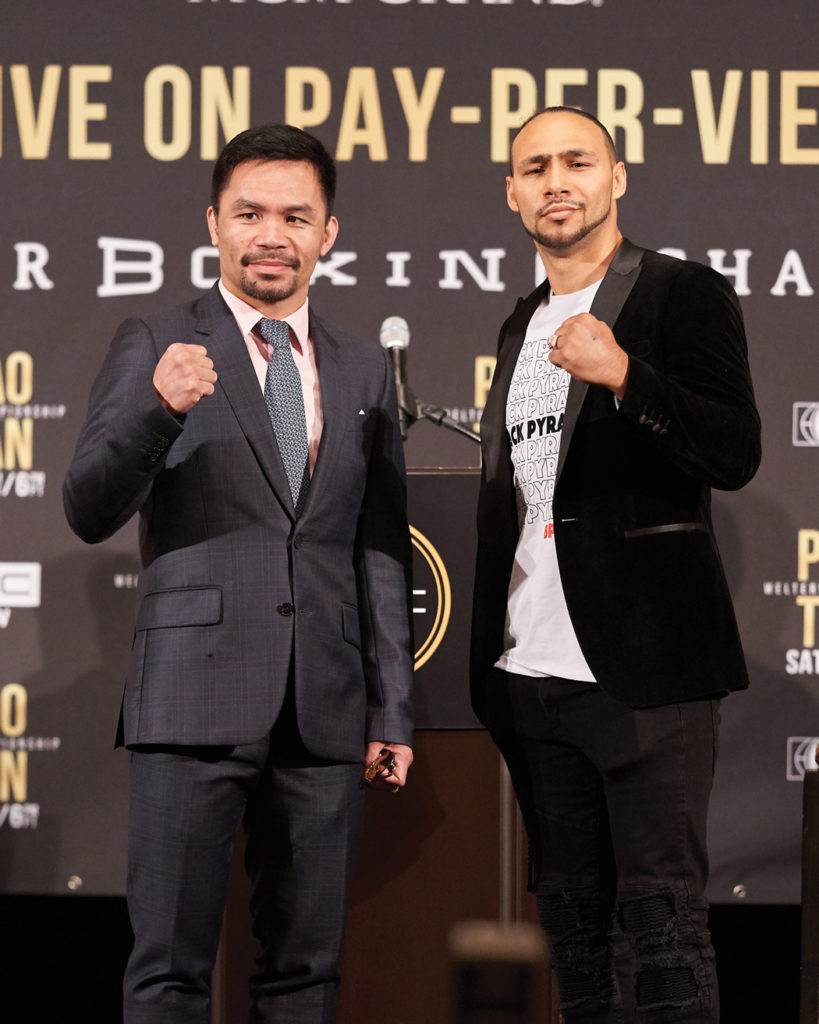 Welterweight world titlist Thurman vows to "retire" Pacquiao in Las Vegas
AT the packed Crystal Ballroom of the Beverly Hills Hotel in Los Angeles, legendary Filipino boxer Manny "Pacman" Pacquiao and welterweight world titlist Keith "One Time" Thurman set out goals ahead of their upcoming July 20 fight set to happen at the MGM Grand Garden Arena in Las Vegas.
In front of reporters on Wednesday, May 22, Thurman vowed to be the fighter to send Pacquiao into retirement, while the Filipino senator made it clear that his boxing career was nowhere close to being finished.
Bill Wanger, FOX Sports Executive Vice President of Programming, Research, and Content Strategy, appropriately described the upcoming fight as being between "a living legend" and a "legend in the making."
At 40 years old, Pacquiao (61-7-2, 39 KOs) remains boxing's only eight-division world champion, and has amassed an impressive career by fighting and defeating some seven current or future Hall of Famers like Oscar De La Hoya, Marco Antonio Barrera, Erik Morales, Miguel Cotto, Ricky Hatton, Shane Mosley, and Juan Manuel Marquez.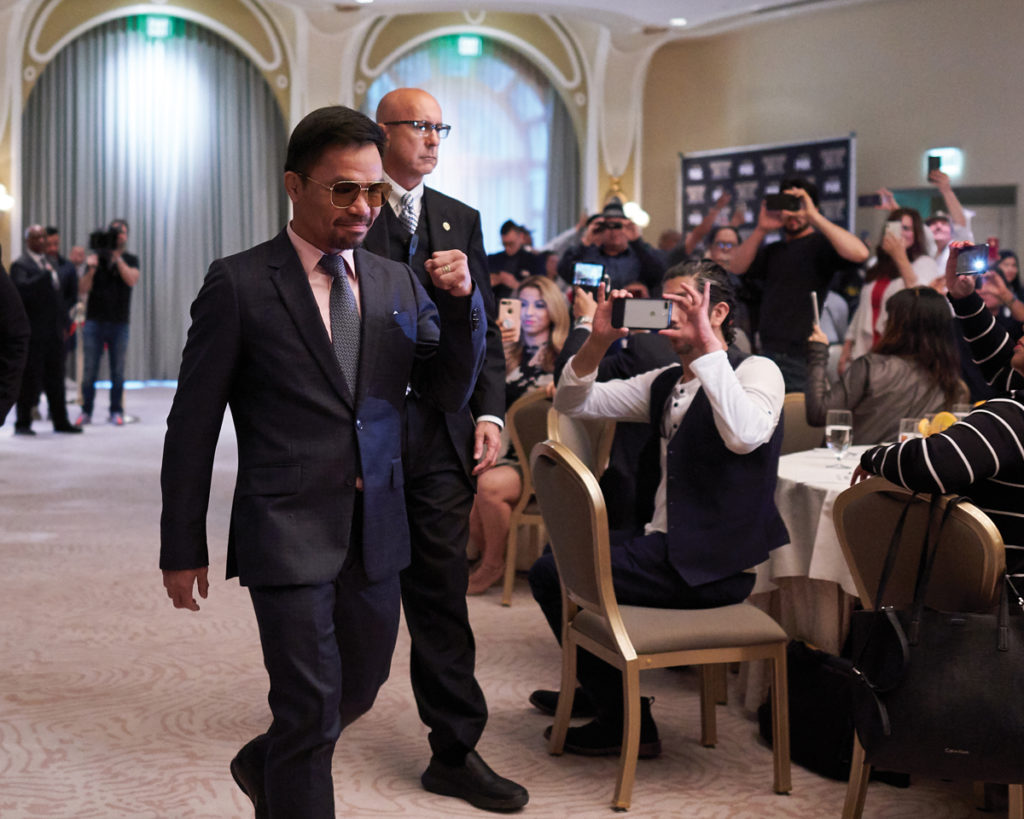 Also a senator in the Philippines, Pacquiao has been named a three-time Fighter of the Year and is the Boxing Writers Association of America's reigning Fighter of the Decade.
Thurman (29-0, 22 KOs), on the other hand, is 10 years Pacquiao's junior and has been described as one of the most dangerous boxers in the welterweight division.  He's also currently the longest reigning welterweight world champion and is hungry to become the top boxer at 147 pounds.
Of Thurman's 30 professional fights, the only non-recorded win comes from a No Contest with Mexico's Francisco Garcia back in 2009, which resulted from an accidental head clash.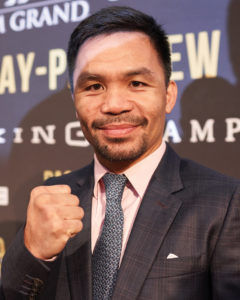 Coming out to the fitting song "We Ready" by Archie Eversole, Thurman had a lot of strong things to say about the upcoming fight. 
Acknowledging Pacquiao's impressive boxing career, Thurman did not hold back in reiterating his ambitious plans of sending Pacquiao into retirement on July 20.
"Like I've been saying all week long, I'm destroying the legend of Manny Pacquiao. His legacy ends on July 20th, and my legacy begins," said Thurman.
Thurman's most recent win came earlier this year by majority decision over Josesito López, despite having come from a 22-month hiatus resulting from a couple hand and elbow injuries.
"Manny is just a world class fighter. He's a gentleman in the ring and out of the ring, and I look forward to trading punches with the man, the living legend, the senator, and any other title that's been given to him," Thurman said rather respectfully.
"But one thing for sure is that he's not walking away with my title," he added.
Not overlooking Pacquiao's proven capability of staying at the top of the boxing scene, Thurman said that he's unlike any fighter Pacquiao has ever gone up against.
"This is a big fight as far as the stage goes, but it's a big fight against a little guy. He's a veteran and I've dismantled veterans in the past. I believe I would have destroyed Manny Pacquiao five years ago. I've always been ready for this fight. He's never fought someone like me with this kind of lateral movement, speed and power," said Thurman.
Pacquiao — who entered the room to an also fitting song, "Legendary" by Welshly Arms — seemed calm, collected, and unfazed by Thurman's words.
In response to Thurman's promise of sending him into retirement, Pacquiao said he's become used to his opponents saying a lot of "useless words" before fights.
"But when we get to the ring, it changes," said Pacquiao, adding also that size has never been an issue when it came to defeating his opponents.
"He said he's young, but we'll see who looks young in the ring on July 20. I'm going to let my fists say everything for me," added Pacquiao.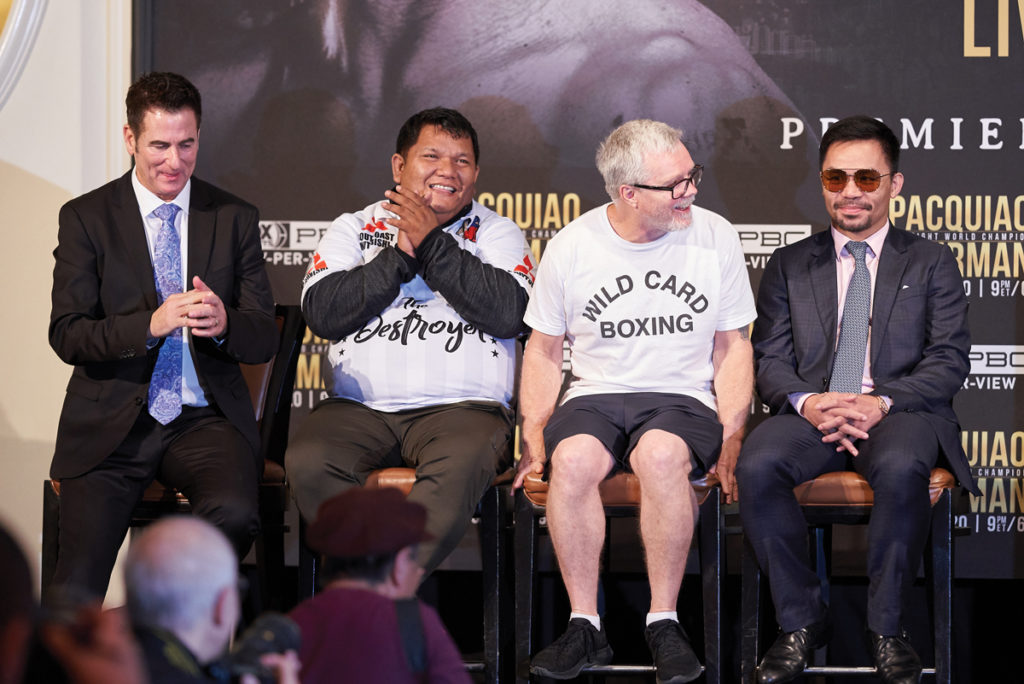 Pacquiao has consistently proven that when it comes to his professional boxing career, age has been nothing but a number.
Boxing fans saw that during Pacquiao's last fight in January 19 when he retained his WBA "Regular" Welterweight title via a unanimous decision victory against the 29-year old former four-division titlist Adrien Broner at the same venue.
He told the Asian Journal before his Broner fight that training has, for the most part, remained the same. To reporters, he assured that the "fire in his eyes" was still there.
"At age 40, I feel like I'm 29," said Pacquiao on Wednesday. "Do you think I'm 40 years old and not enjoying it?"
But despite Pacquiao's victory over Broner, boxing fans were left unsatisfied and disappointed from the fight's lack of excitement. 
Pacquiao said on Wednesday that he picked Thurman because he expected him to be more of an exciting and challenging fighter than Broner — the perfect opponent to help him show that he still has what it takes.
Claiming experience to be on his side, Pacquiao added, "I want [Thurman] to experience losing for the first time."
"I hope that come July 20, he will stand by what he's saying and fight toe-to-toe with me," said Pacquiao.
The Pacquiao-Thurman fight will take place on Saturday, July 20 (Fox PPV, 9 p.m. ET) at the MGM Grand Garden Arena in Las Vegas.