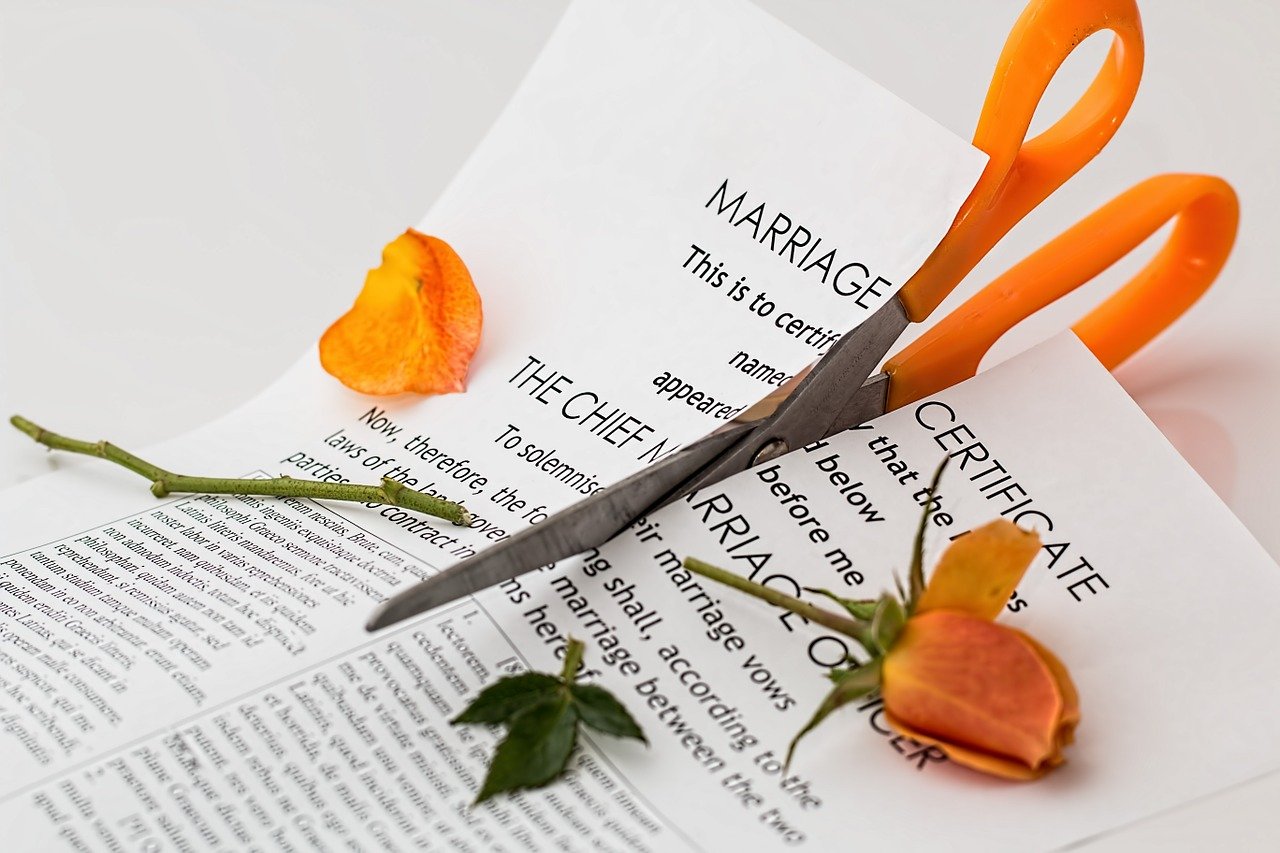 JUNE is the time of the year when many people here in America choose to tie the knot.
Why not? It is springtime giving way to summertime with all the promises of new beginnings. Most women dream of forever love and to get married with that hope and dream that their husband will be the person they will share their journey of life and grow old with 'til death and beyond.
Last week, I wrote about why women facing a crossroads choose to stand by their man and stay in the marriage.
This time, I am sharing the piece I wrote in February 2010 about those who chose to leave their husband and say goodbye to forever love with him:
"At what point does a woman say 'enough'…walk out the door and never look back?"
Let me start with my premise: Women, in most cases, enter into the sacred covenant of marriage because they want to make it work…because they want to build a family and spend the rest of their life with their husbands, "for better for worse…"
And as I wrote in my prequel to this blog ("Why Women Stand By Their Man Despite…"), women are wired biologically, socially and spiritually, to stand by their man, to keep the family together, even if sometimes, or many times, this means overextending themselves and putting their family's needs and happiness above theirs.
While there may be more women who are happily married and have been blessed with loving, responsible and faithful husbands, there are also women who cry in silence…women who feel trapped…women who are compelled to break away. Yes, there are women who say goodbye…who swim against the tide, take the road less traveled, leave their husbands and break the family apart by walking out the door, legal separation, annulment or divorce. And they all have their reasons…
Some women endure years of physical abuse from the hands of the very same man they trusted, loved, and served with all their heart. Some just blindly accept that they should submit themselves to the authority of their husbands, others are made to believe it was their fault and that they deserved to be punished.
These women even rationalize why they have to be beaten up — they did not keep the house clean…did not wash his clothes the way he wanted…did not prepare a good meal or served chilled bottles of beer…did not want to have sex even when they were tired or not feeling well, or when the husband smelled like puke after drinking with his "barkada" 'til the wee hours of the morning, or when they are afraid they might be infected with venereal disease or get pregnant again.
There are also women who get confused when their husbands hit them in rage one moment, and then make a complete turn-around — plead for forgiveness, and shower them with love and affection….and the cycle goes on and on. Others are just simply too terrified to even talk about what is really going on behind closed doors.
Some women who do the unthinkable — those who look the other way when their own husbands abuse their children — physically and sexually. Coming from the position of learned helplessness, there are women who even appease, persuade or coerce their own children to never speak out about their father's horrendous act in fear of losing financial support and to avoid the social stigma and embarrassment.
On the other hand, some women turn their rage to themselves or even to their own children and become abusers themselves, perpetuating the culture and cycle of violence… Some end up killing their husbands and their children.
There are women who are never battered physically, but their pain and scars are as deep. They have been brainwashed by their husbands through the most hurting words possible, of how worthless they are, of how old and lousy they have turned out to be. These women are cursed, ridiculed, and even made to believe how indebted they should be to their husbands because if not for them, they, the poor wives, are nobody…they are nothing. "Tignan lang natin kung may magtiyatiyaga pa sa iyo…Ang tanda tanda mo na…ang taba taba mo…wala kang kuwentang babae!" (Let's see if somebody will still take you — you are old and fat and worthless!) Some husbands stop cursing or nagging…or probably never did…but their silence, indifference and blatant disregard of their wives make these women feel just that — worthless and nobody.
Some women leave their husbands when their trust has been violated. The degree of tolerance varies from woman to woman. There are those who cannot accept even a one-night stand fling, others can be more forgiving — "Basta ba sa akin siya umuuwi at wala siyang binabahay na ibang babae at wala siyang inaanakan. Lalaki yan, wala tayong magagawa (So long as he goes home to me, doesn't have a home or sire a child with another woman. He is a man, there is nothing we can do about that!)", I hear these women say as they condone their husbands' indiscretion in sad resignation.
No matter how these women react to or rationalize their husbands' infidelity, the damage has been done. This betrayal of trust leaves many women blaming themselves, "What is wrong with me?" — their self-esteem crushed, their faith shaken. All their lives these women's most ardent wish and prayer is to have a solid, happy home with their husbands, and wonder why such a simple and humble dream will be denied by the very man they built those dreams of "forever" with? This pulls many women down to the deepest pits of depression. Many get so crippled and hide in isolation. They cease to be loving mothers to their children, some cannot even be productive in their work or vocation as before. Others turn to self-destructive behaviors like drinking, drug addiction, even suicide.
Some women leave because their trust is violated in another way — when their husbands use and abuse them and treat them like doormats. I hear stories of women who work double jobs, attend to their children's needs, do household chores while their husbands choose to be lazy, inconsiderate or simply pathetically apathetic. Some husbands work, but after which just go binge drinking and bar-hopping with their barkadas. Other men choose to stay home, watch television, drink beer, demand to be served like kings by their servant wives. Worse, there are husbands who choose not to work, depend on their wives, and use their wives' hard-earned money budgeted for the family's needs, to splurge on their vices, gambling, and/or, their womanizing.
Some women say goodbye because of their husbands' psychological incapacity. After years of marriage, they painfully realize and accept that their husbands may not have within their personality and psyche what it takes to fulfill their obligations as husband and father, and that their condition may be hopeless and incorrigible. This is the only ground accepted by the Catholic Church to annul a marriage.
Other women leave their husbands because of irreconcilable differences. After a considerable time of being together, the husband and/or the wife finds out that what sets them apart is far greater and stronger than what keeps them together. This may include lifestyle, values, attitude, sexuality, religion, finances, child-rearing, etc. that may never be resolved. This is an accepted ground for a no-fault divorce.
However, there are also women who walk out the door when they feel they have outgrown their husbands, when they feel their husbands' lack of drive and ambition or desirable and productive attributes just stifle their own potentials to grow and be successful. Other women grow tired of pretending to be somebody else just to please their husbands and keep a happy façade of their family life. On the other hand, some husbands and wives just grow apart — after years of marriage they realize they are now different people from the men and women they used to be when they fell in love and said "I do." They hardly know each other anymore. They are now looking toward separate directions. Some women, men, or both, just fall out of love.
Most women hold on to their marriage, endure all the suffering, hope against all odds. Many seek professional help — they turn to psychiatrists, marriage counselors, and spiritual advisers, as well as to trusted family members and friends for guidance. A lot of women draw strength and courage in the power of prayer and positive thinking, I know some who faithfully and religiously make novenas to St. Jude, St. Joseph, to the Mother of Perpetual Help, to the Sacred Heart of Jesus, to the Black Nazarene. Marami rin ang namamanata, at mayroon ding naglalakad pa ng paluhod sa simbahan upang ipagdasal ang kanilang asawa at ang panunumbalik ng pagmamahal at pagkakaisa sa kanilang tahanan (Many women make promises and offerings to God, others even walk on their knees to pray for their husbands and the restoration of love and unity in their families). Others do trial separation and see if both parties will gain a better perspective of their situation from afar and re-evaluate the value of their marriage and family to them. Some women find new love, hope, and the will to move on in the arms of another man.
There are couples who become successful in repairing the damage of their relationship. After all that has been said and done, they are able to keep the marriage and have even found stronger love and commitment after their trials. However, for some women, the answer to their prayers seems to be "No." Some have tried everything over and over again, only to be hurt over and over again. To these women, the only right thing to do is to walk away.
As women get better educated and become more financially independent, as they have more access to information on their rights and other options in life, as they feel safe and accepted by support groups like friends, family, civic and religious groups, government institutions, they become braver and bolder to say enough is enough. They find the courage to end the cycle of violence and betrayal.
These women find an epiphany in the importance of validating their own selves — no more lies and betrayal of who they are and their worth as children of God. They learn to respect and love themselves, which enables them to be truly loving mothers, to be better human beings. While they struggle with the fact that their children will grow up in a broken home, they are consoled and strengthened by the thought that their decision will give their kids important life lessons and examples of honesty, authenticity, self-love and respect, which they hope will help them navigate their own voyage in life. And to these women, that is all that truly matters…
* * *
The opinions, beliefs and viewpoints expressed by the author do not necessarily reflect the opinions, beliefs and viewpoints of the Asian Journal, its management, editorial board and staff.
* * *
Gel Santos Relos has been in news, talk, public service and educational broadcasting since 1989 with ABS-CBN and is now serving the Filipino audience using different platforms, including digital broadcasting, and print, and is working on a new public service program for the community. You may contact her through email at gelrelos@icloud.com, or send her a message via Facebook at Facebook.com/Gel.Santos.Relos.