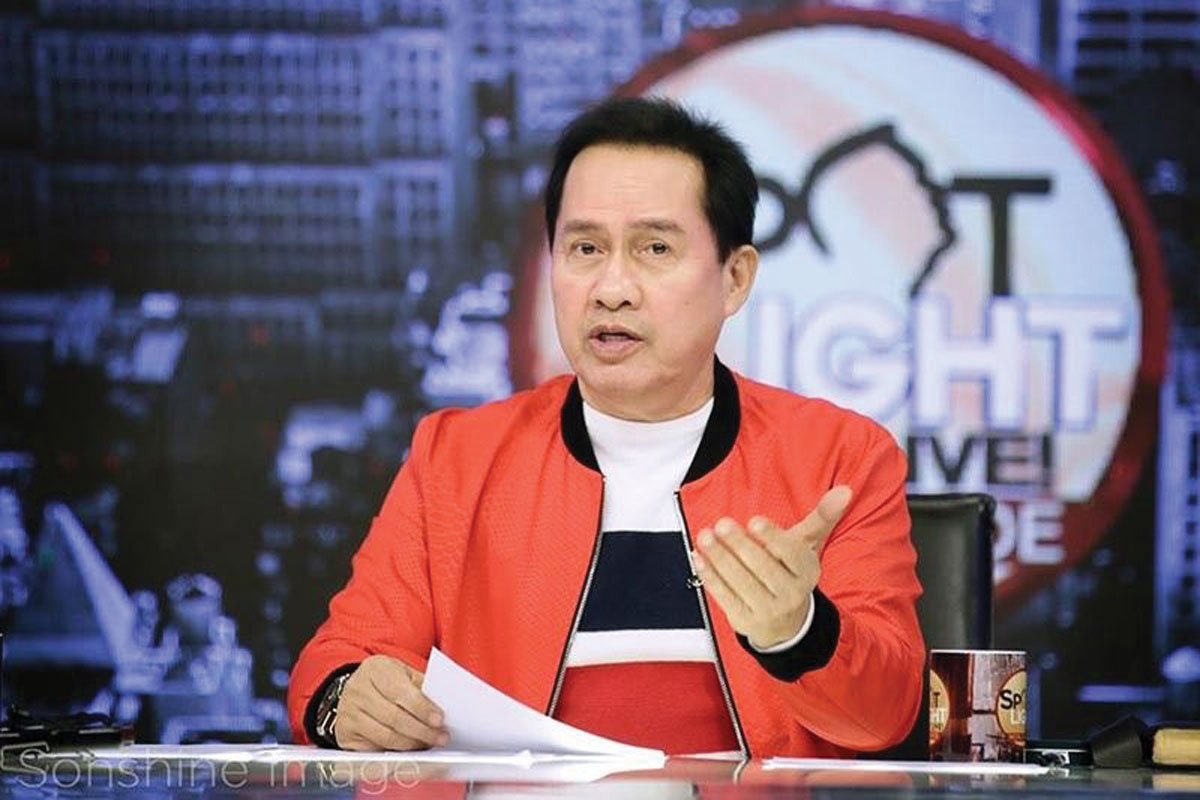 "PASTOR" Apollo Quiboloy, founder and chairman of the mega-church "Kingdom of Jesus Christ" in the Philippines, made headlines again globally on Thursday, November 18, not just because of his outrageous claims about his identity and how he "brands" himself to millions of Filipinos who follow him, but because he has again been implicated in serious crimes.
This time, the man who claimed himself to be the "Owner of the Universe" and "Appointed Son of God," was indicted for a sex trafficking operation that was supported by funds solicited by donors here in the United States.
An indictment is an official accusation stating that a person is being charged with a crime and that a criminal trial will be held. An indictment is the final step in the evidence-gathering process before a person is out on trial for a serious crime.
Quiboloy, a long-time friend and the spiritual adviser of President Rodrigo Duterte, has millions of Filipino followers because of the privilege accorded to him and his media empire. Sonshine Media Network International (SMNI), also known by its legal operating name Swara Sug Media Corporation, is the official broadcasting arm of The Kingdom of Jesus Christ mega-church. Duterte granted Swara Sug Media Corporation 25 years extension to operate when he signed Republic Act. 11422 in 2019.
For those of you who followed "Balitang America," you would recall that the daily newscast of The Filipino Channel reported in 2018: "Recent court documents state that a former member of the Kingdom of Jesus Christ Church claimed to have seen Hawaii branch manager Felina Salinas and church founder, Apollo Quiboloy, ordering church members to smuggle hundreds of thousands of dollars from California to the Philippines on two separate occasions, in 2013 and 2014."
Also in 2018: "The Philippine megachurch, Kingdom of Jesus Christ, is under fire — as a former member of its Hawaii branch is accusing its founder, Pastor Apollo Quiboloy, of running a child sex ring."
In 2019, yet another cash smuggling by Salinas and Quiboloy was reported by Balitang America, with a follow-up in 2020 on the sentencing: "The Hawaii church manager of Filipino pastor Apollo Quiboloy's Kingdom of Jesus Christ was sentenced to 30 days in prison Monday for lying about a suitcase with hidden cash found in the preacher's flight back to the Philippines in 2018. Felina Salinas, a U.S. citizen, was also meted a $500 fine for failing to declare over $335,000 in cash found in a private jet that was to fly Quiboloy back to the Philippines on February 13, 2018."
Also in 2020: The FBI says the Philippine-based Kingdom of Jesus Christ church with multiple U.S. locations has been using an immigration scheme to bring in so-called "full-time workers."
Now this development: On Thursday, November 18, multiple legitimate and independent news organizations in the United States have been reporting about the charge of sex trafficking against Quiboloy and his mega-church.
Let me quote the federal grand jury indictment unsealed last Thursday, as reported by CBS-LA so that you may not potentially be victimized by this organization as they allegedly did many Filipino Americans as well as young kababayans at home:
"An expanded indictment charges 71-year-old Apollo Carreon Quiboloy, the leader and founder of the Kingdom of Jesus Christ (KOJC), The Name Above Every Name church, along with several of his Los Angeles-based administrators, with conspiracy to engage in sex trafficking by force, fraud, and coercion and the sex trafficking of children. KOJC claims to have millions of members in the Philippines and millions more in other countries."
The superseding indictment unsealed Thursday accuses Quiboloy and two more administrators of recruiting females from ages 12 to 25 to work as personal assistants they called "pastorals," who would cook and clean for him, give him massages, and have sex with him in what was called "night duty." The indictment specifically mentions five female victims, three of whom were underage, who were recruited starting in 2002 through at least 2018.
"Defendant Quiboloy and other KOJC administrators told pastorals that performing 'night duty' was 'God's will' and a privilege, as well as a necessary demonstration of the pastoral's commitment to give her body to defendant Quiboloy as 'The Appointed Son of God,'" the indictment alleged. Pastorals who balked at night duty were told "that they had the devil in them and risked eternal damnation," according to the indictment, and those who tried to leave the church or were not able to perform night duty were threatened and physically abused by Quiboloy.
The pastorals who were deemed obedient were rewarded with "good food, luxurious hotel rooms, trips to tourist spots, and yearly cash payments that were based on performance," all of which were paid for with money solicited by KOJC's workers in the U.S.
Two more KOJC administrators were arrested Thursday – 48-year-old Bettina Padilla Roces, also known as "Kuki," was arrested in Reseda, California, for allegedly handling financial matters for the church, and 72-year-old Maria De Leon, the owner of Koreatown-based Liberty Legal Document Services, which prosecutors say processed fraudulent marriages and immigration-related documents for KOJC workers.
Three of his Los Angeles-area administrators were charged in February of last year in connection with the megachurch's Glendale-based non-profit called the Children's Joy Foundation USA. Federal prosecutors say Guia Cabactulan, 61, was a U.S.-based administrator who operated the KOJC compound in Van Nuys; 43-year-old Marissa Duenas of Van Nuys handled fraudulent immigration documents for workers, and 50-year-old Amanda Estopare, also of Van Nuys, was charged with tracking and reporting the money raised in the U.S. to KOJC officials in the Philippines.
According to federal officials, the megachurch forced members who came to the U.S. to surrender their passports and work long hours soliciting donations for the Children's Joy Foundation that purportedly went toward impoverished children in the Philippines. The indictment unsealed last year alleges that most or all of the money raised by the non-profit went toward financing KOJC operations and the lavish lifestyle of church leaders. Those workers who proved productive were then forced to enter into sham marriages or obtain a fraudulent student visa so they could keep soliciting donations in the U.S. year-round, prosecutors said.
A search of the KOJC's Van Nuys compound in January of 2020 found Cabactulan and Duenas in the possession of approximately 72 Filipino passports, seven U.S. passports, and one Ukrainian passport belonging to other people, according to the indictment. Duenas was also found to have a file labeled "traitor" with information on members who fled the church, prosecutors said.
Federal prosecutors say Quiboloy retaliated against church members who managed to leave KOJC by alleging they had engaged in criminal conduct and sexually promiscuous activity in his sermons broadcasted around the world.
Quiboloy, 59-year-old Teresita Tolibas Dandan and 56-year-old Helen Panilag, two top KOJC administrators based in the Philippines, were each charged with sex trafficking conspiracy. The superseding indictment also outlines the church's nationwide soliciting operations how it enabled forced labor, labor trafficking, document servitude, marriage fraud, and money laundering. Each of them are believed to be in the Philippines, but Quiboloy also has homes in Calabasas and Hawaii."
The Quiboloy camp denied all allegations in 2018 and 2019 in the Philippines. In 2018, a former follower of Quiboloy accused him of running a "child sex ring," an allegation that the pastor's camp dismissed as "a pack of lies."
In 2019, the Philippine News Agency run by the Philippine government reported: The camp of Kingdom of Jesus Christ founder Pastor Apollo C. Quiboloy denied the alleged rape, qualified trafficking in person, and child abuse cases lodged by a former follower recently at the Office of the City Prosecutor here [in Davao City]"
The denial was a response to "a complainant, Blenda Portugal, accused Quiboloy and five others — Jackielyn Roy, Cresente Canada, Pauline Canada, Ingrid Ca­nada, and Sylvia Cemañes — of sexual abuse and forced labor."
In her affidavit, the PNA report said Portugal said she was introduced to Quiboloy by her father, who was a member of their church, when she was 10 years old. She said she and her sister were exploited both in forms of sexual and forced labor.
Fast forward to 2021, on November 19, the Kingdom of Jesus Christ Legal Counsel issued a public statement denying the allegations in the indictment by U.S. federal officials saying this is "another vicious attempt to bring down Pastor Apollo C. Quiboloy and some of the Kingdom leaders has been organized just recently in the United States, but The Kingdom of Jesus Christ, The Name Above Every Name and all its followers remain steadfast and committed to faithfully respond to its mission, its ministry and its divine calling despite all the detraction efforts made against them."
How will the rule of law take its course with this indictment in the U.S. that corroborates allegations against Quiboloy in the Philippines?
(To be continued)
* * *
The opinions, beliefs and viewpoints expressed by the author do not necessarily reflect the opinions, beliefs and viewpoints of the Asian Journal, its management, editorial board and staff.
* * *
Gel Santos Relos has been in news, talk, public service and educational broadcasting since 1989 with ABS-CBN and is now serving the Filipino audience using different platforms, including digital broadcasting, and print, and is working on a new public service program for the community. You may contact her through email at gelrelos@icloud.com, or send her a message via Facebook at Facebook.com/Gel.Santos.Relos.