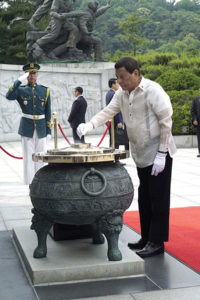 FILIPINOS all over the world are talking about the controversial video that shows Philippine President Rodrigo Duterte playfully kissing the lips of an overseas Filipina worker, who is reportedly married, in front of a cheering crowd of kababayans when he delivered a speech on stage in Seoul, South Korea.
Even legitimate international media organization reported on this. CNN 's headline read: "Philippines President Duterte sparks outrage with 'misogynist' kiss." Fox News wrote: "Philippine President Rodrigo Duterte slammed for kissing married woman before huge audience." The New York Times published: "Critics Slam Rodrigo Duterte for Asking a Woman to Kiss Him Onstage." The Independent's headline stated: "Philippine President Rodrigo Duterte pressures overseas worker into kissing him on lips at public event." 
Britain's BBC banner read: "Philippine President Duterte condemned for kissing overseas worker." The Washington Post headline stated: "Philippine President Rodrigo Duterte kissed a random woman on the mouth in front of a crowd."  Reuters' headline read: "Philippines' Duterte stirs controversy by kissing woman on lips" and there are many more…
Presidential Spokesperson Harry Roque defended the president's controversial kiss, saying it was an endearment kiss without malice and that the president was just entertaining the big crowd. 
Responding to critics who label the kiss as a disrespectful and misogynous act not befitting of the honorable position he holds as president of the Philippines, Roque said  "The lady who was kissed has clearly expressed that she was honored with the kiss," Roque said in an interview with CNN Philippines on Monday, June 4.
Roque also quoted an interview with the OFW, identified as Bea Kim, who said she believed "there was no malice" in Duterte's kiss. 
In another press conference, Roque said, "I don't think there is anything immoral. After all, the president has reiterated he is single (Reporter heard off-cam: But the woman is married.) But the woman volunteered and the woman said she was very proud of that experience," as quoted by Rappler, branded by Duterte's allies as their nemesis.
ON THE OTHER HAND, not everybody was happy and proud of this. This is the Facebook post of Filipina Cili Borlaza, who is pursuing her doctorate degree in South Korea:
"I think I just had the worst experience of my year yesterday. I don't usually post politically-related stuff on social media but this was borderline traumatic for me. I need to do something, anything really, about it. There's no one else to blame in this situation but me. I've miscalculated my threshold and I wanted to give the benefit of the doubt.
For anyone who's reading, I'm currently an expat in South Korea. I'm in my final year of Ph.D. under a Korean Government Scholarship. I was also a DOST scholar in the Philippines. Having said that, it has always been in my heart to give back service to my country in any way I can. Yesterday, I was a student volunteer in an event for the Philippine president's visit in Seoul. It was my way of engaging into volunteerism for my country, even if I'm not exactly a fan of the current administration.
In his speech, our president…used foul words so many times that I've lost count. He pulled perverted jokes several times (even used the word "libog"). He made remarks about pretty ladies who performed and [were] in the crowd as if bragging about his womanizing skills. He even kissed someone [on] the lips.
This was extremely difficult to watch. But, it was heartbreaking to see my fellow countrymen cheering for it. Every curse, every perverted joke, every "papatayin ko talaga sila" remark was received with applause and cheering. Mga kababayan, this is how far we've gone. This is how terrible our judgments have become. I'm utterly disappointed and disgusted, really. It's painful to be represented by him. I wish Filipinos would have some amount of self-worth. This is not the kind of representation we deserve!
For those who find this rant distasteful, please feel free to exercise your right to unfollow, unfriend, and/or block me.
#disgustedbyPRRD"
* * *
Gel Santos Relos is the anchor of TFC's "Balitang America." Views and opinions expressed by the author in this column are solely those of the author and not of Asian Journal and ABS-CBN-TFC. For comments, go to www.TheFil-AmPerspective.com, https://www.facebook.com/Gel.Santos.Relos