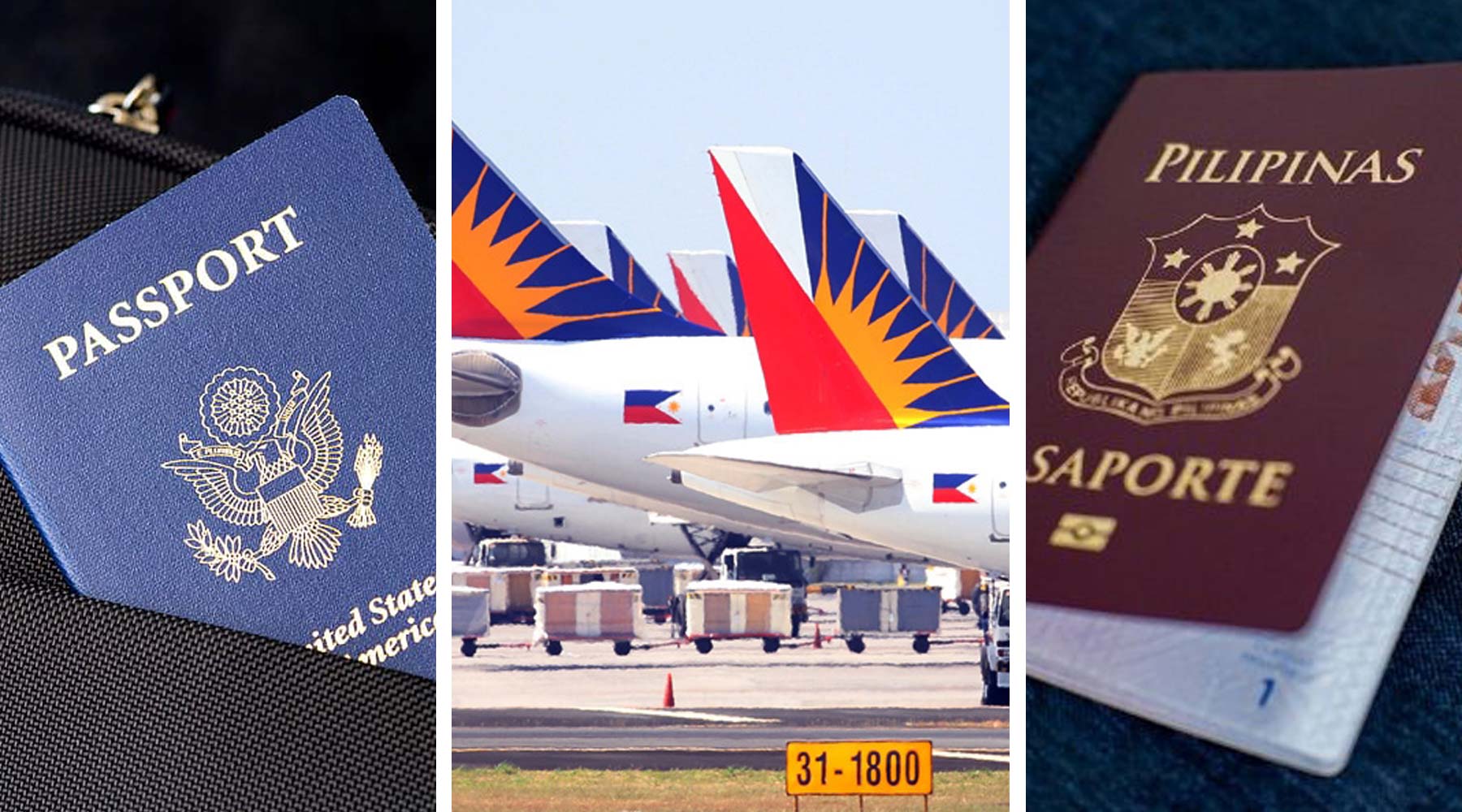 COVID-19 has made us realize how far away we are from the Motherland despite the conveniences of modern technology and apps like cellphones, Facetime, Viber, Zoom, Facebook, etc.
While these help us keep in touch with our families back home, we have come to terms with the sad fact that without freedom of navigation, these could never take the place of seeing our loved ones face-to-face, holding them, being with them, especially during challenging times when they are sick, hurting and lonely.
Worse, we could not be there during their end of life, not because we do not want to, but because we just could not. We could not board that plane and enter the Philippines as we used to during life before coronavirus pandemic, not just out of safety concerns, but because the Philippine government would not allow us to do so.
As shared by San Francisco Consul General Henry Bensurto Jr, as of 22 July 2020: ALL FOREIGN PASSPORT HOLDERS (i.e., U.S., EU, ASEAN, Chinese, Japanese, etc) are TEMPORARILY not allowed to travel to or enter the Philippines during the pandemic. Per the ConGen's info:
A particular category of "BALIKBAYAN" pertaining to "a former Filipino citizen and his family" is a foreigner holding a foreign passport.
This particular category of BALIKBAYAN is defined as a former Filipino who lost his/her citizenship by naturalization in a foreign country (i.e. U.S.) or other similar modes of losing PH citizenship. By definition, therefore, this category of Balikbayan is not a Filipino citizen unless he/she reacquires Filipino citizenship under RA 9225. Until he/she reacquires his/her Filipino citizenship, he/she is not entitled to a Philippine passport or Travel Document.
Obviously, as a foreigner, this particular category of Balikbayan only holds a foreign passport (such as U.S. or EU).
Before the pandemic, this category of Balikbayan was able to enter the Philippines even with a foreign passport and without the need for a visa to the Philippines.
HOWEVER, because of and during the pandemic, this particular category of Balikbayan who has not reacquired PH citizenship under RA 9225 and who only has foreign passport is TEMPORARILY not allowed to enter the Philippines under current regulations of the Bureau of Immigration and Deportation. In due time, this TEMPORARY RESTRICTION will be lifted when the pandemic conditions change and determined to be safe.
Finally, FOREIGN PASSPORT HOLDERS who are SPOUSES or CHILDREN of Filipino citizens can ENTER the Philippines when traveling together with the Filipino spouse or parents. If NOT traveling TOGETHER with the Filipino spouse, the foreigner husband or wife must show proof of marriage, or in the case of foreigner children, proof of filiation
DUAL CITIZENSHIP is the only way for us Filipinos in America who have already naturalized to visit despite the aforementioned limitations due to COVID-19. The good news is, the application and processing can be expedited.
REQUIREMENTS:
Applicant must personally appear and present the following documents:
1. Original and Photocopy of the following documents:
Birth Certificate from the National Statistics Office (NSO)/Philippine Statistics Authority (PSA) [apply here ] (The NSO/PSA Birth Certificate must indicate/show Filipino as your nationality/citizenship)
For those who elected Philippine citizenship: NSO/PSA Birth Certificate, Certified True Copy/Certification issued by a Philippine local civil registrar (LCR) that the statement of electing Philippine citizenship and oath of allegiance to the Philippines is registered with their office.
• Foreign Naturalization Certificate
OR A COMBINATION OF TWO (2) Documents FROM THE PHILIPPINES and ONE (1) Document FROM THE FOREIGN COUNTRY:
In the absence of Item 1 a: Acceptable Philippine Documents (The Philippine documents must show the same name, date of birth and Filipino as your nationality/citizenship)
• Old Philippine Passport
• Philippine Birth Certificate registered with the Local Civil Registrar of the place of birth
• Philippine Marriage Certificate registered with the Local Civil Registrar of the place of marriage
• ID issued by a Philippine Government Agency with your photo, full name, date of birth and nationality indicated (ex. LTO driver's license and Postal ID)
In the absence of item 1 c: Acceptable Foreign Document
• Foreign Passport with Notarized Affidavit of Explanation for not submitting Naturalization Certificate
2. Completed Dual Citizenship Application Form
3. Three (3) 2X2 COLORED ID Photos with WHITE Background without eyeglasses or colored contact lens taken within six (6) months from application
The Consular Officer reserves the right to request additional documents from the applicant
• For those applying with derivative dual citizenship:
For each of the applicant's child below 18 years old, the applicant shall present the original document and photocopy of the following documents:
a) Child's Birth certificate;
b) Child's Foreign passport and
c) Child's three (3) 2X2 COLORED ID Photos with WHITE Background without eyeglasses or colored contact lens taken within 6 months from application
Note: Only children below 18 years old of age of former natural-born Filipinos may qualify for derivative dual citizenship.
A derivative dual citizenship must be distinguished from a dual citizen by birth. A dual citizen by birth is a natural-born Filipino born in the US/foreign country that allows dual citizenship; thus all that person/parent's of the person needs to do is Report the Birth
FEES (Payable in Cash, Cashier's Check or USPS Postal Money Order)
Dual Citizenship Processing: $50 per applicant
Affidavit of Explanation: $25 per applicant
Derivative Dual Citizenship Documents: $25 per derivative
Certification/Certified True Copy of Dual Citizenship Documents: $25 per certificate or certified true copy
SCHEDULE AT THE CONSULATE (Mondays-Fridays Except Holidays)
Processing Time Oath Taking Schedule
9:00 am to 10:30 am Approximately 12 pm
1:00 pm to 2:30 pm Approximately 4pm
WHAT ARE SOME OF THE BENEFITS?
Filipinos who have re-acquired their Filipino citizenship under this Act may once again enjoy full civil and political rights under existing laws of the Philippines. Examples of these rights are:
Right to vote in Philippine national elections
Right to own land and property in the Philippines
Right to engage in business or profession as a Filipino
DO I NEED A PHILIPPINE PASSPORT TO TRAVEL TO THE PHILIPPINES?
No, just bring your valid US/Foreign passport and your Dual Citizenship Documents when you go to the Philippines.
HOW CAN I GET A PHILIPPINE PASSPORT?
Present these documents to the passport processor: (1) Dual Citizenship Documents (2) Old Philippine Passport or in case of loss, Affidavit of Loss (3) Completed Passport Application Form and (4) Birth Certificate from the National Statistics Office/Philippine Statistics Authority (5) Marriage Certificate from the National Statistics Office/ Philippine Statistics Authority for females wishing to use their married surname for the first time.
HOW LONG CAN I STAY IN THE PHILIPPINES?
You can stay in the Philippines indefinitely provided that upon your arrival in the Philippines you present before the Philippine Immigration Officer your valid US/Foreign passport and your Dual Citizenship Documents. EXCEPTION: when you travel with your Foreign Husband/Wife/Child. You and your foreign husband/wife/child are entitled to a visa-free entry to the Philippines for a period of one (1) year from arrival in the Philippines, among other privileges, provided you all have round trip/return tickets with the same return flight schedule to the US.
OVERSEAS FILIPINO CITIZENS? (i.e., natural born, naturalized, dual)
They can enter the Philippines even during this pandemic.
FILIPINO CITIZENS to be able to travel back to the Philippines, they must have the following documents with them:
1. A valid Philippine passport; or
2. A valid (one-way) Travel Document (issued in emergency cases only i.e., lost PH passport)
A former Filipino who reacquired or retained his/her Philippine citizenship via RA 9225, Citizenship Retention and Reacquisition Act of 2003 (as dual), is a FILIPINO CITIZEN.
Therefore, as a Filipino citizen, he or she can travel back to the Philippines. To be able to travel, he or she must have the above-mentioned documents (Valid PH passport or valid Travel Document). If he/she does not have either of this, he/she may present the following documents in lieu of a PH passport:
1. Original copy of Identification Certificate (IC);
2. Original copy of the Order of Approval;
3. Original Copy of the Oath of Allegiance
FOREIGNERS
Beginning August 1, 2020, foreigners with WITH LONG-TERM VISAS to the Philippines WILL BE ALLOWED ENTRY into the country.
LONG-TERM VISAS pertain to the following:
1. Section 13 of Commonwealth Act 613 (13 quota, 13A, 13B, 13C, 13D, 13E, 13G visas);
2. RA 7919 Visa (Legal residence status granted to certain foreign nationals through a Social Integration Program in the Philippines under certain conditions as provided under RA 7919);
3. EO 324 Visa (Foreign nationals who have acquired permanent residency under Executive Order No. 324); and
4. Native Born Visa (Foreign nationals born in the Philippines whose parents, either or both, are lawful permanent residents)
The ENTRY of FOREIGN NATIONALS is also SUBJECT to the following CONDITIONS:
1. Foreign nationals must have valid visas upon entry into the Philippines.
2. With pre-booked accredited quarantine facility;
3. With pre-booked COVID-19 testing provider;
4. Subject to the maximum capacity of inbound passengers at the port and date of entry.
(IMPORTANT NOTE: This is without prejudice to applicable immigration laws, rules and regulations.)
* * *
Gel Santos Relos has been in news, talk, public service and educational broadcasting since 1989 with ABS-CBN and is now serving the Filipino audience using different platforms, including digital broadcasting, and print, and is working on a new public service program for the community. You may contact her through email at gelrelos@icloud.com, or send her a message via Facebook at Facebook.com/Gel.Santos.Relos.