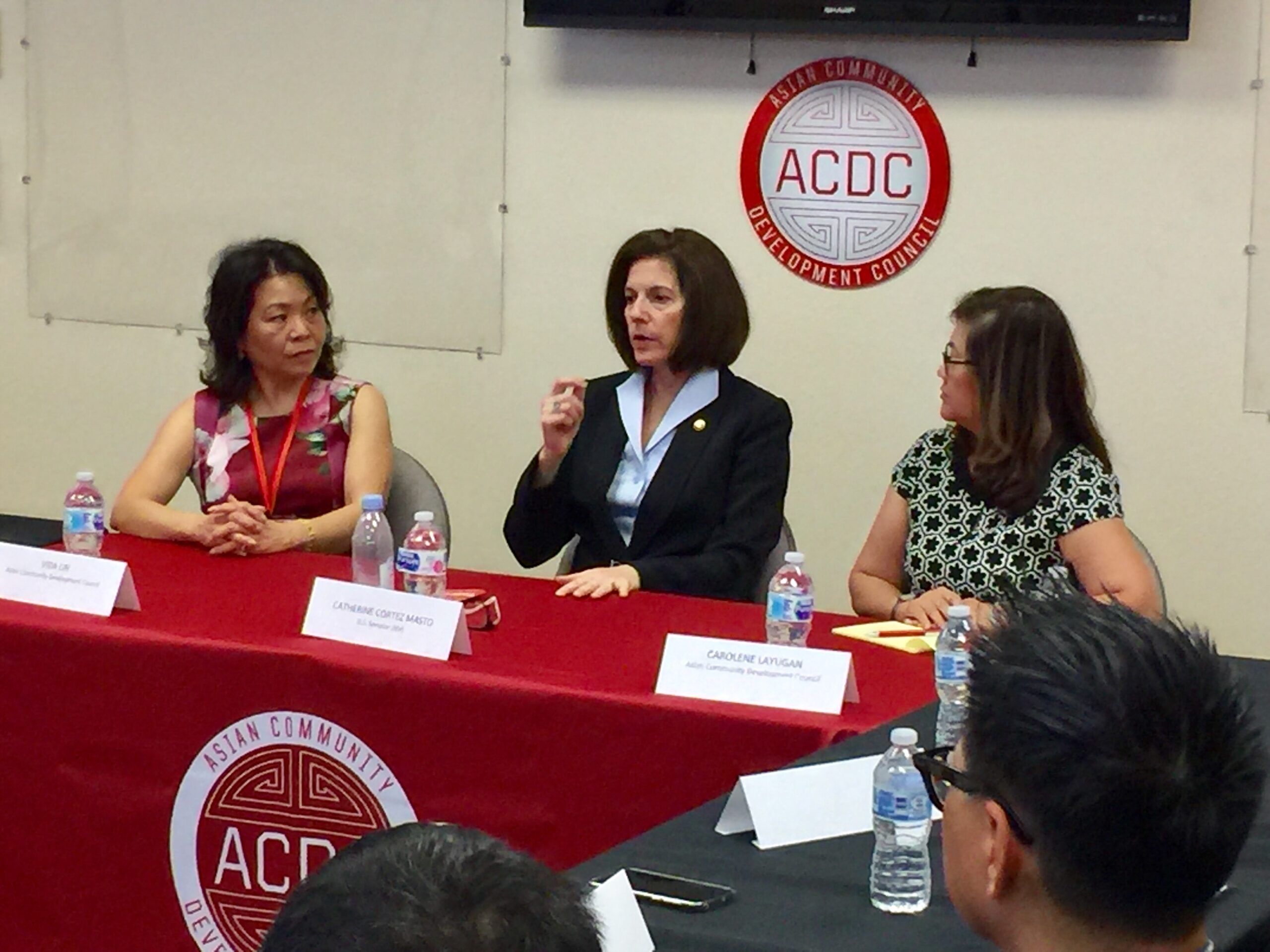 By Senator Catherine Cortez Masto of Nevada
As one of the fastest growing communities in Nevada, Asian American Pacific Islanders are an essential part of our state and enrich our economy every day. Today there are close to 22,000 Asian-owned businesses in Nevada across all industries, and that number continues to grow. During AAPI Heritage Month, it is important to learn about the diverse history and recognize the resilience and strength of this community.
The pandemic was especially tough on our AAPI community. In addition to facing economic challenges, we saw a disturbing increase in anti-Asian hate crimes. At roundtable discussions, AAPI leaders spoke of enduring racial slurs and even physical attacks.
Hearing that our friends and neighbors were living in fear was disturbing, and I engaged community leaders to better understand how I could help tackle this epidemic of violence in the Senate. I connected with the Asian Community Development Council, the Japanese American Citizens League, and the AAPI Democratic Caucuses, among many others, to discuss the issues affecting their families and how I could get them the support and resources they needed.
First, we had to make sure our communities had the support they needed to get through the pandemic. I got to work, securing critical relief for more than 118,000 Nevada businesses to keep their doors open and their employees paid. And with so many independently owned restaurants in our state, many of which are run by AAPI families, I ensured targeted relief for restaurants was available. The American Rescue Plan I fought for included funding for our state and local governments to keep our police officers, firefighters and first responders on the job, keeping our communities safe. No state was hit as hard as Nevada, and I made sure to deliver funding to help support our state's travel and tourism industry. Fortunately, this federal support helped our economy rebound and ensure our small businesses remained open.
In the wake of the pandemic, the hate crimes that affected the AAPI community were top of mind for many. The language used by the far-right only fueled this hatred. The extent of the harassment that Nevadans faced needed to be addressed in Congress. So I joined my colleague Senator Mazie Hirono's COVID-19 Hate Crimes Act, and helped get it passed and signed into law. This new law makes it easier for victims to report hate crimes and provides them with additional assistance and support. We also prioritized making hate crimes information available in more languages like Tagalog and Chinese so that everyone who needed them could access and utilize these resources. No one should feel unsafe at home, and I'm proud we were able to take action for our communities in Nevada.
Now that we're past the darkest days of COVID-19, my focus is on lowering costs for families, creating jobs, and making sure all Nevada families feel safe. I'm pushing for an all-of-the-above approach to bring down prices. That includes lowering health care costs through prescription drug price negotiation and capping the cost of lifesaving drugs like insulin, bringing down gas prices, and increasing middle class housing availability. There are thousands of jobs coming to our state through our bipartisan infrastructure law, which will fix our roads and bridges. To keep Nevadans safe, I've secured historic funding for Nevada's local law enforcement departments. And I will continue working to support our students and build up the middle class by investing in our state's education system, focusing on access to mental health resources for our kids in school and at home.
Today, Nevada's recovery is beginning to flourish, thanks to our families' dedication to get us back on track. The AAPI community is a key part of this, so this AAPI Heritage Month, remember to learn from, listen to, and uplift your AAPI neighbors and friends. I know I'm proud to stand by them.
* * *
The opinions, beliefs and viewpoints expressed by the author do not necessarily reflect the opinions, beliefs and viewpoints of the Asian Journal, its management, editorial board and staff.
* * *
Born and raised in Las Vegas, Catherine Cortez Masto has spent her career fighting for Nevada's working families. She served two terms as Attorney General of Nevada and in November 2016, she made history by becoming the first woman from Nevada and the first Latina ever elected to the United States Senate.