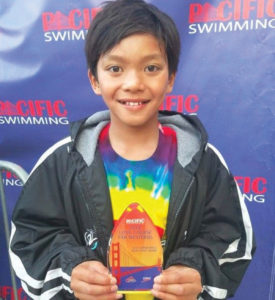 Clark Kent "Superman" Apuada sets new record at Far Western Championships
A young 10-year-old Fil-Am from Salinas, California may very well be on his way to becoming a future Olympic swimmer for the United States.
Clark Kent Apuada, rightly nicknamed "Superman," swam the 100-meter butterfly event in 1:09:38 at the 2018 Speedo Long Course Far Western Championships in Moraga, California on Sunday, July 29.  
His time was 1.1 seconds faster than Michael Phelps' 1:10:48 time that was set 23 years ago in 1995 — a big accomplishment in a sport where milliseconds are closely watched.  
On Twitter, Phelps — the most decorated Olympian ever — congratulated Apuada for "smashing that meet record" and encouraged Apuada to "#dreambig."
The U.S. Olympic Team's official Twitter handle also gave Apuada a shout out, asking if the young swimmer could be a possible "Future Phelps."  Posted with the tweet was a side-by-side photo of the two donning medals.
Responding to the question, replies overwhelmingly seemed to say yes, with people also saying "records are meant to be broken."
Aside from his record breaking time, Apuada took first place in almost all of his 10-and-under events at the meet including the 50-meter fly, 50-meter free, 100-meter free, 100-meter backstroke, and 50-meter backstroke.
To the Asian Journal, Apuada's parents Cynthia and Chris said they were elated and overjoyed upon hearing the announcement of his record breaking swim.
"We prayed and thanked God the moment we saw he got his best time," they told the Asian Journal on Messenger, adding that they have yet to have a full celebration.
Apuada's parents said they began to notice his interest in swimming when he was just six years old.  Apuada himself made a list of swim clubs in the area to join.   His mother told the Huffington Post that Apuada would memorize the records set by other swimmers.
"He's the one who said, 'Look, Mom, Michael Phelps has a record in the Far Western.  I can beat that,'" his mother told the Huffington Post.
The young swimmer does have his eyes set on the Olympics, possibly Paris 2024, or Los Angeles 2028 — a goal his coach Travis Rianda is fully aware of.  But the goal comes in addition to two other things.
"It's the coolest thing in the world because that's all he talked about," Rianda told CBS.  
"It wasn't like, 'I want to be better than Michael Phelps' or anything like that.  His first goals were, 'I want to be a scientist, an Olympic gold medalist for the United States and I want to be a black belt.'  He's on track for all three of those," Rianda added.
Phelps was only 15 when he joined the Olympics and has garnered a total of 28 medals in his Olympic career.