A look back at his love for Filipino food and culture 
Anthony Bourdain's death has struck a chord among fans, particularly those who are fond of food and travel who follow his shows and sojourns religiously.
He left an indelible mark in the food industry as he championed the cuisines and dishes he found delicious.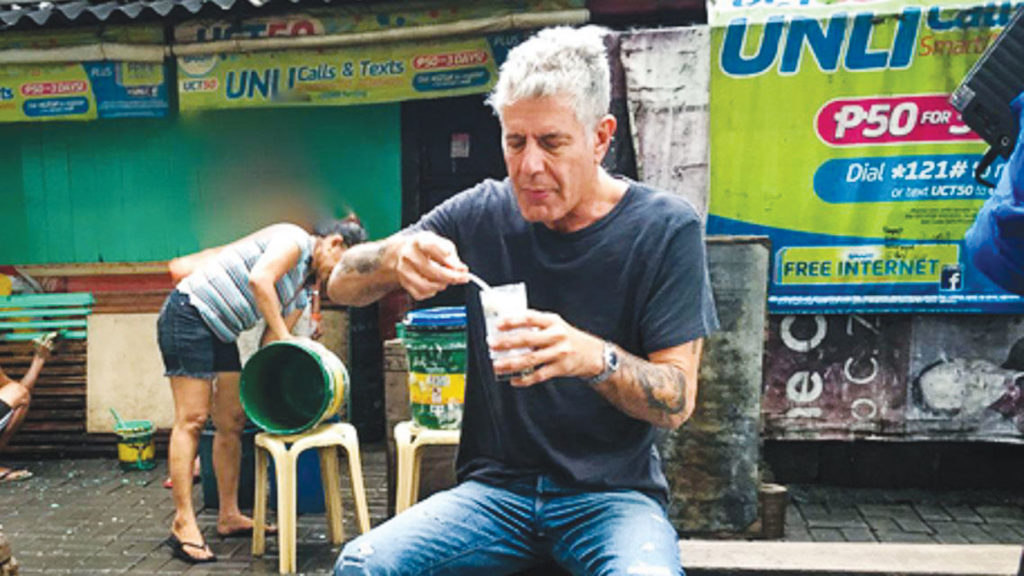 Who would ever forget watching Bourdain eat Jollibee's Aloha Burger, halo-halo and the Spam pan de sal breakfast sandwich? In a 2017 visit to Manila for the World Street Food Congress, he went to a Jollibee and ordered spaghetti and ChickenJoy. Watching him describe the dishes as "wacky," "deranged" and "slightly alluring" endeared him more to his Filipino fans, eager to see him explore the Philippines further.
The first time Bourdain entered the consciousness of mainstream Filipino fans was back in 2009 in his No Reservations show where a Chicago-born Filipino-American Augusto Elefano invited him to go to the Philippines and try Filipino food.
 Let's just say that most fans who watched the episode were underwhelmed by what Bourdain experienced then that there was a widespread campaign for him to go back to the Philippines to see the sites he didn't get to experience and eat the dishes he didn't get to taste.
 His next trip — this time for "Parts Unknown" — was more well-planned and executed.
This was done because of his own personal connection to the Philippines, through a woman named Vangie.
 In his CNN essay and Tumblr post to promote the show, Bourdain asked, "Why are Filipino workers so kind and giving?" and talked about Vangie, the Filipino nurse who took care of his daughter Ariane from the moment she was born. His daughter, Bourdain said, grew up practically with two families — theirs and Vangie's.
"Vangie was with her from the very beginning of her life, and in time, my daughter came to know her son, her daughter-in law, their kid — and in time, an extended family and friends — in New Jersey, Southern California and the Bay Area," Bourdain wrote. "If I go back through old photos today, at least half will be of the two of them together."
 As families, they celebrated the holidays together, from Christmas to New Year to Thanksgiving and all those times, he noticed some things, "some features of Filipino daily life that I thought worth investigating".
 "There's always singing, for instance. Everybody seems to sing — an affinity passed on to my daughter," Bourdain wrote. "Family — and church, of course, loom large (even in my otherwise atheistic household). And food."
 Yes, food.
"My daughter is no stranger to sisig and sinigang and adobo and holds me in disregard for being unable to procure her the delicious Filipino pastries and breads she finds at her other family's home. She knows a few phrases in Tagalog and looks at me pityingly when I don't know what she's talking about," he shared.
Back in 2009, Bourdain wrote a blog entry titled "The Hierarchy of Pork" and talked about their experience of shooting in the Philippines and how he felt nervous about the episode because how could they talk about a country's culinary offerings when they only visited Manila, Pampanga and Cebu.
"I'm very aware of how many Filipino fans we have — and how enthusiastic they are about us (finally) covering their country. I wanted very badly to do a good job on this one. But I fear there's no way we got it "right"," he wrote.
He went on and took pride saying that "the amazing, porky delights of  "sisig" got plenty of camera time."
"If you've never had this divine mosaic of pig parts, chopped and served sizzling and crisp on one side on a screaming hot platter, then you've yet to have one of the world's best beer drinking dishes," Bourdain proclaimed.
"And speaking of pig? It can now be said that of all the whole roasted pigs I've had all over the world, the slow roasted lechon I had on Cebu was the best. This puts the standings in the Hierarchy of Pork as follows:
#1. Philippines
#2. Bali
#3. Puerto Rico."
There you go.
During his short food trip in the Philippines, Bourdain also enjoyed several "porky" treats including sisig and barbecue. He tried many Filipino favorites including bulalo, kare-kare, fishballs, pansit palabok, sisig, sinigang, and even gamely popped a goat eye into his mouth with a smile.
"If nothing else, I hope that homesick Filipinos living abroad get a glimpse of some of the food and scenery they've no doubt been missing. And for viewers who weren't previously familiar with the wide and tasty spectrum of flavors available over there, I hope the sight of me shoving a lot of very tasty stuff into my maw provides — if nothing else — inspiration to look further," he added.
 Back to his question about why Filipinos are caring.
For this episode of CNN's "Parts Unknown", Bourdain was able to talk about the plight of some overseas Filipino workers he knows personally and some he met through his numerous travels.
 "This episode is an attempt to address the question of why so many Filipinos are so damn caring. Why they care so much — for each other — for strangers. Because my experience is far from unusual," he wrote. "Hundreds of thousands — maybe millions — of children have been raised by Filipino nannies. Usually mothers of their own children who they were forced to leave behind in the Philippines."
He also promised that this was not going to be the last.
 "I hope the overseas Filipinos and our fans in the Philippines like this episode more than they liked the last one on our other show. I imagine this time around there will be tears. At least I hope so. We tried to do right by people who've been very, very good to us," Bourdain said. "This is certainly not the definitive show on the Philippines — and it will not be our last show there."
Today, there are copious tears being shed for Bourdain's death.
Mr. Bourdain, Tony, that may have been the last show you shot in the Philippines but Filipinos across the globe are thankful and grateful, because you went back a couple of times and offered an inspiring look at a country and cuisine that are oftentimes both overlooked and highlighted not just the flavors of the dishes you ate but also the work ethic and family values of Filipinos like Vangie whom you've known for a long time now and those you have met in your travels around the world.