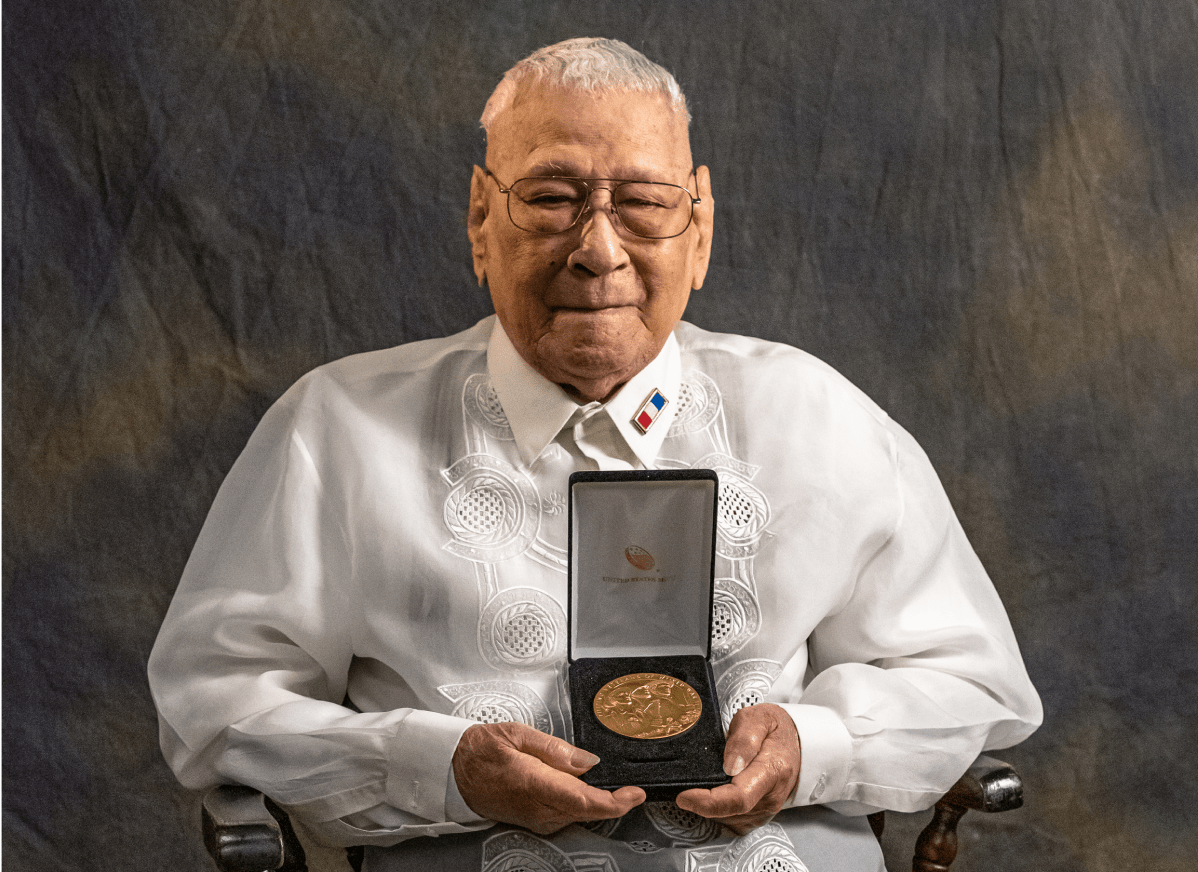 Celestino Gonzales Almeda, a prominent leader of the Filipino World War II veterans' fight for U.S. government recognition, died at 104 on March 27 in Gaithersburg, Maryland.
Almeda, born on June 8, 1917 in Biñan, Laguna,  Philippines, fought against the Japanese during their occupation of the Philippines in 1941. He retired as a 2nd Lieutenant in the recognized guerrilla forces of the U.S. Armed Forces in the far East (USAFFE) commanded by General Douglas MacArthur.
Retired Maj. Gen. Antonio Taguba of the Filipino Veterans Recognition and Education Project, said: "He is the embodiment of Patriotism and Duty to County. He survived the battles in WWII. He and his fellow veterans want to be remembered simply for the honor and privilege to serve for their Duty to Country."
Almeda survived the horrific battles in World War II as one of the 260,000 Filipinos and Americans who fought under the American flag from Dec 1941 to September 1945.
He survived the war, but later experienced formidable challenges in pursuit of U.S. and benefits promised him and to thousands of his fellow soldiers. He was determined to fight for their benefits, but he did not realize how long this fight would last.
In February 1946, the U.S. Congress passed the Recission Acts, which denied the active duty status and revoked the U.S. nationality status of 200,000 Filipino WWII soldiers. Promised compensation were revoked and not made available for their wartime service.
Almeda helped organize a national action organization comprised of WWII veterans, civic leaders, community supporters to call attention to the injustice and inequality the Veterans suffered at the end of WWII.
Almeda and his brothers in arms never wavered in their faith, hope, and trust in the United States. They confronted and appealed to Congress in pursuit of their case for equity. They were undeterred despite being denied repeatedly by members of Congress, senior leaders at the Dept. of Veterans Affairs, and the U.S. Army and relentless in presenting their case to audiences at civic events across the country.
A Story of Patriotism and Duty to Country
Almeda lived with his family in Gaithersburg, Maryland and is survived by his daughter, Evelyn Campbell, and his sons, Roberto and Reynaldo, grandchildren and great grandchildren.
His favorite quote was from General Douglas MacArthur: "Old soldiers never die, they just fade away."
In lieu of flowers, his family requests that contributions be made to the Filipino Veterans Recognition and Education Project.
A Graveside Service will take place on Thursday, April 7, 2022 at 11:00 a.m. at Quantico National Cemetery, 18424 Joplin Rd, Triangle, Virginia 22172.