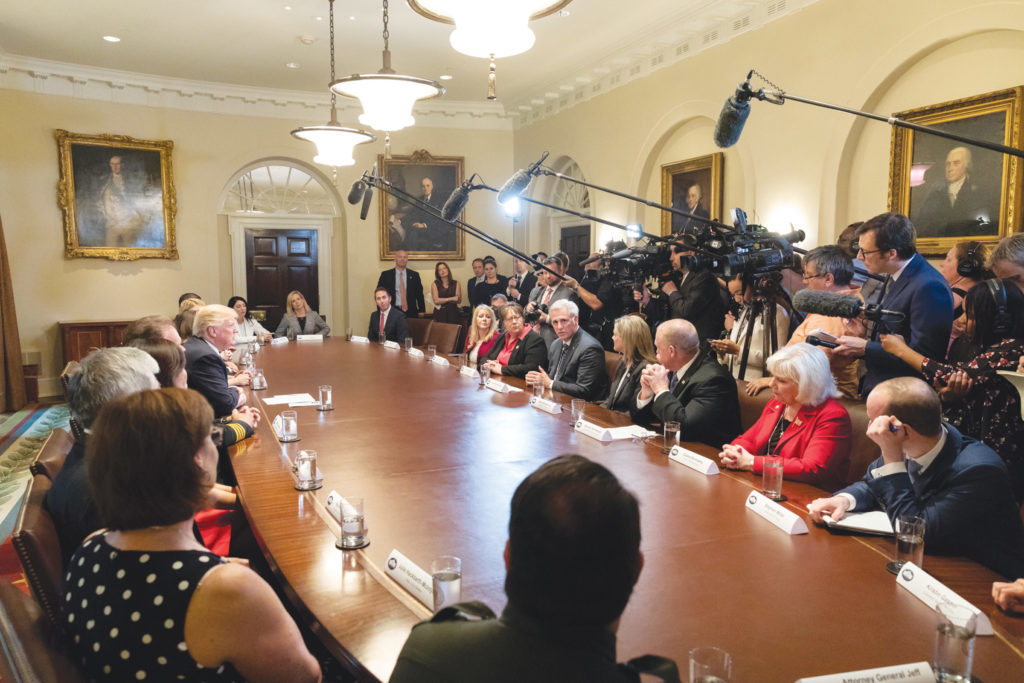 President clarifies his comments were directed toward MS-13 gang members
IN A roundtable meeting with California leaders on sanctuary state policies on Wednesday, May 16, President Donald Trump sparked outrage when he supposedly called some immigrants coming to the United States "animals."
While railing against California's sanctuary state law — which prohibits the state officials from sharing information with federal agents that could lead to the capture of undocumented immigrants —  Trump went on a rant claiming that SB 54, the sanctuary state bill, protects undocumented criminals.
(The bill's authors have emphasized that the bill does not protect undocumented immigrants who have committed crimes and clarified that it's meant to protect lawful immigrants who are targeted by federal immigration agents.)
In an exchange with the president, Fresno County Sheriff Margaret Mims — who "welcomed" the Trump administration's lawsuit against California's sanctuary state law — complained that SB 54 restricts her from outing undocumented immigrants, including gang members, that are in her county's jail.
Mims mentioned that "there could be an MS-13 gang member I know about — if they don't reach a certain threshold, I cannot tell ICE (Immigration and Customs Enforcement) about it."
In response, Trump said, "You wouldn't believe how bad these people are. These aren't people. These are animals. And we're taking them out of the country at a level and at a rate that's never happened before."
Considering the president's long history of inflammatory remarks on immigrants and immigration, the comment spread quickly across social media and news platforms and the "animals" quote was interpreted as regarding many undocumented immigrants.
Democratic leaders, including Sens. Chuck Schumer of New York and Dianne Feinstein of California, joined the chorus and blasted the president for his comments.
Trump clarified his statement the next day by saying he was referring to only MS-13 gang members.
"I'm referring to the MS-13 gangs that are coming in. I was talking about the MS-13," Trump said on Thursday, May 18 at the White House, insisting his comments were clear. "I'm actually surprised you're asking this question because most people got it right."
This isn't the first time that Trump has referred to members of gangs, especially the Los Angeles-originated La Mara Salvatrucha, or MS-13.
Just the day before, Trump claimed that his administration is deporting MS-13 members "by the thousands." (According to Politifact, thousands of gang members have been deported under Trump, but it's unclear if they are MS-13 members since ICE removals data does not specify gang affiliation.)
There are currently an estimated 10,000 MS-13 gang members in the United States, which account for less than 1 percent of the estimated 1.4 million total gang members across the country. And although Trump has used MS-13 as a way to demonstrate the perceived need to deport violent gang members, many of them are citizens and cannot be deported.
MS-13 was established in the 1980s in the poor neighborhoods of LA by civil war refugees from El Salvador, Guatemala and Nicaragua. Since then, the syndicate has been involved in drug trafficking, child prostitution, murder and rape.
Though Trump blames former President Barack Obama's immigration policies for the proliferation of MS-13, the gang's violent history predates the Obama administration.
As early as the 1990s, the U.S. government recognized MS-13 as a significant criminal threat and have organized task forces to combat the gang's permeating influence.
By the mid-2000s, the gang has spread across the country, settling territories as east as Washington, D.C.