When he was a young boy growing up in the Philippines, Ariel Layug would look at his school's atlas and collection of encyclopedias and wonder in general about life in other parts of the globe.
"I never really thought back then that I would leave the Philippines, that I would travel the world. And now, to be able to work in a well-known company and have the Philippine flag out there, it is a great experience," Layug told the Asian Journal.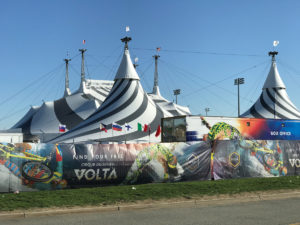 Working for Cirque du Soleil has brought him to many parts of the world including Australia, Europe, Mexico, USA and Canada. He is now on his tenth year with the company and Volta is his fourth touring show, after Dralion, Totem and Kurios.
Volta is currently in the tri-state area and will be in Uniondale, NY until July 1. Launched in April 2017 in Montreal, Volta is the newest Big Top production from Cirque du Soleil. After visiting three cities in Canada, it played engagements in Miami and Tampa and just recently, East Rutherford in New Jersey.
As the head chef and kitchen manager of the touring company, Layug is in charge of feeding more than a hundred people every day. This includes the artists, technicians, admin staff, and sometimes with visiting family members and local staff.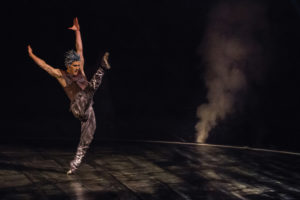 "I get inspired by a lot of things and I use that [inspiration] when we prepare our food," he shared. "I try to open up people's minds, I love it when I get people to try different dishes."
As part of introducing global cuisine to the company, he has prepared Filipino dishes, including "adobo madalas, lechon kawali, pancit, longganisa, tortang talong for the vegetarians, kare kare."
"They go crazy for the lumpiang sariwa because it's fresh and we make our own crepes. I try to do something different every time I do Filipino cuisine," he added.
Journey to Cirque
Layug moved to Australia when he was a young boy and spent almost 12 years there. He didn't know what he wanted to do then so he stopped university ("I wasn't enjoying it as much and at the time I was working in a restaurant").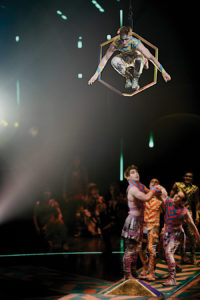 There was a college near their home that offered short courses on bartending so he did that, and when he finished, his parents told him to study more.
He gave culinary school a try and he enjoyed it.
Layug became a chef in Sydney and had a chance encounter with some people on tour who encouraged him to join Cirque. He said he'd give it a try.
It was supposed to be a temporary job for a year. He was first hired as a sous chef and became chef de cuisine.  He was promoted as a kitchen manager last year.
He credits his grandmother Consolacion Layug for the inspiration he didn't even realize was already in him.
Growing up in the province, he saw his Lola foraging for food, not just in their backyard but in the forest even and their neighbors then thought that it was weird.
"She was a very good cook and quite picky with the ingredients when we went to the markets. She was also very particular with how the dishes taste," he said. "Feeding people and watching them enjoy was something she did on a regular basis."
Which is exactly what he is doing now.
His team feeds 124 people from 25 different countries and most of them are well-travelled. They don't repeat dishes for the entire two months, the length of time that they stay in a particular city.
Challenges
Layug says being here in the tri-state area is amazing because of the proximity to New York and the diversity of the ingredients available, compared in other cities where there is a severe shortage of ingredients and there are few Asian and Latino stores.
Touring life follows a routine, something that he has grown to master and love.
"We have a routine, we take the city bus to get our bearings right, we find our barber, coffee shop, grocery store. We travel with a few items, which we put in our rooms, apartments just so it feels like home," Layug shared.
Their operation is like a pop-up restaurant that is in a particular city for two months. And one by one, the pieces come together – the barbecue and picnic tables, then the tent, then the main kitchen is built and they move in and set it up.
For their final meal in each tour, the kitchen team prepares only one thing: spaghetti Bolognese.
"It has never been broken in the entire history of the Cirque touring shows. It's a very simple meal but after two months in a city, everyone craves for it," he said.
But sometimes the biggest challenge comes not from the feeding of more than a hundred people.
"It's not always necessarily the volume because it is not that hard to scale up the operations. Sometimes a bigger challenge is being able to guess what people would want to eat," he said. "When we plan our menus, it is not just about writing stuff. I check the weather and see what's available. I also eavesdrop sometimes, and I also ask them what they want to eat. Then put all of that together and make sure that it doesn't feel repetitive. It is challenging but it is definitely fun."
In a sense, chef Ariel Layug's journey mirrors the story of Volta since the show is about transformation and how one becomes his true self through self-acceptance and freedom, the same process he had to go through himself.
With the Philippine flag waving outside the big tents along with the flags of more than 20 other countries, Layug is bursting with pride, which he shares with his husband Edonn Erwin who is part of Volta's VIP services.
"By having the Filipino flag out there, you know, 'I am Filipino' and I am proud of what I am doing. This is who I am, I can even cook Filipino dishes for others and they enjoy it," he said.
(Cirque du Soleil's Volta will be at the Under the Big Top, NYCB Live – Home of The Nassau Veterans Memorial Coliseum in Uniondale, New York until July 1.)