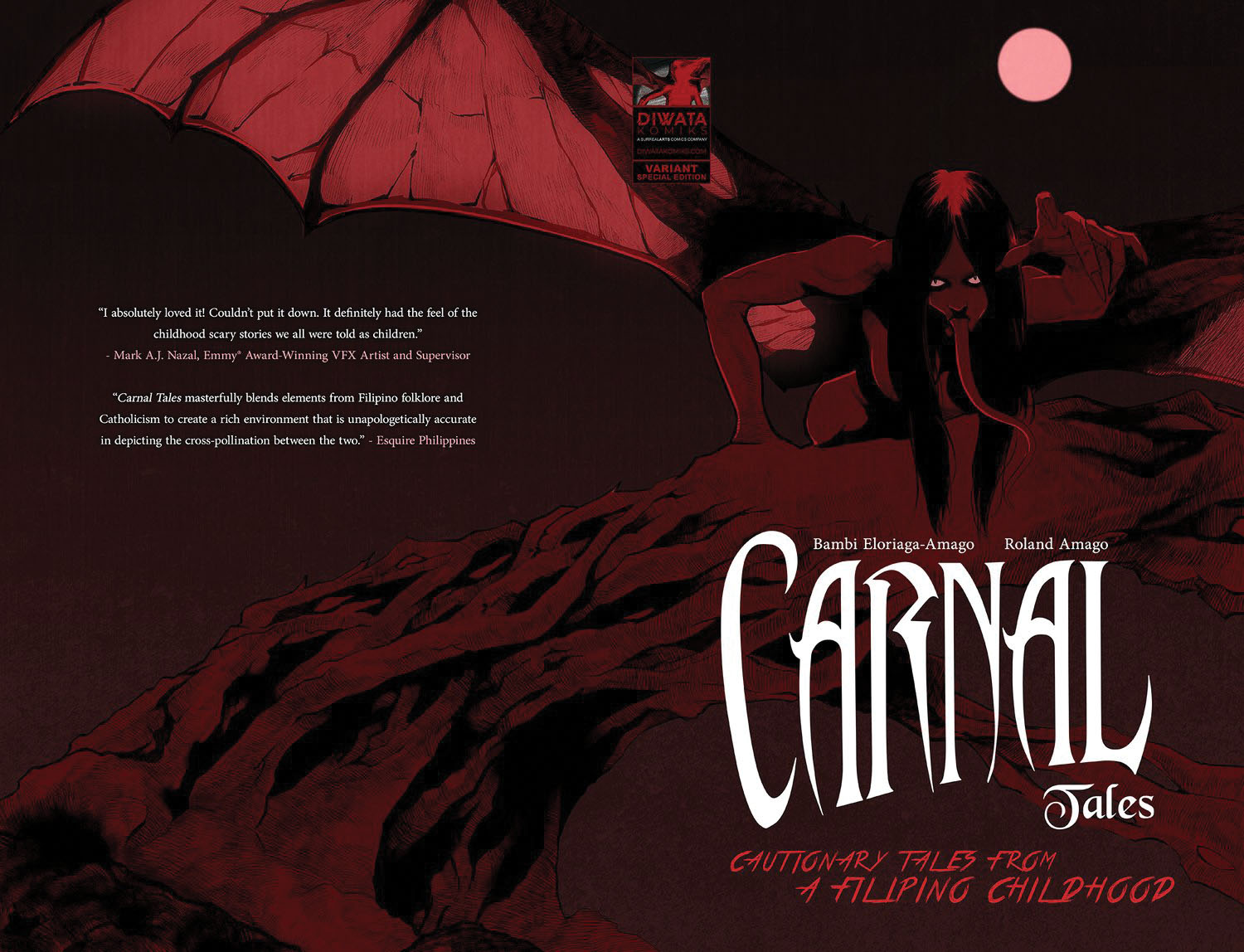 LOS ANGELES – After Diwata Komiks' successful community launch at the end of October, the multicultural creative development and publishing group sets their sights on the world's largest comics convention. They will be exhibiting for the first time at San Diego Comic-Con (SDCC) where they look to engage with new fans and introduce them to their premiere slate of comics.
Coming just in time for the holidays is the publisher's next title, Carnal Tales. Originally published in the Philippines to critical acclaim, Diwata Komiks will be releasing the remastered U.S. edition of this collection of children's cautionary tales from award-winning writer, Bambi Eloriaga-Amago and illustrated in a manga-inspired style by Carmina's principal artist, Roland Amago. Carnal Tales brings audiences into the unique world of the author's local childhood hometown and introduces them to concepts that characterize a typical Filipino childhood full of superstitions and strange monsters at every corner.
"For us as a publisher, bringing Carnal Tales to the American market feels like going full-circle because it was through an Esquire Philippines article that we found Roland (Amago) which, eventually, led to the formation of Diwata Komiks. Additionally, I cannot wait for readers of all backgrounds to experience this unique title that is both charming and terrifying." Editor-in-Chief, Mark Nazal proudly says about the comic.
Carnal Tales will be previewed at San Diego Comic-Con where attendees will be able to pre-order their copies ahead of the title's December release date. Carnal Tales U.S. Edition will be on sale starting December 13, 2021.
The company's launch title, Carmina: A Filipino-American Urban Mythology™ will be available for purchase at Comic-Con along with new merchandise to be revealed at the convention.
The Diwata Komiks team will also hold signing events at SDCC, and Carmina Issue #1: Beginnings will be expanding to comic book stores later this month.
For all things Diwata Komiks and up-to-the-minute SDCC coverage, follow us on all social media platforms @diwatakomiks. For sponsorship, press inquiries, and potential partnerships opportunities, please contact info@diwatakomiks.com. n