"[AMERICA IS NOT THE HEART is] a love story, a multi-generational family epic, and a deeply personal, lavishly painted portrait of lives in revision . . .With a sophistication rare in a first novel, Castillo recognizes a larger network of suffering—an understanding that trauma is, along with our mutual need for love, food, sex, and a coherent sense of self, one of humanity's least exclusive clubs . . . [AMERICA IS NOT THE HEART] has an offhand vitality that startles on every page with its compassion and humor."— Megan O'Grady, Vogue
The chorus of praise for Elaine Castillo's debut novel "America is Not the Heart" is a symphony of adoration from mainstream publications and critics such as New York Times, Chicago Tribune, Cosmopolitan, Elle and Vulture, among others.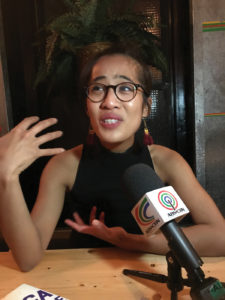 Castillo has been called "one of the most promising new voices in fiction" and her book, published by Viking Books, an imprint of Penguin Random House as "extraordinary, exquisite and evocative".
The 33-year-old Milpitas, California-based author was born and raised in the San Francisco Bay Area. She is a graduate of the University of California, Berkeley, and received her MA in creative and life writing from Goldsmiths, University of London.
Her dad, from Ilocos Sur, was a surgeon before she was born and when she was growing up, she remembered him working as a security guard. Her mom, from Pangasinan, worked as a nurse.
"I have one younger brother and three older half-siblings from my father's first marriage, we're a little mixed family. Minsan baby ako, minsan ate," she shared in between bites of longganisa.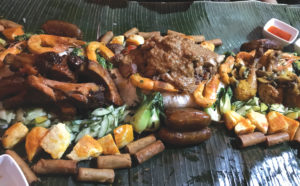 We were at Jeepney with a big group enjoying a hearty kamayan feast. For someone who has already read the book, the kamayan dinner was most appropriate.
Castillo wrote unapologetically about Filipino language, culture and food, the one she grew up eating, particularly dinuguan, pinakbet, daing na bangus, Pinoy pork BBQ and of course the classics: pancit, lumpia, and lechon.
She recalled writing about 1,000 pages for the book's first draft. By the time it was ready for publication, it was whittled down to 400 something pages.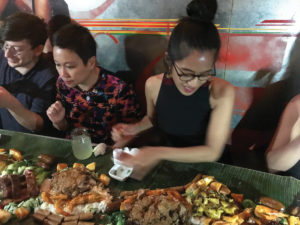 "It was surreal and I was in denial. If you're a writer and you've been writing for so long, you don't really believe that it exists in the universe. You just know it as something that exists in your Word document," she reminisced the moment she turned in her final draft. "I felt a kind of detachment from it – okay, this is for the readers now, there's some alienation from it."
She said it took three years of editing, starting in 2013 when she wrote the prologue. She thought she was going to write it from another perspective but she couldn't write from that same point of view anymore after writing about 200 pages of text.
Then she shifted to a POV of someone from the NPA or New People's Army, one that has always been at the back of her head.
"We have a family member – who I never met – who is a high-ranking NPA official. I knew I had to write from her perspective. It was a seed planted in my head. That character knows Roni and the other characters and that was when the entire world sort of opened up," she shared.
Back from PH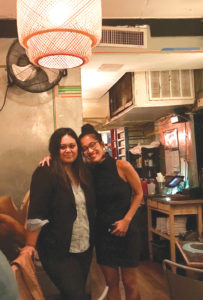 Castillo was still giddy with excitement when we met.
She was just in Manila a little over 24 hours earlier as part of her book tour where she headlined the Philippine International Literary Festival and World Book Day celebrations. She was there for about eight days.
"It was absolutely life changing for me," she admitted.
Her first time was when she was kidnapped – spoiler alert – much like a character in the novel. Second time was 22 years later and obviously, she said there was some trauma about going to the Philippines.
Besides, going back to the Philippines for vacation was unheard of for her and her family.
"The only people I knew who regularly went back were in a middle class family or upper middle class who could afford to do it. My parents couldn't afford to do that. I've never been on a vacation," she said.
This year it was totally different.
"This was my first time going back as an adult, without my family, not as a daughter or cousin of somebody. It gave me a relationship with the Philippines, with Manila that I hadn't anticipated ever really happening," Castillo admitted.
Aside from meeting new friends and starting relationships she never imagined she'd be able to make, Castillo is ecstatic to learn about the state of the literary world in the country her parents call home.
"The things that I learned, the literary scenes in the regions and not just in Manila, and the kinds of comics atmosphere there; and the real, radical resistance to a regime," she quipped. "It was deeply nourishing and revivifying in a way where I now think, when do I go back?"
She mentioned buying books of the amazing writers and authors she met, among them Glenn Diaz ("The Quiet Ones"), Kristine Ong Muslim ("The Drone Outside" and "Black Arcadia") and Emiliana Kampilan ("Dead Balagtas Tomo 1: Mga Sayaw ng Dagat at Lupa").
Memorializing Milpitas
Growing up in the Bay Area, she said there were only a few Filipino-American authors that she knew of.
Castillo grew up in what she describes as a very Filipino neighborhood in a very Filipino atmosphere. Her town, Milpitas in California is a majority minority and there's a large Filipino, Vietnamese, Mexican, Taiwanese communities there, which is why she said she didn't grow up thinking of herself as a minority.
"I read quite a lot of translated works, which I realize now probably is a sub-conscious political response to a white mainstream canon. I read a lot of Filipino American writers from Jessica Hagedorn to Carlos Bulosan. That book, "America is in the Heart", was the first time I ever read about someone from Pangasinan," she said.
Castillo had read books about the Philippines but most of them focused on Manila and the rich people who lived there. She found it hard to reconcile that with the stories of her parents about provincial life, which is why she immediately related to Bulosan's description of rural life in his own hometown of Binalonan, Pangasinan.
Asked if her novel is her response to Bulosan's classic masterpiece, she replied, "To be honest, I didn't actually think of the title as the grand, ambitious answer to Bulosan."
"As a Filipino, I like a pun. So whenever I read the title America is in the Heart from Bulosan, I always thought, 'America isn't the Heart' just as a rhyming joke that I used to say to myself. It was never a big thing. It came from that private, personal joke," she said.
At the Asian American Writers Workshop in New York a few days later, Castillo shared the stage with poet Joseph Legaspi and author Luis Francia in a panel moderated by another author, Gina Apostol. The event was sponsored by Kundiman and PAL / Pilipinx American Library, a moveable non-lending library that celebrates Filipinx narratives.
"I was a very big reader as a kid but at that point, I didn't know I was going to be a writer. I didn't read him (Bulosan) in class, I found him in a library and I was around 13, 14," she shared. "We are all in some way kids of Bulosan. It was the first Filipino book I read that talked about Pangasinan and the rural poverty that my mom came out of."
Hero's Story
Loosely based on Castillo's family history, America is Not the Heart is a fierce, heartbreaking novel that traces the promises and limitations of the American dream over three generations in one family. It is also a deeply affecting, modern love story about two young women struggling to forge their identities after shedding past versions of themselves.
"The main character is a bisexual woman who is a former NPA rebel. For me personally, I am a bi woman myself. I would love to see more bi characters in fiction, I don't think I see enough," she lamented.
The novel follows Geronima ("Hero") de Vera, a Filipina doctor and communist rebel who is captured from a remote insurgency outpost by the military. After enduring isolation and torture, she is finally released from prison and her wealthy family helps her escape the country.
Hero finds refuge with a favorite uncle now living in a tight-knit Filipino-American community in Milpitas, California. Slowly, Hero adjusts to her new life as an undocumented immigrant. Unable to immediately mend the bonds shattered by class difference and misunderstood vulnerabilities with her blood relatives in Milpitas, Hero finds surprising refuge in the larger Filipino community–who welcome her with a gentle compassion and easy acceptance that she has never experienced before.
The book reveals a side of the San Francisco Bay Area that is sorely lacking in representation. Castillo's Milpitas is not the glittering techscape most often portrayed in the media; it takes place in strip mall beauty salons, church multi-purpose rooms, and Filipino restaurants.
Castillo's characters speak in English and Tagalog, Pangasinense and Ilocano. They visit emergency rooms and faith healers. They work graveyard shifts and over-mortgage their homes, supporting a rotating cast of family members in need. Castillo is at once generous and incisive in how she writes about the inequality, immigration, sexuality, multiculturalism, and power in contemporary American life.
Exuberant reviews aside, "America is Not the Heart" is a great addition to the growing diaspora's own literature since it presents not just a snapshot of Filipino immigrant life in America but also one that is rich and replete with details of Filipino culture and history.