With Father's Day coming up this Sunday, June 17, you may wonder how we came to celebrate this  holiday for fathers and father figures.
The annual observance — which falls on the third Sunday of June — was inspired by Mother's Day in the early 20th century.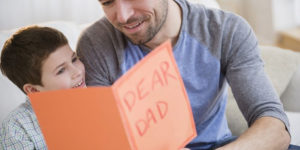 A West Virginia church hosted the United States' first event in honor of fathers on July 5, 1908.
During a Mother's Day church service on June 20, 1909, Sonora Smart Dodd of Spokane, Washington was struck with the idea of creating a special holiday to honor fathers because her mother died while giving birth to her six child, leaving her father to take care of them. The state of Washington observed the first Father's Day on June 19, 1910. It wasn't until 14 years later in 1924 when President Calvin Coolidge recognized Father's Day and encouraged states to observe it too.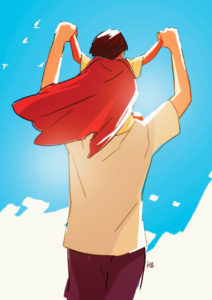 In the 1920s and 30s, there was a national movement to get rid of Mother's and Father's Day and instead have a one "Parent's Day," according to History.com. Many fathers were not receptive to the day because they felt that the holiday was "emasculating," while others didn't like that the gifts given to them were likely bought with the fathers' own money and was another attempt at a commercialized holiday.
In 1956, Congress officially recognized the day with the passage of a joint resolution. Ten years later, President Lyndon Johnson proclaimed the third Sunday of June to be recognized for the holiday; in 1972, President Richard Nixon permanently established the observance of the third Sunday in June as Father's Day in the United States.
Today, Father's Day is celebrated all over the world, with several countries similarly marking the third Sunday in June for fathers as well.
In time for the day for dads, here are some interesting facts:
• Father's Day is the busiest day of the year for collect phone calls.
• Over 87 million cards are sent each year making father's day the fourth-largest greeting card occasion of the year.
• Though Dodd's petition for the holiday wrote it was  "Fathers' Day," the U.S. Congress used the term "Father's Day" when they established the day as an official holiday.
• The rose is the holiday's official flower. A red rose is worn in your lapel on Father's Day if your father is living, and a white rose is worn if he has passed away.
• In 2011, there were 2.6 million households led by a single father, a 900 percent increase from the 1960s.
•The necktie is considered one of the most popular gifts for Father's Day. Neckties are believed to have dated as far back as 221 B.C. when Chin Shi Huang, China's first emperor," and his "terracotta army" were discovered, each replicate was wearing a necktie, according to History.com.
---
If your dad has a sweet tooth, he may be in for a treat with a "SmashCake."
Based in Beverly Hills, LA SmashCakes are custom designed cakes made out of chocolate and filled with candy.
"I work my SmashCakes like a puzzle. If the chocolate/candy fits, I glue it — with chocolate of course — and carry on," says Jenny, the owner of LA SmashCakes.
Each order comes with a mallet — a smash hit for every celebration!
"Who would ever think of smashing a cake with a mallet and eating it too?" Jenny says. "There is something about smashing a cake, that makes it fun and exciting! The best part, is the joy and happiness emanating after a smash! It makes everything worth it!"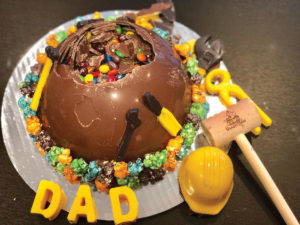 This Father's Day, you can work with LA SmashCakes for any design — whether it be construction inspired (like the one pictured here), shaped like a soda bottle, or donut.
For more info, please check out www.LASmashCakes.com.