LA-based artist Jay Carlon's piece "fold, unfold, refold" premieres at the REDCAT NOW Festival on Aug. 2 in Downtown LA
Filipino-American dancer and performance artist Jay Carlon is constantly driven by the curiosity of many things: of forms, of society and of his world.
The ways in which Carlon manipulates and reconfigures the senses within a specific ambiance lay the framework for his creative expression. Sounds, in particular, play a primary role in his work, especially in a new performance he unveiled on a sold-out night at the Roy and Edna Disney/CalArts Theater (REDCAT) for the REDCAT New Original Works (NOW) Festival Thursday, Aug. 2.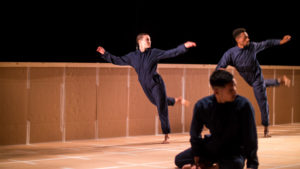 This piece, called "fold, unfold, refold," is an experiment of distorted audio and vibrations using a familiar medium to him, dancers on cardboard, in a very unfamiliar setting, an indoor theatre.
"The REDCAT is such a great space for experimental art and ideas, and I wanted to make sure that I could have some kind of a controlled setting, especially with sounds," Carlon, 32, shared with the Asian Journal in a recent interview.
His collaborative dance theatre company, CARLON, put together the piece along with  Grammy-winning composer Alex Wand, who served as the sound designer and helped establish the performance's uncanny mood.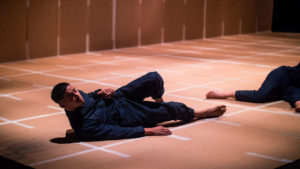 "I wanted to the audience to feel like they're inside of a box," Carlon said. "I was curious to know how sounds that the dancers are creating can be amplified and distorted and somewhat mimic the disturbing infraction of memories."
Like all artists, Carlon's creative mission is to experiment with forms and find ways to portray his own interpretation of nature and humanity. But unlike many artists, his finished product succeeds in exuding the personal and honest nature of his creation.
Donning uniform navy blue jumpsuits, the four dancers — Carlon, Raymond Ejiofor,  Samantha Mohr and Alyson Van — moved across the stage, which has been draped in cardboard taped together.
Within the cardboard are microphones that captured varying decibels of their movements as they impacted the floor through light taps, violent thrusts and body slams that vibrated throughout the room, creating an eerie aural environment.
Upon first impression, the work seems simple, even minimal. But as the performance progresses and the pressure mounts, the work and the narratives told, were anything but simple.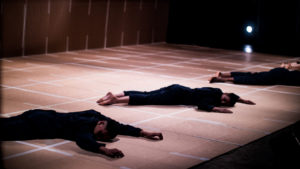 The simultaneously methodical and animalistic dancers (choreographed by Carlon), along with the reverberations they create, make for a visceral audio-visual masterwork that stands out among the works presented at the festival.
His REDCAT premiere is an extension of previous depictions and examinations of similar forms and themes. Carlon was inspired by the experiences of displaced people in the city, including the homeless and immigrants, whose lives take a hard turn into a world of uncertainty and, often, oppression.
"I just kept working with these ideas of using the floor as a jumping pad, so I kept thinking, 'how can we make the floor more interesting?'" Carlon shared. "I was thinking about the ways in which cardboard is used in the City of LA. It's this materiality that represents displacement, concerning homelessness and even migration. From that, I've been thinking a lot about memory and migration work."
His father was part of the first wave of Filipino immigrants to migrate to the United States, commonly known as the Manong Generation, and established the family in California. Identity discovery is a key venture in his mission as an artist and as a Filipino-American who, like many second-generation Filipino Americans, has embarked on a journey to familiarize himself with his roots.
For his REDCAT premiere, he was driven by "how the trauma involved with leaving one's place, whether that's for looking for new opportunities or fleeing a war-torn country. So thinking about my own family's personal history, along with the political climate surrounding migrants today, it made me think about how cardboard and memory come together to create this visual and aural landscape."
Carlon grew up in Santa Maria, California and graduated from UC Irvine with a Bachelor's of Fine Arts in Dance and Cal State Long Beach, where he earned a Master's of Fine Arts.
Before he was selected to showcase at the REDCAT, Carlon and his collaboration team held public performances in places like Santa Monica as well as residencies in prominent art spaces like the Annenberg Community Beach House, The Broad Museum and homeLA.
Carlon has also enjoyed success with site-based aerial spectacle theatre company Australia's Sway Pole, with whom he's performed at the 2014 Sochi Olympics and the 2018 Super Bowl.
In 2016, he established his collaborative dance theatre group CARLON with the mission to provocatively explore socio-political issues, especially "identity, sexuality, race, gender and mental health," according to Carlon. He says that his cultural identity has inspired him to undergo future explorations and creative renderings of the experiences of Filipinos and Filipino-Americans.
Most recently, CARLON presented a piece on the Santa Monica Beach called "Four Triangles" that deployed sounds from drums and Chladni plates as well as the surrounding beach sand. The inevitability of outdoor ambient noise of pedestrians, vehicles driving by and weather were key elements that added an unvarnished texture to the piece.
For Carlon, being selected for the REDCAT NOW Festival was an opportunity to showcase his work in a totally different context and with a higher level of environment manipulation.
Being inside the theatre with an audience who paid to be there, as opposed to performing outside for beach passersby, effectively and profoundly captures the theme of displacement in a novel way, proving that the inquisitive, young artist has the remarkable ability to adapt to any and all spaces and contexts.
"It's really all about being curious and keeping a childlike wonder and a sense of inquiry," Carlon says of his approach. "It's asking yourself, 'What happens if I do this, or if I put these two disparate elements together, how can that be interesting?' It's important to always have that sense of curiosity in your development."
"fold, unfold, refold" is shown in nightly performances from Aug. 2-4 at the REDCAT Theatre within Walt Disney Concert Hall in Downtown LA.
Correction: A previous version of this article incorrectly stated the name of Carlon's piece, "fold, unfold, refold."