IT'S no secret that Filipino-American chefs have made their marks on restaurants across Southern California.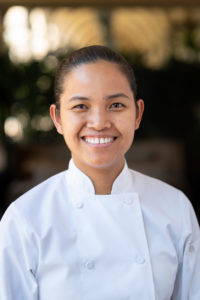 The latest discovery (for me) is The Restaurant at the Montage Beverly Hills, where Fil-Am Monica Olaes has been chef de cuisine since the summer. 
As an avid traveler, it may be easy to gloss over a hotel restaurant in favor of more locals spots — especially in my own hometown — but The Restaurant can arguably become a frequent dining haunt. 
The Restaurant offers indoor and outdoor seating, exuding a sophisticated, yet unpretentious ambiance that is refreshing in a city like Beverly Hills. In having a meal there, it's a momentary pause, almost like transporting you elsewhere on a European vacation. 
Now onto the food, Olaes has crafted an modern American menu with global influences from Italian to Japanese. 
An immigrant from the Philippines, Olaes went on to attend California School of Culinary Arts in Pasadena and has experience in LA kitchens, such as Cooks County, Fig & Olive, and Georgie, which occupied the space at the Montage before The Restaurant. 

Olaes told the Asian Journal that, "During the creation of this menu, I aim to highlight seasonal ingredients in modern American cuisine.  My hope is to bring our guests on an adventurous journey while dining in our restaurant.  I often find inspiration through my travels and while interacting with people of different cultures."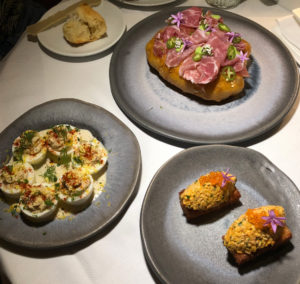 A few items on the menu have also been inspired by trips Olaes has taken like hiking deep in Arches National Park, Utah that introduced her to "prickly pear," which is used in the kampachi crudo dish. Or a recent trip to the Philippines where her mother made ube halaya using the root vegetable found in their family farm. As ube has made its way to the palates of non-Filipinos, it has a place on the menu as well in the purple sweet potato gnocchi dish. 
During a recent meal at The Restaurant, our table indulged in several dishes considered highlights of the menu. For starters, the spicy lobster on crispy rice (lobster, smoked trout roe, harissa aioli) and deviled eggs (free range eggs, tuna, capers, calabrian chiles, smoked paprika, puffed amaranth) are musts. 
The meal then followed with ricotta dumplings (spinach, lemon, shaved parmesan) and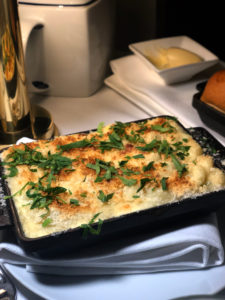 spaghetti arrabbiata, which delivered a kick of spice to it. Ribeye may be typically found on menus across the city, but when it's cut, seasoned and cooked well, it's something to write home about. Here, the meats come with a choice of three sauces, from chimichurri to red wine jus, and would pair well with a side, like the three cheese mac & cheese (fontina, gruyere, parmesan, leeks, panko crust).
While everything listed above was exquisite, there was one sharable dish that I continue to remember — the frybread topped with proscuitto, juniper taragon goddess and serrano chilis. Upon first glance, the presentation of the frybread dish is almost too beautiful to cut apart. It's a mix of textures and tastes, from spice from the chilis to the honey drizzle.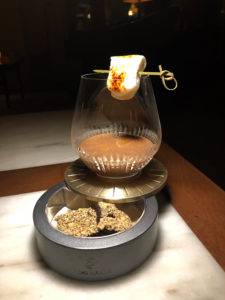 In the creation of this, Olaes explained, "One of our new dishes, Fry Bread, was derived from a backpacking trip to the Supai Native American Indian reservation at Havasupai, Grand Canyon, Arizona which I took with my 'tropa' Filipino hiking group." 
After the meal, you can linger at the The Bar at the Montage Beverly Hills — where there is a standard cocktail list and desserts, like the Campfire Tradition (Remy Martin XO, White & Dark Chocolate Liquor, Graham Crackers, Egg White, Marshmallow Low Roasted Tableside, Gourmet True S'mores). There's also £10, a lounge on the second floor if you are into whisky. 
Helming the restaurant of a Beverly Hills hotel is something to take pride in and Olaes hopes that it will inspire those looking to break it into the culinary industry as well. 
"As a Filipina chef, I hope to show young aspiring chefs, of any background, that as long as you believe in your dreams and work hard to achieve them, the American dream does exist," Olaes said.