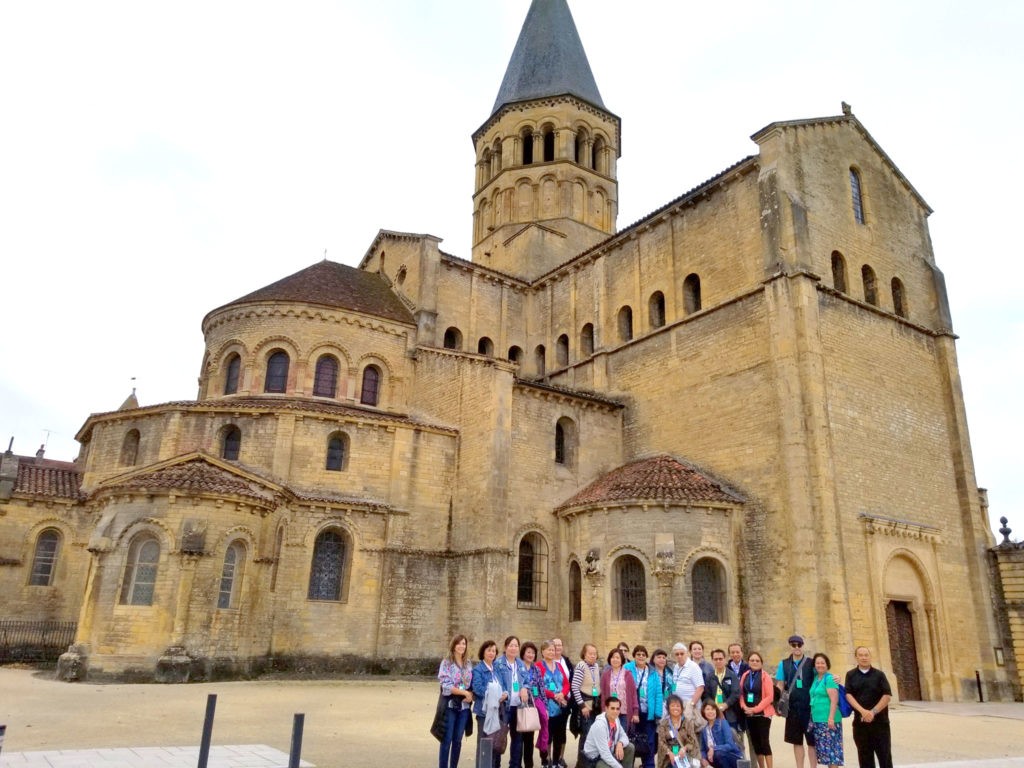 We all got lucky, blessed by God's immense grace, the Blessed Mother's faithful intercession, and the 14 saints we visited. Even the weather was temperate for most days, pleasant to the pilgrims and the locals. It was sunny with deep blue skies and the pillowy white clouds, that through a glance at the verdant undulating hills with freshly mowed green farms in the countryside, one could breathe deeply and feel serenity.
In some farms, herds of ponies, sheep and Charolais, a French breed of taurine beef cattle, for delicious beef bourguignon, could be seen. No, we are not talking food, just putting you right in the heart of France, after visits to Portugal and Spain. Man-made reservoirs were evident in most farms to catch the rainwater and images of water next to green made for a picturesque countryside France.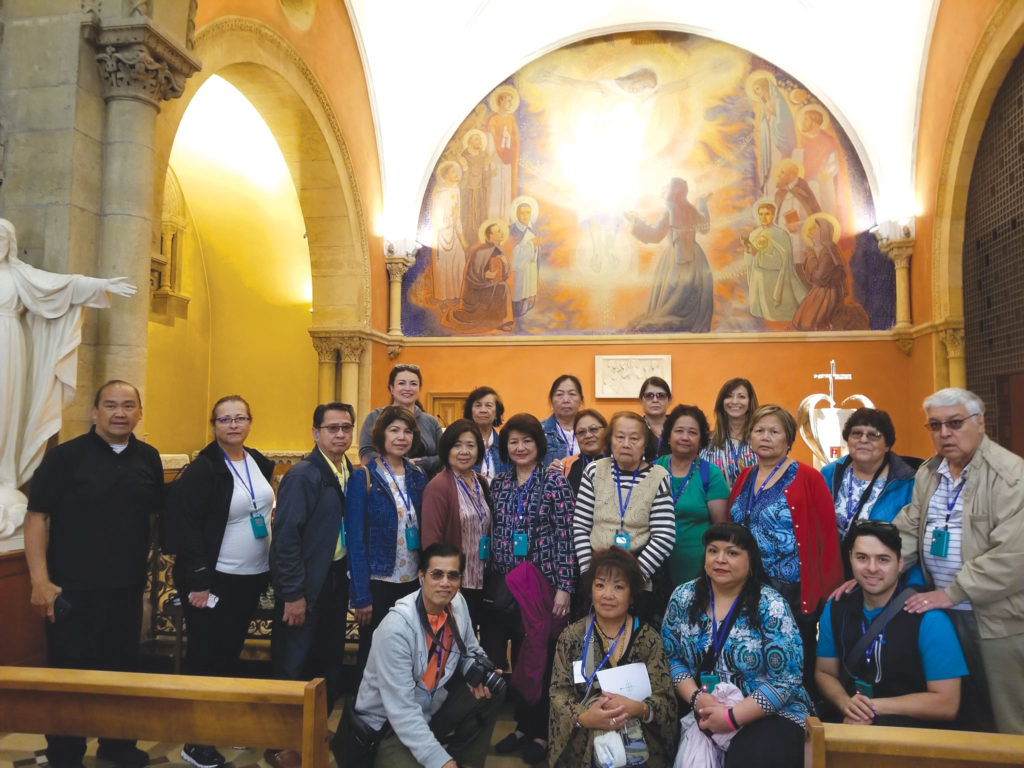 Weather forecast was cold with rains and when we got the "wet," we were inside the tour bus, on the way from Portugal to sunny parts of Spain or with umbrellas traveling the sidewalks on the way to the Basilica of St. Therese of Lisieux on October 1, 2019, her feast day, as rains are indicators of God's blessings manifested, as my Ethiopian-American friend once told me. It must be of such value to that country, just like California's decade of drought and finally, periods of strong rains and snow to revive our reservoirs and water tables.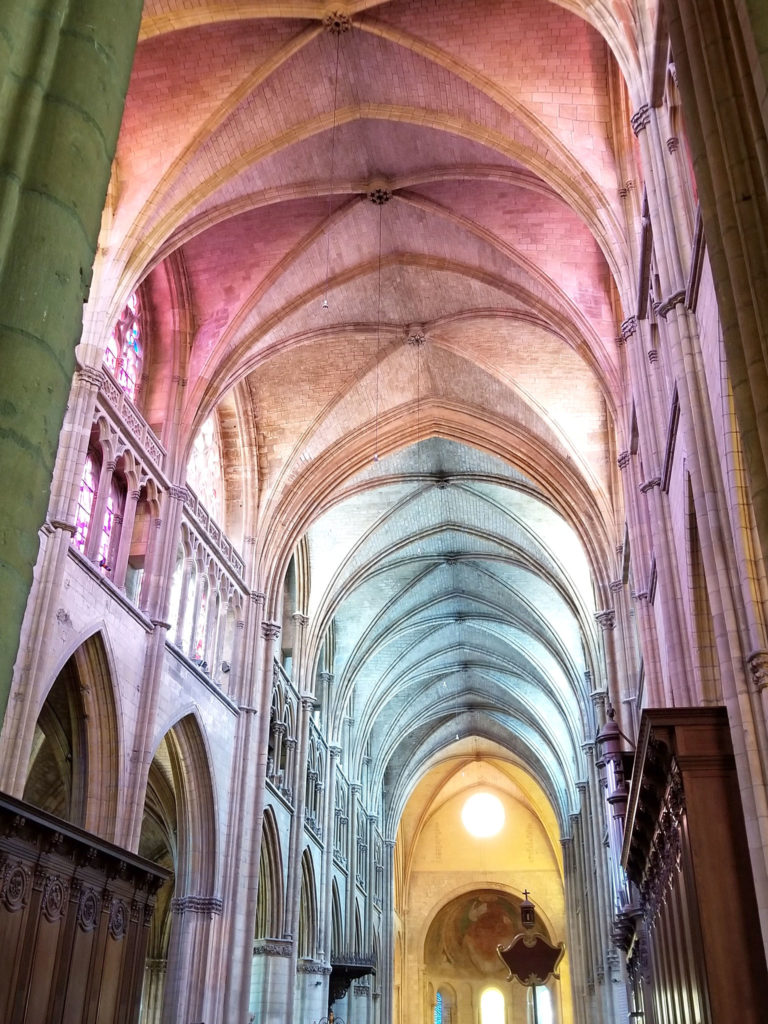 Making spaces for God's miracles
When we stopped at Nevers in Central France, the burst of sunset greeted us with light reflecting on a segment of the Loire River. There were many more images that made us say, "Oh my God!" or simply in awe of our timing.
After all, we had 14 days of pilgrimage from Sept. 21 to Oct. 4, 2019, which took us from LA to Portugal to Spain to France, then travelled over 1,000 miles by bus, stayed in eight different hotels of moderate to upscale quality, walked over 130,000 steps and reached places. This was 75 miles on foot, but if we count trips to bathrooms, restaurants, and limited shopping on souvenir shops, perhaps it was nearly 80 miles.
We are pilgrims, after all, not tourists, committed to doing a pilgrimage to the Heart of Jesus, the correct descriptor, as we visited the saints. One of them was St. Margaret-Mary, "who experienced a vision of Christ, scourged and bloody." The local priest of Paray Le Monial delivered a special lecture for us, describing the apparition – that while in prayers, St. Margaret-Mary's heart was taken from her body and merged with the Heart of Jesus and then, the merged heart back into her.
St. Pope John Paul II's note to Msgr. Seguy, Bishop of Autun, in 1990 said: "During my pilgrimage to visit the tomb of Margaret-Mary in 1986, I made the request that, in the spirit of what she had conveyed to the Church, we consecrate a veritable cult to the Sacred Heart. For it is through the Heart of Jesus that the heart of man learns the true and unique meaning of his own life and his destiny and it is thanks to the Heart of Jesus that man learns to love."
Fellow pilgrims like the Lucero family, particularly Margaret Lucero, shared her own miracle of praying to St. Margaret-Mary. She wrote: "My oldest daughter, Jessica, had to have open-heart surgery at 3 years old. I was so desperate for God's help and Blessed Mother that I found a prayer for St. Margaret-Mary. I am also devoted to the Sacred Heart who appeared to her and not knowing what she looked like nor her entire story I simply begged for her intercession to please pray with me for a good recovery for my Jessica. Since then, I have prayed to her. I have never in my wildest dreams ever think I would be able to thank her in this church. This is so emotional for me as I begged her to help me pray to God for my baby girl. Her incorrupt body is a blessing to me and I wish I can share this with Jessica, now healthy and about to get married."
I believe we were being led by a holy priest, Rev. Fr. Joel de Oño Bugas, who celebrated a mass most days, except travel days, including inside the airport in France on the way back to Los Angeles.
Sacre Coeur Basilica, dedicated to the Heart of Jesus, in Montmartre, France, crowns the hills in the 18th arrondissement, north of downtown. This is where tourists enjoy a panoramic city view. Cold blustery winds greet you. During prior visits, we could not attend a mass and simply had audio tours. This time, we were blessed with a special mass for pilgrims celebrated by Fr. Joel inside the chapel of the Blessed Virgin Mary.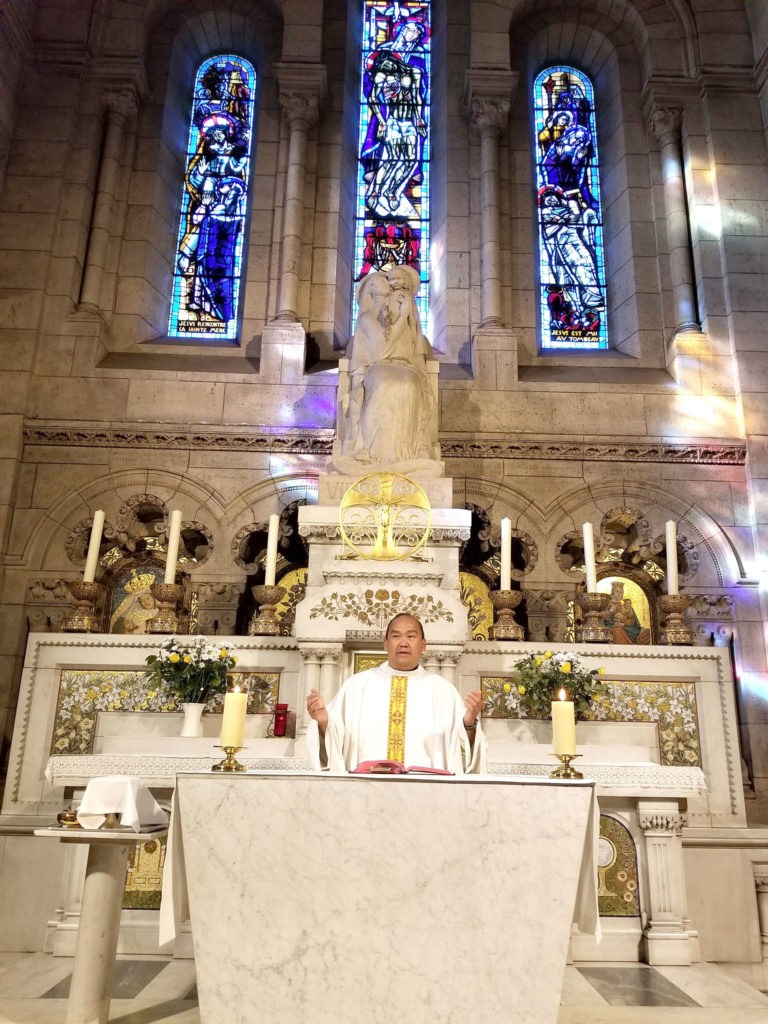 I took a photo of one row of rainbow lights by the altar. After I examined this photo, it now has three rows of light, perhaps a symbol of the Holy Spirit, which Fr. Bugas implored to animate our pilgrimage at the start of over a thousand miles bus ride. Esterlita, a fellow pilgrim, showed me her photo of one row of light and confirmed what I saw.
At the medieval town of O'Cebreiro, a Celtic town traceable to 1500 years, where it sits 4,242 feet above sea level, a 4.3-mile climb uphill, defined by mountain ranges of Os Ancares, and O'Courel, sits the statue of Santa Maria La Real of O'Cebreiro carrying Infant Jesus inside its parish church.
The miracle story goes that a reluctant monk secretly despised a peasant from Barxamaior who braved the frightening snow to hear Mass and to receive the Eucharist, the body and blood of Christ, in the sixteenth century. At the moment of consecration, "the sacramental Wine to Blood seethed and stained the corporals, the white linen cloths upon which the elements of bread and wine are consecrated). The corporals remained in the Chalice, and the Host on the Paten," according to the Franciscan Fraternity brochure I obtained in Lugo, dated Sept. 26, 2019.
Inside the church is this statue of Santa Maria La Real of O' Cebreiro, the Virgin of Healing, with The Infant at her breast, and where the legend goes: "the Virgin bent her head in adoration of The Miracle, but some add that the Infant in her arms opened his eyes for the same reason," as stated in the book published by Fama Vigo.
In this medieval Church, I took a photo of Christ on the crucifix, a 12th-century carving, during our visit. When I looked at the photo later, it had three crucifixes, one original and two shadows of the crucifix. I again was in awe of what I saw that I compared it with Esterlita's whose photo had one crucifix. We were blessed to have a Mass inside this historic church, founded by Benedictine monks.
To the left of the altar lies the tomb of Dr. D. Elias Valiña Sampedro, the parish priest of this church who restored the church and made it his life's mission to pave a way to O'Cebreiro for pilgrims on their way to Santiago de Compostela, about 93 miles from here. He wrote publications describing "The Santiago Way," his best work that has been used as a guide by many pilgrims for many years. He restored the church and created markers to promote this town. He is credited by locals with creating livelihoods for them, enabling them to stay in this region, while visited by pilgrims and 50,000 more during the feast of Santa Maria de la Real on Sept. 8 each year.
When we got to Santiago de Compostela Church, it was under renovation and will not be opened until July 2021. Yet, we were fortunate to get inside, follow a trail and give a hug to St. James, a gilded life-sized statue. When I embraced the statue, my tears rolled down and I could smell a special flower scent.
The story goes that the remains of St. James, covered in clamshells, floated from where he died to where his body was found in Compostela. Christina Vives, our competent and conscientious tour guide, spoke to pilgrims and inquired about their journeys.
We walked a few more yards to attend a mass celebrated by Fr. Joel, concelebrated with local priests from St. Francis de Assisi church. An hour before we walked in, the church was empty and by noon, pilgrims who have completed their Camino, have packed it.
Enrique (my husband) completed his Camino Francés of 780 kilometers or 485 miles in 36 days, starting Sept. to mid-October 2019. He too has a lot to share about his journey, one of which is how to be in a state of mindfulness. That we are having our parallel pilgrimages is a grace as well in our winter years.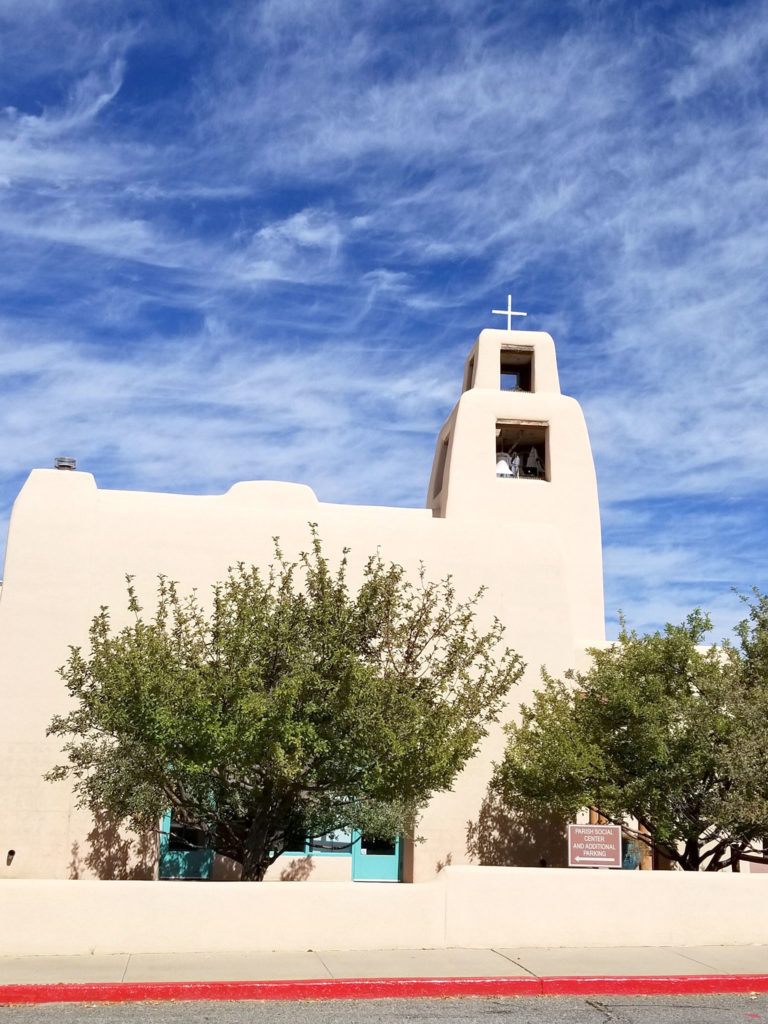 "Everyone falls in love with His humility"
Our spiritual director for the pilgrimage was Fr. Joel, who was newly appointed associate pastor of Santa Maria de la Paz Catholic Church in Santa Fe, Mexico. Celebrating his 10th sacerdotal anniversary, Fr. Joel was formerly the pastor and associate pastor of eight parishes in New Mexico, some of which were four to five hours away. He was ordained in the oldest Saint Francis of Assisi Cathedral Basilica in Santa Fe (built 1869 to 1887) in 2009. He is the first Filipino American to be ordained as a priest in the Archdiocese of Santa Fe.
His tenth sacerdotal celebration occurred a week after this Marian pilgrimage in his new home parish, Santa Maria de la Paz, attended by 600+ folks who traveled from 12 parishes and mission churches that he has served over the 10 years.
Imagine that, as Santa Fe seems to have more land than people. It is also a place of both art and history where you can walk for miles to just visit galleries. But, our focus will be on this the spiritual director, whose anniversary celebration as a priest I attended.
Coincidences abound — like Fr. Joel was the former mayor of Nabunturan capital of Compostela Valley in Davao del Norte from 1988 to 1998 to now, 2019, a pilgrimage to Santiago de Compostela.
Or that our pilgrimage took us to Santa Maria de la Real in O'Cebreiro to now my personal visit to Santa Maria de la Paz in Santa Fe, New Mexico, a place where Ansel Adams once described, "The skies and lands are so enormous, the details so exquisite."
In Compostela Valley, whose capital is Nabunturan, in Davao del Norte, then-Mayor Bugas and his team ushered in infrastructural improvements (public markets, terminals, two high schools, farm to market roads, bridges) to bring prosperity to the city, under his mayoral leadership from 1988 to 1998. He also developed a Simbally Festival in 1989, now on its 30th year of celebration, and has brought "unity and empowerment to the people to share and participate whatever talents, abilities and expertise they can contribute in nation-building," Fr. Joel said, recalling his days as mayor.
Nabunturan means surrounded by mountains, presently made up of 27 barangays or smaller administrative divisions, and where children are employed as miners. He brought peace and order to this city through dialogue when he created a reconciliation council, which included the opposition.
"I did not want violence as my father died from it," Fr. Joel referred to the untimely demise of his father Zosimo Bugas who was assassinated two weeks before the city's elections.
Fr. Joel confided that he has had God's calling quite early in high school, but was dissuaded when his father's cousins entered the seminary but had other callings. "My grandma always reminded everyone to be open more to God's calling," he continued.
In 1988 at age 21, he was the first and youngest mayoral candidate ever elected in the Philippines under the Lina Law that was approved and signed by Pres. Corazon Aquino in December 1987, "due to last-minute replacement, I qualified to run," he shared. Eighty percent of the registered voters in this city's population of 50,000 voted for him. He was elected for three terms, a total of 10 years. He was groomed to run for the higher position of the governor but a female candidate requested him not to. "The next thing I knew, he was going to the seminary," according to Susan de Oño Laset, his aunt. Bugas also wanted to end his political life at 31 years old, saying, "I have done my part in sharing some leadership, talents, and abilities. Let others share and shine!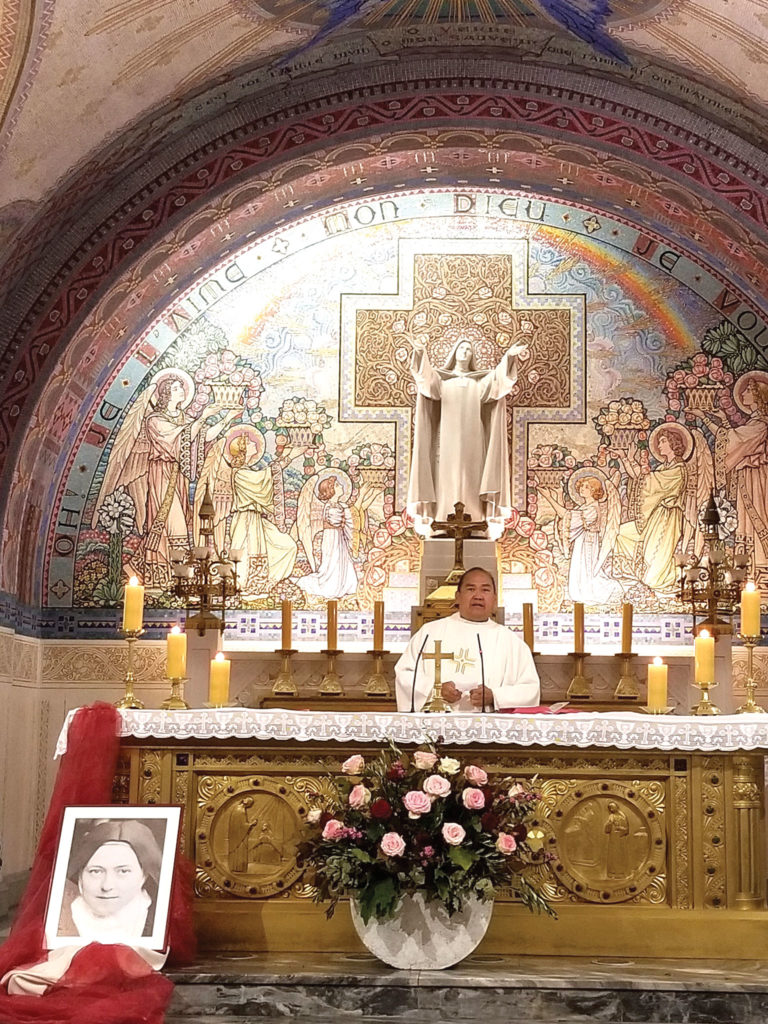 Years later, Fr. Joel got ordained in 2009. Now, in 2019, Santiago de Compostela is part of this pilgrimage – is this a coincidence?
But his human tongue, as St. Therese of Lisieux wisely said, "It is impossible for the human tongue to express things that the human heart can hardly understand." Fr. Joel simply said, "What is it Lord that you need me to do?"
Could it be that he resides near St. Loreto Chapel, the site of a 20-foot miraculous circular staircase of 33 steps without railings? As the narrative goes, "two 360 degrees turns that create a double helix, like the structure of DNA," and repaired using square wooden pegs, without the use of nails, and no supporting structure to hold this double helix.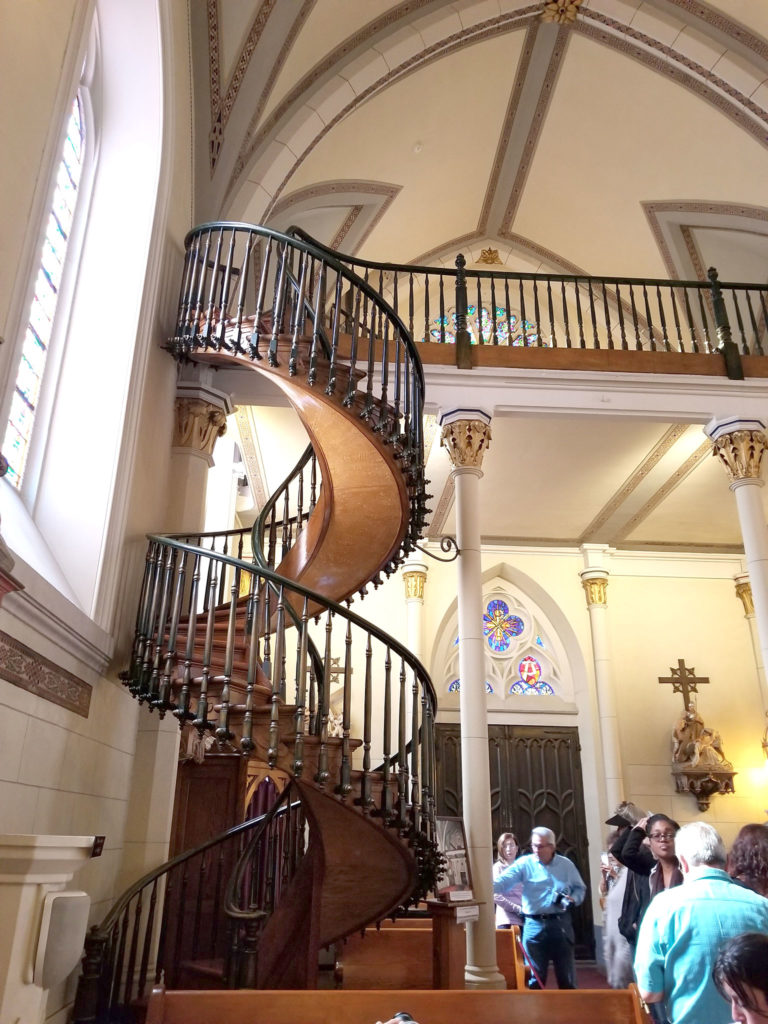 To this day, engineers wonder as to how this staircase supported the weight of nuns who used this staircase to reach the loft where they sang from, for eight years, while locals and visitors believe that it was St. Joseph who repaired this staircase. A wood technologist, Forrest Easley, examined even the wood and stated: "No other spruce has square-shaped structured cells like this," and called this unknown wood, Loretto Spruce.
By the way, Fr. Joel did not reveal any of his political achievements, even as hard as I tried to secure an interview during the 14-day pilgrimage, but persistence, good research and later, goodwill prevailed.
Perhaps, God wants Fr. Joel's talents in the service of many churches? I finally got him to confide about his God's calling, over turon merienda in Lourdes, France. Still, his humility prevailed.
His practices embodied His holiness
Fr. Joel's spiritual practice showed us how to have a much closer relationship with the Blessed Virgin Mary, the Sacred Heart of Jesus and the saints whose relics and tombs we got to visit. For example, the incorrupt body of St. Margaret-Mary de Alacoque rests above the side altar in the Chapel of the Apparitions, located at the Visitation Monastery in Paray-le-Monial.
Outside the souvenir store run by the nuns, Fr. Joel led us in a prayer of consecration to the Heart of Jesus, by St. Margaret-Mary, and encouraged us to sign our commitment on the day of our collective prayers, Sept. 30, 2019. That day of consecration to the Heart of Jesus marked a qualitative change in all of us to be more tight-knit as a family and to have an unwavering concern for one another, assisting anyone with a visible need for help in walking or getting what they need. I assisted Esterlita, a 73-year-old caregiver and former teacher, whom I thought I was helping by taking her arm as we walked; then, it turned out that she is quite strong, walking slowly but steadily, even if walking with a cane.
But, the special mention award for sustained consistency goes to Lionel Pascual, a young man in his 40s, who in his quiet ways would stay behind and ask, "Do you need help to get to the tour bus?" or simply offered to carry your bag if needed. In the end, he also got weary that we had to be told repeatedly how to be safe within the walking boundaries, that these pilgrims, ranging in ages of late 30s to early 80s were lost in our own world of perhaps looking for "apparitions" "magical signs," or keeping up with a bum knee.
For pilgrims who had not ventured out of their "clamshells," the symbol of a Peregrino, not to be confused with the water San Pellegrino, which few did, a pilgrim chooses to adjust, to be resilient, and not to be the dogmatic "ugly American," insisting on their own four to five stars accommodation of dining entrees. Had I not read the pilgrim prayer in our handbook from QTS Tours and Travels and having been to the Holy Land before, that would have been me. How horrible would that be for the community paper that I write for and blessed to be part of?
During the pilgrimage, Fr. Joel had an extra bag that he carried filled with relics and at key places and he touched these relics at several tombs of the saints. He had his plans of sharing them with his parishioners at his 10th anniversary on Oct. 12, 2019.
A spiritual life intersected by God's light
Chama in New Mexico only has 1,022 population as of the 2010 census and a dignified church was needed. It was once housed in a 1970s structure with a corrugated metal roof, rusted and dilapidated, and lacking a dignified sign.
The narrative goes, "We have told seven priests now that we need a church. They keep promising. You are the eighth priest, [Fr. Joel]. We wonder if it would be the same story again, a promise and then, nothing?"
Fr. Joel raised funds through donors, parishioners, auctioned paintings and rosaries, and after three years, in 2012, Archbishop Michael Sheehan consecrated a new St. Patrick's Church in Chama, New Mexico and St. Nepomuceno in Canjillon.  With his team of faith builders, another brand new Mission in Canjillon called St. Nepomuceno was built, including the renovation of three rectories, parish halls and another church in Tierra Amarilla.
"Many wonderful projects and programs WE accomplished together. It was a hard and challenging time. But I welcome it as a great opportunity in doing for the glory of God. And above all, bringing people together as one. I told them that I am only a passing priest. It so happened that I stumbled upon some holes in the walls to fix. In all of my assignments, I don't want to be remembered by putting plaques/memorials. Just remember me when you come to the Church, in the altar," Fr. Joel said.
He did what he once had done in improving Nabunturan in Compostela Valley in the Philippines: rally the parishioners and the community to help build brand new churches (3) in New Mexico. Fr. Joel auctioned his sacred paintings that he himself painted to raise thousands to help build three brand new churches.
Not too long after, Fr. Joel got another assignment to a crossroads city, a destination stop called Clayton, with a 2010 census population of 2,980. Clayton is made up of sprawling ranches, ancient volcano fields and with a popular museum, Herztein Memorial Museum, about the holocaust.
It is four to five hours from Albuquerque and Fr. Joel drove this route to celebrate Simbang Gabi, novena of nine masses before Christmas, in the dead of winter with snow on the roads. He kept doing it for years until the community support grew from a handful to now half a church-full, according to Myrna Samson, a long-time supporter and faith leader in Albuquerque, who also joined this pilgrimage.
In Clayton, as in Chama, Fr. Bugas spearheaded the renovation of St. Francis Xavier Catholic Church, the rectory, continued building a ten classroom/office building and in addition, opened a new Catholic Museum housing vintage priests vestments and religious artifacts, the New Museum and Learning Center of St. Francis on May 15, 2019 and has since been renamed as of June 2019 to SFX Museum and Religious Education Center by the new pastor. "We also did many projects and programs together to strengthen the collective lives of our parishioners," he shared, "that the joy of being a priest is to serve God without any condition or reservation. That people are happy and can attest that "once upon a time, there was a passing priest, his name is Fr. Joel." We refer to the team that he formed.
His fellow priests and parishioners describe him with such love during his 10th-anniversary mass and celebration.
Msgr. Jay Vorheese, his former pastor at Our Lady of Annunciation Church, described Fr. Joel as embodying four pillars or hallmarks of his God's servant/ priesthood.
The first pillar as a bridge-builder. The priesthood is in the bridge business, he said, it is like Jacob who saw a ladder from heaven to earth, with angels descending into earth, carrying blessings from God and ascending to heaven, to bring our prayers and our petitions to God our Father. He then described him as quite an artist, who uses his gift of art to express that union between heaven and earth. His sacred paintings have been auctioned to raise funds for building a church. He was described as "transcendental with his hands and with his words, representing the divine artists, the Almighty God with your art, words and actions."
The second pillar as bright light, "The light shines brightly on you, Fr. Joel," the Msgr said.
The third pillar, as a fountain, "where the Holy Spirit fills up Fr. Joel and in that fullness, you share generously."
Those were not empty words for in the short time that I was with him in New Mexico, he managed to carve out time to give me a ride to the inn Santa Fe and drove his relatives and me an hour away to take us to Albuquerque near the airport and even shared two meals with us.
And the fourth pillar "his charism of the spirit is joy." His favorite saying is 'God is good all the time and all the time God is good," that his infectious joy is carried onto the youth.
On the eve of his 10th-year celebration, a lapsed Catholic in coma waited for Fr. Joel. He got a call late that night, baptized this Catholic who consciously received the final rites from him. Hours later that person died, according to Alice and Bill Gallegos.
Ivy Cabilla of Clayton described him as a "really good mentor, everybody falls in love with his humility and he brings people together."
Another parishioner named Virginia spoke of her personal ordeal of having her son in jail. Fr. Joel visited jails and ministered to inmates. He brought a live Christmas tree and had the inmates decorate them. He invested in these inmates and visited them during Easter, Thanksgiving, and Christmas. He helped Virginia's family get through those daily trials and now, Virginia's son is leading a new chapter of his life in being productive.
When Deacon Leandro spoke, he described Fr. Joel as an ever-growing priest, who continues to evolve to almost perfect, saying, "You have shown your light and so many people have received that grace from you."
Three hundred guests got raffle tickets and 100 received blessed relics during the reception. The team even categorized the diverse food offerings and made the families quite happy to try Filipino, New Mexican and American foods. Have you ever been to a priest's sacerdotal anniversary where the priest is thoughtfully thinking of his parishioners and how to deepen their faith including answering their questions about relics and what constitutes first-class, second-class, and third-class relics, as these were?
"That during my 10th anniversary," Fr. Joel confided and that we all witnessed, "I choked and the tears I cannot hold. I was overwhelmed by the presence and representations of all my parishes (12 in 10years) that I served. More than 600 attended the Mass and 300+ attended the lovely reception." I timed how long he paused with tears — about 3 minutes and the congregation respected that and cried with him. It was a very special, touching moment, even for this writer.
In Our Lady of Fatima Apparitions' chapel, in Fatima, Portugal, Fr. Joel joined a group of priests from Europe, Asia, the Americas, and Africa leading the rosary in multiple languages of English, Tagalog, French, Spanish, Portuguese, South Korean and African. This was quite a special blessing for him as he confided his wish to be included. Myrna Samson got to also lead part of the rosary with him, like other lay leaders.
In the Church of Miraculous Medal in Paris, Fr. Bugas got another blessing, by chance, His Eminence Cardinal Gerald Cyprien Lacroix of Quebec City came to visit. He asked Fr. Bugas if he could concelebrate with him, but Fr. Joel, in his humility, deferred to His Eminence, even though his name was listed as the mass main celebrant. Hours later after our visit, four were murdered in the local police station near the Church of Miraculous Medal. Was it a coincidence that we were not part of the crowd that got cordoned off by the Parisian authorities?
You may recall that the Archdiocese of Santa Fe recently filed bankruptcy in June 2019 and several dozen lawsuits against sexual abuse by the Catholic hierarchy were stalled from proceeding, with 300 claims pending.
So to have a very holy Catholic priest from Santa Fe in our midst is truly God's undeserved grace to us, 25 pilgrims who came from Idaho, New Mexico, Florida, Colorado, Maryland, Pennsylvania and California.
By the 10th day of the pilgrimage, we were more comfortable sharing resources, helping one another, and with unwavering concern for each one needing help.
Anita Rubio, whom I met previously in the Holy Land, was again blessed to reunite with a long lost friend, a Camino pilgrim who reached Santiago after walking a week. For two pilgrimages now, she gets reunited with friends and classmates that she has not seen for decades. I told her she must be blessed.
Thank you to all my co-pilgrims, and to Fr. Joel for teaching me through St. Bernadette and St. Margaret-Mary and St. Therese of Lisieux, that Jesus' wounded heart from being crucified shows His boundless love for us. For making me realize that the Lord has greater hurts and pains with our indifference, our negligence, disbelief, and Jesus gets a broken heart.
Thank you for teaching me that these saints lived during the Grand Century of Spirituality known as French School of Spirituality formed by St. Francois de Sales, St. Vincent de Paul, St. Claude La Colombiere, "a never-ending spring of grace during the period of narrow-minded Jansenism," the answer then was God was Love and today and for always, just like the rivers and fountains of water that we saw and heard described, God is still Love and He awaits men and women's love in return.
Holiness was defined by Fr. Ed Benioff of the Church of the Good Shepherd in Beverly Hills, California, as someone with an intimate relationship with God. Are you about to conclude, as I did, that we have an exceptional spiritual director who knows instinctively how to build communities of faith, empowers us all to participate, to take turns to do the first reading, to take care of tithes and offerings, to lead the singing that each day leaders emerged to organically fulfill the needed tasks.
Do you get a sense that we got not just rain showers, but a river of blessings and God's grace?
There are many more miracles to write about, perhaps by a heart being cracked open to love Jesus in a much deeper way, and in time, those would be the subjects of future pieces.